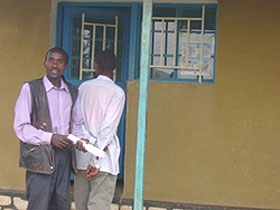 In May 2008, IBJ joined forces with the Ministry of Justice, the Bar Association of Kigali and the Belgian Technical Cooperation to launch its first Legal Rights Awareness Campaign in Kigali, Rwanda where IBJ presented the Ministry of Justice with 5,200 posters for distribution. Have the common aspirations to empower Rwandans with legal rights awareness made some progress since? The answer is a vibrant "yes!"
| | | |
| --- | --- | --- |
| | | |
| Women reading the "Know your Rights" posters | | IBJ representative John Bosco Bugingo, left, with a fellow Bar member |
John Bosco Bugingo, an entrepreneurial and dedicated lawyer, courageously took up the challenge of distributing the posters throughout the Rwanda's five provinces. He traveled throughout the whole country to approach ordinary citizens and law enforcement agents, engaging them with constructive discussions about their role and responsibilities within the justice system and eventually handing them posters. With the support of the Ministry of Justice, the Kigali Bar Association, the Legal Aid Forum of Rwanda and many other generous individuals, he restlessly scoured prisons, police stations, courts, churches, public markets and schools to let ordinary citizens know about their legal rights at the time of arrest.
| | | |
| --- | --- | --- |
| | | |
| Young Rwandans reading the posters John distributed | | A rural family pauses from work to scrutinize the poster |
IBJ's Legal Rights Awareness Campaign has also succeeded in cementing working relationships between IBJ staff members and justice sector leaders. By undertaking a concrete, widely-publicized project in Rwanda, IBJ has formed a solid foundation for future programming. IBJ is sustaining its legal education efforts through broadcasting its message on community radio, which is the lifeblood of many rural populations who are most at risk of having their fundamental rights violated.
| | | |
| --- | --- | --- |
| | | |
| A warden reads a poster at the Nyanza Higher Instance Court | | The entrance to a prison displays the poster |