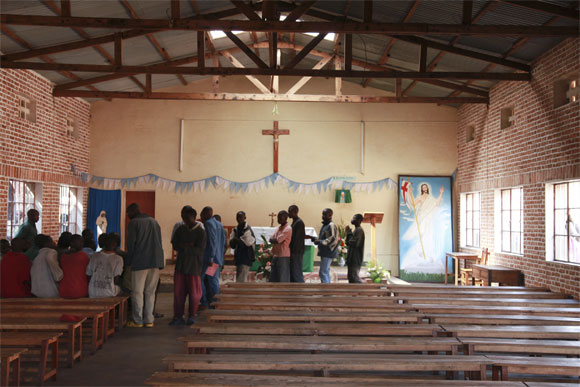 Gitega – Burundi. On Tuesday 7th July, following an invitation from Désiré Ntahomereye, a senior Judge whom we trained in Bujumbura, IBJ team headed to Gitega, Burundi's second largest city. The purpose was to visit the prison and attend to a Court hearing. After a two-hour car ride in Burundi's hills and luxurious vegetation, we finally reached Gitega prison. The severity of this big stone building built in 1926 presaged the hard living conditions prevailing inside. A strong police presence at the entrance caught our attention as we were lead to the Prison Director's office.
The Prison Director, André Mbayabaya, whom we had trained in Bujumbura the previous week, was waiting for us. He called the Prison Chief of Security to check the security situation inside the prison. Nothing outstanding had been noticed in the early morning.
He then shared alarming figures: while the official capacity is 400, 1497 detainees are confined in Gitega. 566 detainees are men awaiting trial, 23 are women, and 37 are juveniles. In another word, more than 40% of the prison population had still not get a chance to appear before a Judge. More than 40% of the prison population is deprived of one of their most fundamental right, freedom.
As we walked in, with the Prison Director and the Chief of Security, I was strike to meet the exact same faces as in Mpimba. Faces of poverty, desolation and fear. Faces of young men in rags. As we entered, we immediately got surrounded by a crowd of about 300 hundred prisoners. This figure got bigger and bigger as we pursued our visit. Placed at each corner of the prison, armed wardens were watching the scene, amused, but always on the alert, in case something would go wrong.
The Prison Director brought us to the prison's church, where a mass was taking place, attended by about 20 prisoners.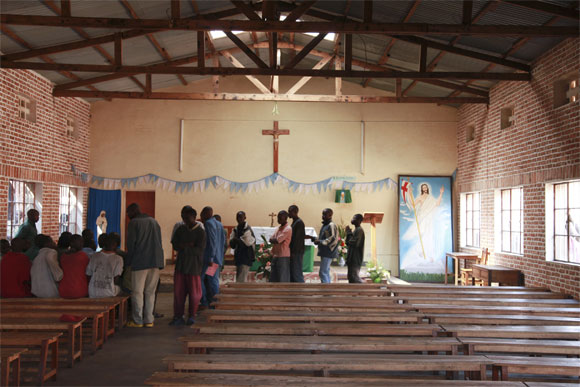 Above: Mass in the Prison's Church, Gitega, Burundi. (Photo courtesy of Nathalie Mohadjer.)

We then went back to the main inner court where most male prisoners were standing; staring at us with at times anxiety, at times mockery. Young boys were running around us, among male convicted prisoners. As I pointed out to André that some of them looked very young, he said he intended to build a separate juvenile section, but had no resources to do so at the present moment. I remember seeing a young boy sitting in the big inner court, head in his hands, probably crying. It was impossible to leave the group to go and talk to him. The tempo of the visit was high, as the Director obviously didn't want us to spend hours hanging around in the prison.
Above: A boy with the head in his hands, Gitega Prison, Burundi. (Photo courtesy of Nathalie Mohadjer.)
As we walked towards the women section, we passed by a small garden where prisoners grow crops, with the few resources they have. Surprisingly, the women section is a bit better off than the one in Mpimba. Contrary to the Central Prison, the women section is clearly separated from the men section. It is guarded by male wardens. The only time they have contact with male prisoners is when they go to the prison market to buy local food products. Even then, they are accompanied by guards.
The women were, once again, a bit more communicative than men. None of them spoke French nor English. Astère helped translate here and there. Lying on the floor, two women were making wicker baskets. The Prison Director explained that these are sold outside the prison. Some of the money directly goes to the prison, some to the workers. A bunch of young kids was playing on the floor. Most of them had spent their first 3 or 4 years with their mothers, growing up in the prison. They stared at us with curiosity. We then entered one of their bedrooms. It was very dark inside as there was not one single window. You could guess tired bodies resting here and there. All sorts of things were piled up in the room: old mattresses, mosquito's nets, water bowls, cloths, etc. A young detainee explained that they were 30 women living in this room.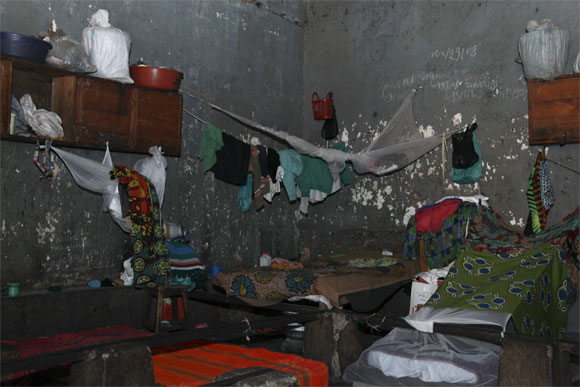 Above: Inside a women's bedroom – Gitega Prison, Burundi. (Photo courtesy of Nathalie Mohadjer.)

As time was running out, the Prison Director urged us to get out of the prison. From the women section, we took a small path leading to the exit. We ended up walking 500 meters between the two main walls of the prison. They were incredibly massive: of several meters long buried into the soil, they are almost impossible to get over. Wardens beat there to make sure than no detainee escape. We nonetheless noticed a hole underneath the first wall. One week ago, a group of male prisoners had dug in the soil underneath the wall to try to escape. They got caught up and were brought to a special unit where they were isolated for three entire days. We also noticed that the sinuous path towards the prison exit was strewn over with used condoms.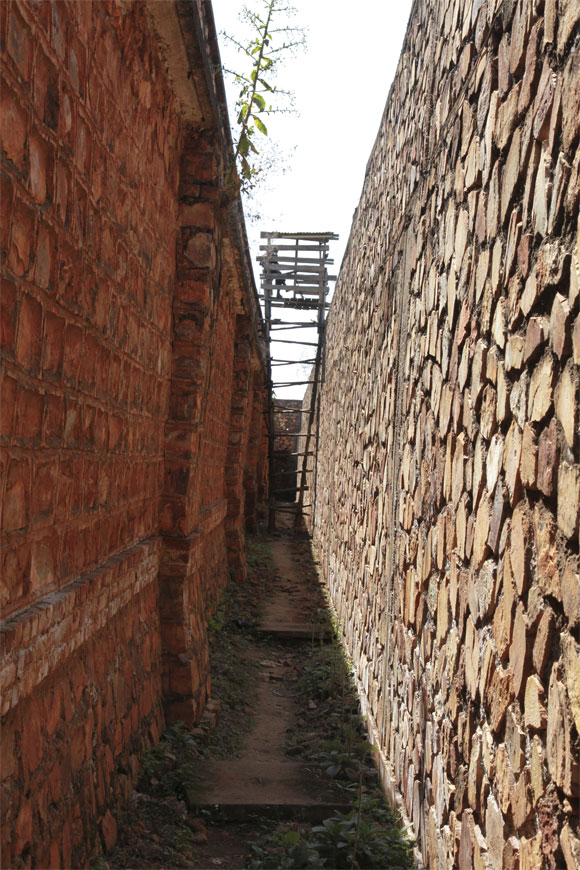 Above: Between the walls of Gitega Prison, Burundi. (Photo courtesy of Nathalie Mohadjer.)
We left the prison with a weird feeling of not having enough time to explore the different corners of the prison and to really exchange with the detainees.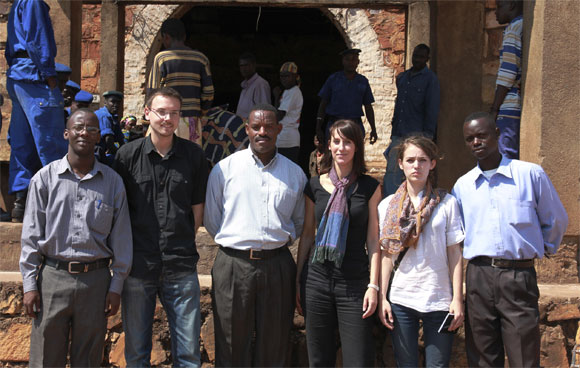 Above: From left to right: IBJ Burundi Fellow and Country Manager, Astère Muyango; IBJ Burundi Project Assistant, Jean-Baptiste Bouzard; Gitega Prison Director, André Mbayabaya; IBJ Africa Program Officer, Fanny Cachat; IBJ Summer Journalist, Laura Dix and Chief of Security of Gitega Prison. (Photo courtesy of Nathalie Mohadjer.)
We then headed to the Tribunal de Grande Instance (TGI) where Judge Désiré was waiting for us. He greeted us with a lot of openness. He made us visit the inside of the tribunal, including the magistrates' offices. I was surprised by the rudimentary conditions in which they carry out their mandate. They sit on bare wooden chairs and have not one single computer to work on.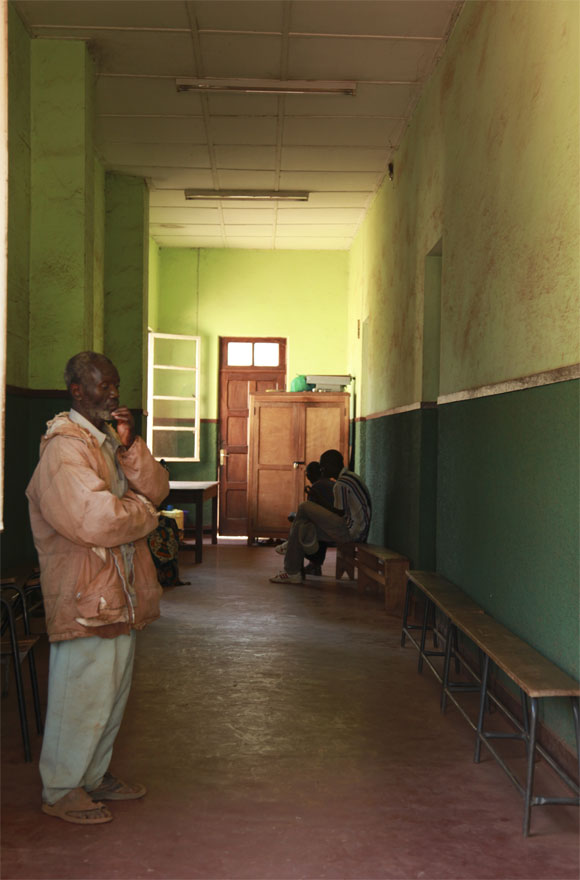 Above: Inside the Gitega Tribunal, Burundi. (Photo courtesy of Nathalie Mohadjer.)
Désiré then invited us to assist to a Court hearing. Just on that day, the Supreme Court was temporarily displaced to Gitega. We assisted to a hearing where a land dispute between members of a same family – something common here – was been settled.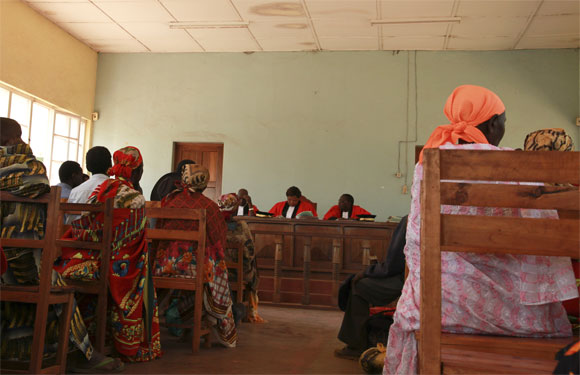 Above: A Supreme Court hearing in Gitega, Burundi. (Photo courtesy of Nathalie Mohadjer.)
After a lunch with André and Désiré and a quick visit to the local APRODH office, we decided to head back to Bujumbura. On the way back, we stopped at a Genocide Memorial where, in 1993, about 75 high school Tutsi students were abducted from school, locked in a gas station and burnt alive. Astère was particularly moved as he grew up in this very same high school. The memorial front reads: "Never again".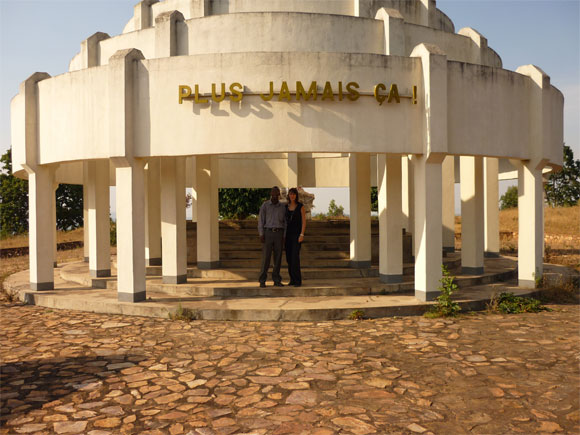 Above: Astère and Fanny in front of the Memorial, near Gitega, Burundi.