Headquarters – Taunggyi
---
Jake Stevens has been part of  IBJ Myanmar team since the Justice Centres opened in 2017.  Prior to becoming Country Director in 2019, he wrote the Myanmar Criminal Defense Practice Manual, conducted justice sector assessments, and was Country Training Director.  He has been actively engaged developing legal aid, access to justice and justice education in Myanmar since 2013 – as a consultant to the Yangon Justice Center,  a facilitator at the conference leading to the founding of the Independent Lawyers Association of Myanmar, and as a trainer at the first workshop on clinical legal education for law teachers.  From 2014 to 2016 he developed and implemented the rule of law workshops, lawyers' skills trainings and community outreach forums as Avocats Sans Frontières Senior Capacity Development Expert at the Rule of Law Centres, funded by the United Nations Development Program.  Internationally, he has also supported legal aid efforts in Nepal, and he has advised prosecutors and police on counter-terrorism investigations and charging standards for the United Nations Office on Drugs and Crime in East Africa.  His commitment to expanding access to justice and legal aid is built upon his almost 20 years practicing as a criminal defense lawyer in the United States in innovative legal aid offices, such as the Bronx Defenders, promoting client-centered representation and  systemic reforms to problems facing vulnerable individuals and communities in the justice system.   In addition, as a Visiting Associate Clinical Law Professor at Hofstra University, he led a criminal justice clinic  teaching and supervising students practicing in the criminal courts from 2010-2013. Mr. Stevens most recent article, "In the Absence of the Rule of Law: Everyday Lawyering, Dignity and Resistance in Myanmar's 'Disciplined Democracy,'" was published in 2018 in the UK journal Social & Legal Studies.  He received his degrees from Harvard University (B.A.) and New York University (J.D.).
---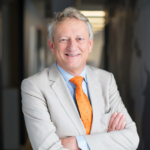 Martin Witteveen, Strategy and Advocacy Director
Martin Witteveen is an expert in international criminal justice, criminal investigations, especially in international crimes and building the rule of law abroad. Most recently, he was an Appeals Prosecutor in the Netherlands, specialized in international crimes, human trafficking and smuggling as well as counter terrorism. His international career started in 2004 as an investigation team leader in the Office of the Prosecutor [OTP] of the International Criminal Court in The Hague, where he led the team investigating crimes in the situation of Northern Uganda. He has also advised the Public Prosecution Service in Palestine, advised the National Public Prosecution Authorities in Rwanda on genocide cases, and served as an investigation magistrate for international crimes in the district court of The Hague, investigating two cases of the Rwandan genocide, the case of the Tamil Tigers of Sri Lanka and a case of an Afghan general. He has served on the Global Board of International Justice Mission, an NGO with headquarters in Washington D.C., USA and around twenty field offices around the world fighting human trafficking and other forms of violence against the poor. He also serves as an expert on corporate criminal accountability for human rights violations with Amnesty's International Business & Human Rights Division in London.
---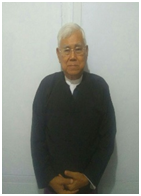 U Hla Ko – Board of Directors
U Hla Ko has extensive judicial experience. From 1967 to 1975, he served in the roles of an Additional Township Magistrate, Township Judge and Magistrate and Judicial Officer. From 1976 to 1982, he was a Higher Grade Pleader, and in 1982, he served as a Supreme Court advocate. From 1995 to 2002, he was the Vice President of the Myanmar Anti-Narcotic Association for the Mandalay Region. He was also the President of the Mandalay Bar Association from 2010 to 2012, and is now a patron of Mandalay Bar Association and also a chairman of  the Myanmar Legal Aid Network.
Mr. Hla Ko founded the Mandalay Law Firm in 1998, which trains over 300 Higher Grade Pleaders and aims to develop capacity for young lawyers. The Mandalay Law Firm also provides a legal consultancy service. He has also published several works, including books on the Applied Court Fee Act and Suit Valuation Act, the applied Limitation Act, Gambling Law, a Digest of Myanmar Rulings (Criminal and Civil, 1986-1995), and the Law related to foreigners and immigration.
Currently, U Hla Ko is a member of the Union Rule of Law center and Justice Sector Affair Coordinating Board and is helping IBJ as a Senior Legal Advisor in Myanmar.
---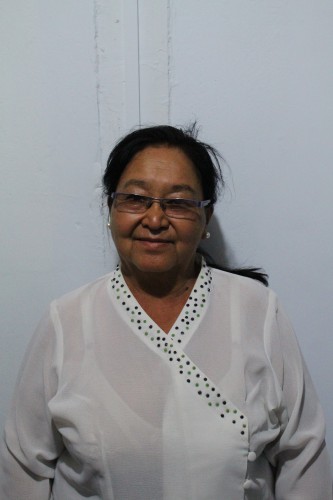 Daw Khin Moe Moe – National Senior Legal Advisor
Daw Khin Moe Moe was inspired to become a lawyer from watching movies. When she finished her matriculation in 1970, she went to Yangon Art and Science University to study law. In 1975 she received her Bachelor of Laws.
Between 1976 and 1983, she worked as a judicial officer in Yangon, Mandalay and Shan state.  In 2007, she established Peace and Justice Law Firm and she worked tirelessly to help ethnic minorities, poor people and political prisoners receive legal help and advice without any charge. In 2013, the firm was upgraded to a legal aid center where she has supervised seven advocates, fourteen senior lawyers to help people in need from Yangon division, Bago division, Karen state and Shan state.  In addition to her legal practice, Daw Khin Moe Moe has been working as a secretary of Independent Myanmar Lawyers organization and as a chief officer of Committee of Women Lawyers Organization.
---

Nandar Min Tun, Program Coordinator
Nandar has completed her Bachelor in Computer Engineering at University of Technology (Yatanarpon Cyber City). She has attended trainings for the "Organizational Development for Civil Society" and "Human Rights Foundations and Protection Mechanisms" organized by IPACE.  She has also volunteered for the United States Embassy to aid Myanmar people to get better access to the education system in the United States.  Growing up in Myanmar during a difficult period, she has always been inspired by human rights and advocacy for gender equality. With a firm belief in justice and fairness, Nandar is dedicated to helping IBJ strengthen the
---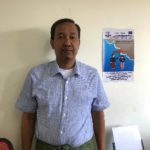 U Ye Thant Zin, Senior Finance Manager
U Ye Thant Zin is an accounting graduate (B.Com:) since 1994 from the Institute of Economics, Yangon. He has been progressively working in I/NGO sector since 2008. U Ye Thant Zin pursued Master of Development Studies in 2007 and completed course works in 2008.
---

Ma May Mon Kyaw Kyaw, Office Manager
May Mon has a degree in Information Technology. Her passion to work for IBJ comes from her strong belief in equality and social justice. She has particular interest in humanitarian jobs and is also supporting women empowerment projects in Shan state region.
---

Kyi Thawtar Suu, Program Coordinator
Kyi received her Master of Laws (Civil Law) from University of Mandalay in 2018. Kyi also has extended international experience as an Erasmus Exchange student studying Comparative Legal History, Contemporary Jurisprudence, EU Administrative Law in Uppsala University, Sweden from August 2017 to January 2018. Kyi also performed as a field researcher in Civil Documentation Research Project in Mandalay Region in collaboration with The Raoul Wallenberg Institute ('RWI') (Lund University, Sweden) and University of Mandalay, Myanmar. Kyi contributed to the Rule of Law Handbook for CSOs in Myanmar project organised by Konrad Adenauer Stiftung (KAS) Myanmar. Kyi joined IBJbecause she is eager to dedicate her efforts in the work of access to justice and rule of law sector in Myanmar. 
---
Shon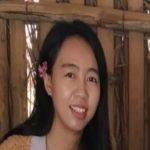 Lae Yamin Thaw, Monitoring and Evaluation Officer
Shon Lae Yamin Thaw is the administrator of IBJ Myanmar Headquarters. Shon has achieved her Master of Laws from Taunggyi University in 2013 and also received her Higher Grade Pleader license in 2011. Shon's passion to work with IBJ comes from her interest to be supportive to strengtheing access to justice in Myanmar. Shon is developing both her administrative and legal skills by working as an administrator of IBJ Myanmar.
---
 

Taunggyi Justice Centre
After matriculation, Daw Khin Moe Moe Aye went to study her Bachelor of Laws in Taunggyi. In 1995, during her third year at the university, she traveled to live and work Singapore.  She lived in Singapore for ten years. In 2007, Khin Moe Moe Aye return to Myanmar and started working for a chambers in Taunggyi.  In 2017, she received her advocate license and started working as a part of a lawyers network to provide legal aid training to people throughout her region and around Taunggyi.
---

U Thet Naing Tun, Junior Lawyer
U Thet Naing Tun received his L.L.B from Taunggyi University in 2014 and he became a Higher Grade Pleader in 2016. Thet has huge interest in criminal law and he believes that he could learn a lot more about international aspects of law by joining IBJ. Thet wants to apply his legal knowledge and experience in promoting access to justice for the people in Myanmar.
---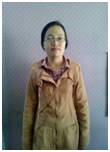 Daw Thwe Hnin Aye – Admin and Finance Officer
Daw Thwe Hnin Aye has a degree in Maths and a diploma in Accounting. She also has a certificate in Management Accounting and has more than 4 years experience in Admin and Finance Field. She also has expertise in computerized accounting and internal and external auditing. In her free time, Thwe loves to do community work since she believes that she could bring positive changes to the community.
---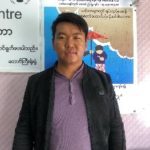 Khun Than Htoo, Program Officer
Khun Than Htoo received L.L.B. from Taunggyi University in 2014 and became a Higher Grade Pleader in 2016. He studied law at the university because he wanted to help people who are facing criminal charges and cannot afford a lawyer's representation.
Khum Than Htoo believes that he could learn a lot more about international aspects of law and can effectively help poor people in the community by joining IBJ.
---
U K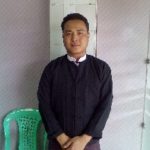 hun Nway Oo, Paralegal
Khun Nway Oo achieved his L.L.B in 2012 from Taunggyi University.
Since July 2017, he has been practicing law as a chamber student and starting from July 1, 2018, Khun is working as a parlegal at Taunggyi Justice Centre. Khun is excited to join IBJ and contribute his expertise as a paralegal, believing that he can bring a positivie change to criminal justice system in Myanmar.
---
Mandalay Justice Centre
---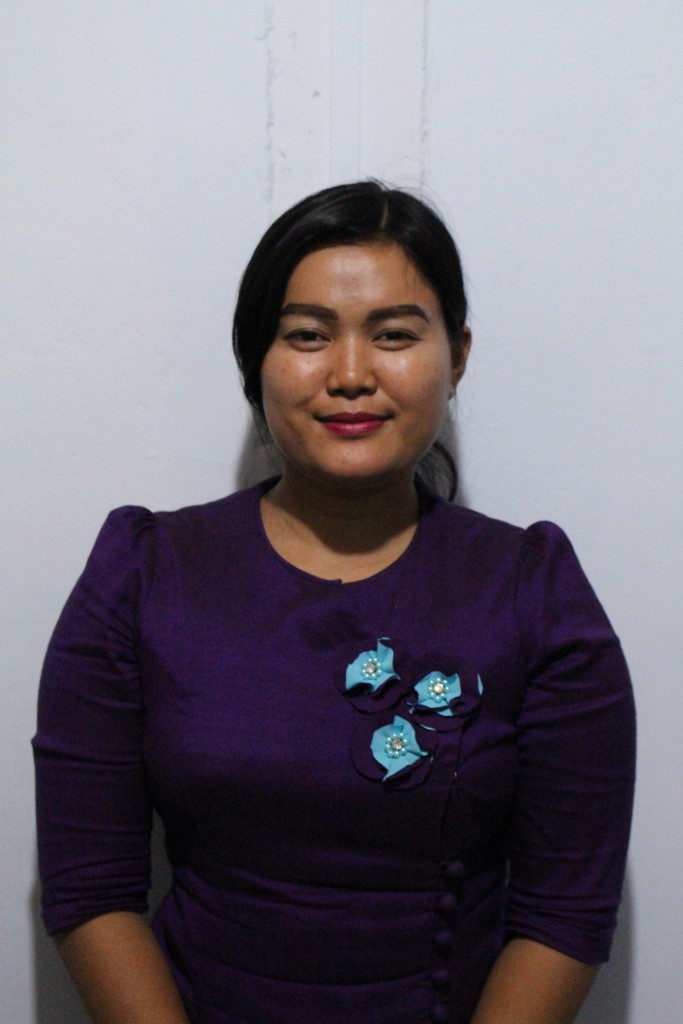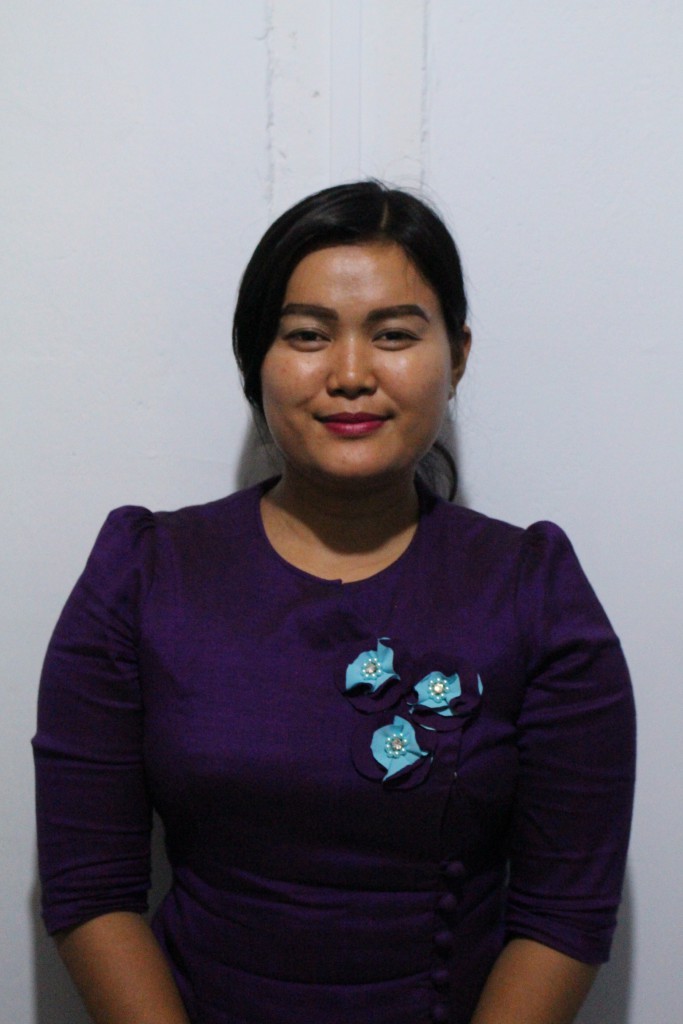 Daw Win Nandar Htut Khaung, Senior Lawyer
Between 2004 and 2008, Daw Win Nandar Htut Khaung studied law at Mandalay Yatanapon University. Win Nandar has been awarded a Diploma in Business Law (2010) and International Law (2012), both from Mandalay Yatanapon University. In October 2010 she received her law license. After working as a Higher Grade Pleader for three years, Win Nandar received her advocate license. Between 2010 and 2013 Win Nandar worked for Nyein Law Firm under the Chamber Master U Thein Than Oo. While working under the guidance of U Thein Than Oo, Win Nander was able to strengthen her advocacy skills towards helping poor, vulnerable and marginalised people in Myanmar. A committed criminal defence lawyer, Win Nandar is dedicated to furthering IBJ's mission in Mandalay and facilitating in the delivery of legal aid for accused persons.
---
After finishing the matriculation in 2003, Myintzu commenced her law studies at Mandalay Yatanapon University. In 2010, she finished her Master of Laws.  Following on from her studies at university, in 2014 she received her Higher Grade Pleader license.  Committed to furthering her skills as a lawyer, Myintzu continues to attend legal aid trainings and workshops.  Additionally, Myintzu has gained legal experience working as part of the Rule of Law Centres pilot project in legal aid training and, along with other graduates of that training, founded Myanmar Justice (Pro Bono) Association.  The Association's main objective is to raise legal awareness among the public.  She has experience as a trainer in civil society organizations(CSO).  Myintzu is excited enthusiastic about working for IBJ, providing legal aid services to the poor and gaining an understanding of the operation structure of an
international organization.
---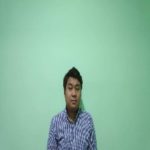 Than Kyaw Htut, Program Officer
Than Kyaw Htut received Diploma in Electrical Power from Hmawbi Technology University in 2012 and Bachelor of Arts in English from Yangon University of Distance Education in 2016. He has extensive experience working in event management, advertising and marketing sector from 2012 to 2018. Than Kyaw Htut is excited to apply his communication skills and event management expertise as a program officer in IBJ.
---
Daw Su Lwin Myint wanted to become a teacher when she was younger but later decided to study her Bachelor of Laws at university. As she came to know more about the law, she realized that being accused does not necessarily mean being guilty and that accused people have also should have the right to defend themselves. Her determination to bring justice for the whole community drives her to become a more skilled lawyer.
In 2012, she completed her Bachelor of Laws from University of Distance Education Mandalay and in 2014, she attended a diploma courses in Business Management at Mandalay University. In 2016, received her Higher Grade Pleader license from the Supreme Court of Myanmar. To further her advocacy skills, Su Lwin Myint has attended a number of workshops and trainings on legal aid service and legal skill.
Su Lwin Myint gets satisfaction from bringing justice and fairness to the people involved in cases that she handles. She is frustrated by the lack of transparency in justice sector. Her personal life has a big influence on her job and she believes that working together with IBJ will offer her a valuable experience to enable her to being a better lawyer.
---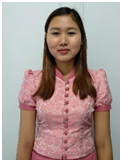 Daw Thin Yu Zaw – Admin and Finance Officer
Daw Thin Yu Zaw has a Bachelor of Economics and a certificate in accounting. With over 4 years experience working as an accountant at different organizations, Thin is confident to take the responsibility as an Admin and Finance Officer at Mandalay Justice Center. Thin is excited to contribute her skills and knowledge in the work of IBJ.
---
Taungoo Justice Centre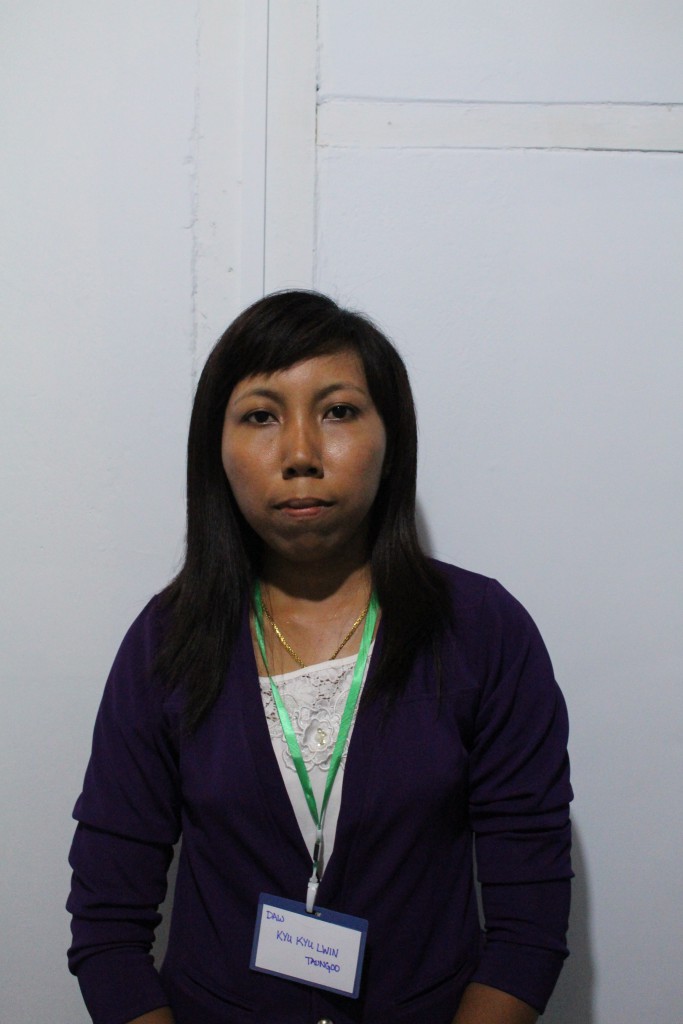 Daw Kyu Kyu Lwin, Senior Lawyer
Daw Kyu Kyu graduated from Taungoo University in 2006 with a Bachelor of laws.  She has also obtained diplomas from Yangon University. She began working for the Taungoo Bar Association in 2008 alongside practicing as a lawyer.  She worked as a High Grade Pleader for six years before receiving her advocate licence in 2014.  Since then Kyu Kyu has been working as an advocate in Taungoo.
---
May Phyo Aein is a devoted lawyer committed to bringing justice to those she represents.  She is eager to share her legal knowledge to those who do not have access to legal aid. She is proud to be a lawyer and is quite excited to contribute her skills and knowledge in the work of IBJ.
---
Naw Valentina ventured into law with the encouragement of her father. In 2010, she received her Bachelor degree in law. In 2013, she received her Higher Grade Pleader license and has been working under the supervision of a chamber master.
---
Daw Kh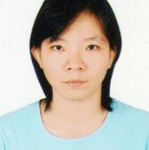 in Sanda, Program Officer
Daw Khin Sanda received her Master of Law (L.L.M.) from Yangon University in 2006. She also graduated with Master of Public Administration(MPA) from Aldersgate College, Philippines (Corresponding) by Centre for Strategic and International Center -CSIS) in 2016. She had extensive experience as a freelance trainer, religious and social coordinator in her previous employment. She received her Advocate license in 2016. With her passion in implementing programs, addressing various legal cases and cultivating relationships with justice stakeholders, Daw Khin Sanda is excited to join IBJ as a program officer of Taungoo Justice Centre.
---
She did her Bachelor in Business Management and she has seven years experience in accounting and administration. She is grateful to be part of IBJ and working as part of a team to provide a helping hand to vulnerable citizens in Myanmar who would otherwise will not have access to the legal aid. She believes that she can learn and grow together with IBJ.
---
Hpa-An Justice Centre
U San Kyi's father was a military officer and thus, he has always been inspired by his father to serve his country. In 1979, he passed his matriculation in Min Buu and went onto study law. For over 16 years, U San Kyi worked as a township legal officer in Mawlamyine.  In 2014, was been promoted to District Legal Officer of Yangon East District legal office. He retired his position in April 2017 to pursue a career as a criminal defence lawyer.  Coincidently, in June 2017 IBJ were recruiting in Hpa-An and U San Kyi thought it was his mission to be part of IBJ and help defendants to get access to legal aid services as well as provide provide legal training to the community.
---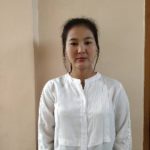 Lwin Lwin Maw, Paralegal
Lwin Lwin Maw is the new paralegal, joining Hpa-An team, starting from September 2018. She received her Bachelor of Law (L.L.B.) from Hpa-An Univeristy in 2017. She is now chambering to receive Higher Grade Pleader license and her ambition is to become a successful lawyer one day. Lwin Lwin Maw is very excited to be a part of IBJ's public defenders network since she wants to help achieve basic legal rights for the poor society.
---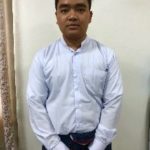 Saw Htet Lin Htoo, Program Officer
Saw Htet Lin Htoo has a Bachelor of Science (Physics) degree from Yangon University of Distance Education (Hpa-An Department). He worked as a Senior Associate at Myanmar Apex Bank in Hpa-An from 2016 to 2018. He wanted to pursue his career in Non-Profit sector since he would like to help people. By joining IBJ, he aims to promote legal education and access to justice for communities in Kayin state.
---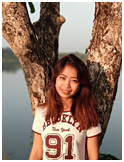 Daw Wai Wai Khine – Admin and Finance Officer
Daw Wai Wai Khine is the Admin and Finance Officer of Hpa-An Justice Center. She graduated with a degree in Bachelor of Economics(Statistics) in 2014 and had extensive experience as a Senior Fianance Assistant at CB Bank Myanmar. She decided to join IBJ since she wants to help the citizens of Myanmar who do not have any legal knowledge and have been charged with criminal offence.
---
Kalaw Justice Centre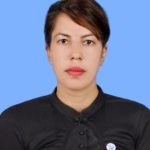 Wai Wai Zune, Lawyer
Wai Wai Zune has lawyering experience as a Higher Grade Pleader at township and state courts in 2010. She received her Advocate License in 2016 and pursued her career as a private lawyer in Shan state after that.  From 2010 to 2018, she was able to serve clients from Loi Lin, Ho Pone, Taunggyi, Yat Saut, Pindaya and Kalaw townships. Wai Wai Zune is now working as the Senior Lawyer of Kalaw Justice Centre.
---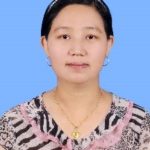 Cho Nyein Htwe,  Admin and Finance Officer
Cho Nyein Htwe graduated from Taunggyi University in 2004 with a specialization in Biology. She has extended experience in operating grocery stores, managing hosptial records and budgeting. Cho is the Admin and Finance Officer of Kalaw Justice Centre.
---
Naypyitaw Justice Centre
Wint Wint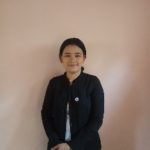 Aye, Lawyer
Wint Wint Aye received her LLB in 2007 and she became an advocate in April, 2017. Since then, she has been providing legal representation to the communities in Bago region and Mandalay region. Her passion to join IBJ comes from her faith in fighting against corruption and bringing fairness and justice to the accused who would otherwise cannot afford a lawyer.  She is also enthusiastic to take part in promoting early acccess to legal aids by the general public.
---
Chan My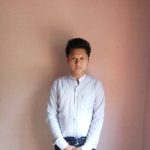 Chan Myae Aung, Admin and Finance Officer
Chan Myae Aung passed his matriculation in 2008. He has certificate in Electrical Communications and a degree in Physics. Chan Myae has experience as a seafarer on a tanker ship for 13 months. Chan Myae is proud to work as Admin and Finance Officer of Nay Pyi Taw Justice Centre since he is passionate about helping poor people who are facing a lawsuit and cannot afford a lawyer.