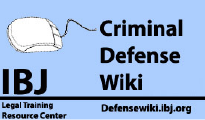 Criminal Defense Wiki
Many  lawyers in developing countries still cannot find even the most basic resources such as penal and procedural codes. It is essential that those seeking to bring about systemic change are aware of current treaties, international human rights norms, local laws and the creative approaches to criminal defense.
The Defense Wiki Library offers over 1,650 pages of content in 5 languages spanning over 70 countries. The site has received nearly 7 million page views to date, with 1,115,530 page views in 2014 alone.
IBJ's Criminal Defense Wiki brings codes, treaties, case law and other resources to lawyers throughout the world. The website is based on the same software as Wikipedia, and joins criminal defense practitioners, other lawyers and legal professionals, law students, and professors together from around the world to conduct research and develop cases with the most up to date resource materials possible.
For more information, please visit defensewiki.ibj.org and learn more about what you can do to help.