Student representatives from Institut Florimont, the International School of Lausanne, and Ecolint participate in IBJ's roundtable event at the 38th Session of the Human Rights Council.
On the occasion of the 38th Session of the Human Rights Council, International Bridges to Justice (IBJ) and The Secretariat of the African, Caribbean and Pacific (ACP) Group co-hosted a roundtable event on UN Sustainable Development Goal 16 and early access to justice. The event focused on how youth and technology are key drivers to making our shared vision of ending torture being used as an investigative tool a reality. A number of students from local international schools were invited to partake and share their energy and insights on topics which included ending corruption within the criminal justice system and harnessing the power of youth to advance early access to justice.
SAMD Students and IBJ Work Together in Davos
With support from the Lego Foundation, students from SAMD (Schweizerische Alpine Mittelschule Davos) worked with IBJ to build models of Sustainable Development Goal 16 out of Lego. The project was an opportunity for the students, aged 12-18 to creatively engage with IBJ's mission of advancing access to justice to prevent torture. Furthermore, a group of debate club students at SAMD are collaborating with IBJ to raise awareness about the challenges detainees face around the world and improve their knowledge of justice and human rights issues.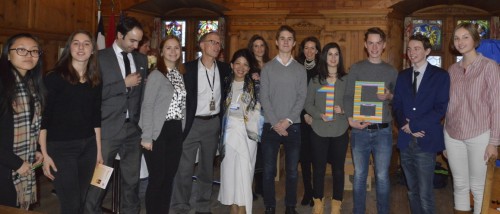 On Wednesday 18th January 2017, the SAMD students  joined IBJ on the occasion of the World Economic Forum 2017 Annual Meeting for the event "From Fear to Hope, Leadership on the Road to Justice". Leaders from various industries gave personal reflections on how to mobilize global commitment to implement UN Sustainable Development Goal 16 — Peace, Justice and Strong Insitutions. Trevor Winstral spoke on behalf of SAMD highlighting the importance of finding solutions and working together despite encountering problems too big for an individual to tackle.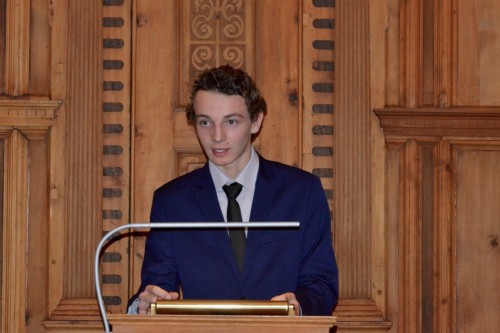 "The only solution I can see is one which the problem is concretely defined and appeals to basic human values. IBJ is one such solution. When I see an insurmountable obstacle, IBJ sees the solution, IBJ sees hope."

We look forward to working with SAMD on future projects to promote access to justice to prevent torture, in Davos and the wider Swiss community.
Collaborate for Social Impact (C4SI) student entrepreneurs in Geneva
Collaborate for Social Impact (C4SI) is an 8-week experiential learning program that connects groups of master's students with local and international organizations based in Geneva to come up with innovative solutions to some of the world's most pressing issues. This year, IBJ together with 10 other organizations was pleased to work with C4SI as a challenge setter. We gave 4 students from the Graduate Institute of International and Development Studies (IHEID) in Geneva the following challenge:
How do we develop Geneva's position as a global soft-governance Hub, while bringing the international community together to shine a spotlight on Access to Justice under UN SDG 16?
For an 8-week stretch between September and November 2016, the stud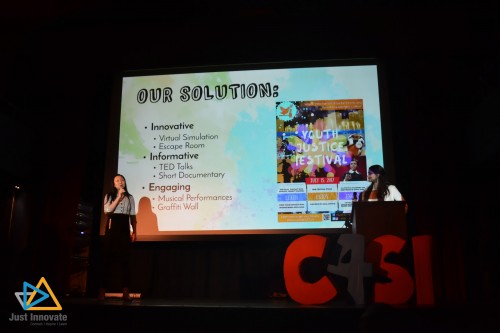 ents worked to brainstorm and prototype solutions to this question. The students received inputs from IBJ staff, workshop leaders, mentors, and other stakeholders involved in the challenge. From this intensive 8-week learning period, the idea emerged of a Youth Justice Festival, which uses entertainment and creative outlets to inspire youth to learn and discuss issues related to pre-trial detention and investigative torture in an informal setting.
With 11 teams pitching solutions on Demo Day on November 24th 2016, the IBJ team was selected as the winner by a panel of judges. With the aim of engaging and inspiring youth in Geneva to become agents of social change, the solution proposed by the IBJ team of a Youth Justice Festival was seen as innovative, inspiring, scaleable and feasible. As the winning team, the IBJ team will receive funding to put their proposed solution into action.
Other participating organizations included, among many, the International Organization for Migration, the Global Fund, Gender Champions, and the International Rainwater Harvesting Alliance.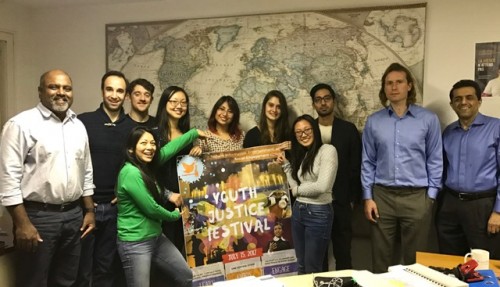 IBJ Youth Initiative in Bukavu, DR Congo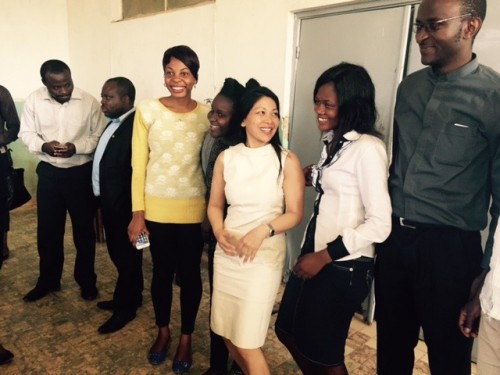 Inaugurating its program in the Democratic Republic of the Congo in June 2016, a key part of IBJ's newest country program is the involvement of youth. Visiting the Faculty of Law at the Catholic University of Bukavu, Karen Tse spoke to young Congolese students about IBJ's mission to end torture, guarantee respect for legal rights, and the special role of youth in ensuring access to justice becomes a reality for every woman, man and child.
Speaking about her meeting with the students, what really stood out to Karen Tse was their limitless enthusiasm and energy. "The young law students with a passion for justice and human rights that I met in Bukavu really embody the amazing energy that has the potential to cross boundaries and achieve change."
The students, who have formed an IBJ Youth Initiative – Bukavu chapter, are finding new creative ways to raise awareness about legal rights. They are assisting IBJ Congo not only in organizing rights awareness events, but also in documenting case stories and preparing material for justice roundtables.
Internship Program with William & Mary Law School
IBJ collaborates with the Center for Comparative Legal Studies and Post-Conflict Peacebuilding at William and Mary Law School in a number of important ways, including conducting joint research projects. Each summer, William and Mary sends exceptionally qualified summer legal interns to gain experience in IBJ's home office in Geneva and its field projects across the globe. Over the past decade and a half, William and Mary interns have worked in IBJ projects in Rwanda, India, Cambodia, Kenya, China and Switzerland. These internships are critically important for students seeking concrete field experience as building blocks towards careers in international law and human rights.
My experiences at International Bridges to Justice have had a tremendous impact on my life.  This opportunity has opened my eyes to the realities of working on the defense side of international law, given me a new perspective on cultures from all around the world, and introduced me to some of the most dedicated and hard-working people that I know.  Unlike other internships, I always felt like I had a direct impact on the work of IBJ. This experience further entrenched my dedication to eventually working in human rights law after graduation.  I know that I will always be welcome at the offices of IBJ, and I look forward to seeing them continue to build and expand into a global leader for criminal justice reform.
– Evan Frauhiger, William & Mary legal intern, May-August 2016
13th of September: Activism through Storytelling Online Conference with Robert McDowell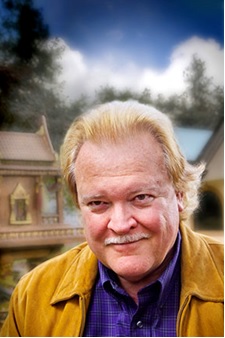 Robert McDowell
We are excited to announce the latest addition to the Youth Program's Online Conference Series!
Renowned poet, activist, and speaker Robert McDowell will be convening with Youth Scholars to help refine their leadership and public speaking skills.
Prolific author and poet Robert McDowell has extensive knowledge of the written and spoken word, particularly on how they may be used to create effective change. His impressive resume has made him a highly sought after international keynote speaker and communication coach.
To learn more about Robert McDowell and his work, please visit: http://www.robertmcdowell.net
1M93 Youths for Justice Campaign
The 1M93 Youths for Justice Campaign, which is one million and 93 youths against torture, is a global movement started by youth to call upon governments to act now against torture – especially against people their own age.
Why 93? Because 93 countries have signed the declaration of the United Nations that everyone has a right to be free from torture. IBJ Youth Scholars will start a petition to raise awareness for Juvenile Torture. Our Youth Scholars are currently doing research on Juvenile Torture in their own countries. The link for the petition will be uploaded soon.
22nd of July 2014: Online Conference on Leadership and Communication by Communication Coach Amy Carroll.
On the 22nd of July 2014, the Youth Scholars Program Coordinators organized an Online Conference on Leadership and Communication.
The conference was hosted by Amy Carroll and Amy explained her ''Predator, Prey and Partner'' model.
Amy has over 25 years of experience and spent 14 of those years working in psychiatric, managed care and educational facilities before becoming a coach and
trainer. Her understanding of the human psyche is extensive! She employs her background in psychology, improvisational theater and mediation to lead
training and coaching programs for multinationals worldwide.
Check out her website at: www.carrollcoaching.com. You can listen to her podcast here:

http://www.mkbconseil.ch/fr/excellent-executive-coaching-podcast-episode-2/

We were honored and very grateful that Amy was willing to share her knowledge and talent with our amazing Youth Scholars!
You can find the pictures of the Online Conference at the 'Leadership Development Skills' section of our website. Or on the IBJ Facebook page:

https://www.facebook.com/media/set/?set=a.669433453106107.1073741856.168233636559427&type=3

Youth Scholar Ethan Tse visiting IBJ Geneva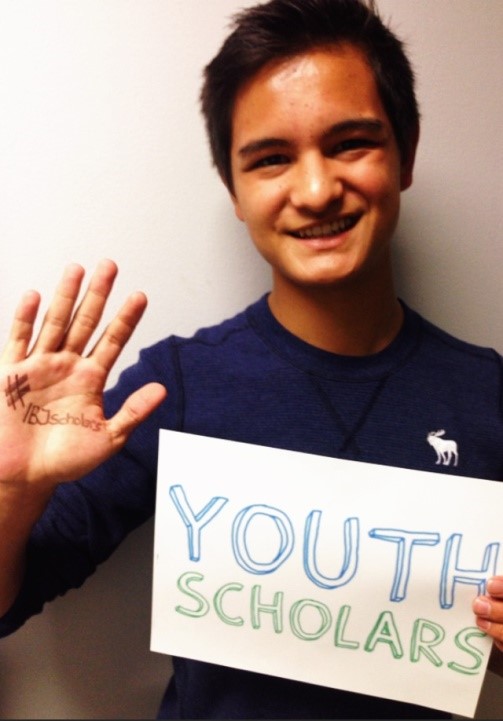 IBJ's Youth Scholar Ethan Tse from Sacramento, California is visiting the IBJ office in Geneva for the month July. He will work on different projects
regarding the Youth Program together with the Youth Scholars Program Coordinators. Do you have a question for Ethan and/or are you interested in starting a
Youth Chapter? Contact him at: etse@ibj.org
A message from Ethan Tse:
Crowdrise by our Youth Chapter in Sacramento
IBJ's Youth Chapter Sacramento, California started a fundraiser on Crowdrise! They are hoping to raise money and awareness in the youth community about
ongoing torture that is being used as an investigative tool. They want the youth community to be more aware and active in helping to free incarcerated kids
our age who are being tortured for a confession to a crime they may not have even committed.
Please join this initiative by the IBJ Youth Scholars, as they strive to reach their goal and put an end to torture as an investigative tool!
For donations go to: https://www.crowdrise.com/IBJYouthScholars/fundraiser/ethantse