Leadership development skills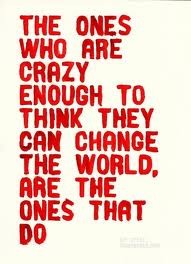 Every generation has a chance to shape the world. It seems that the challenges the world faces today are more complex than ever before. Education systems often leave young people unprepared of the pace of economic, social and technological change. It follows that, the world is defined by the people who live in it. Therefore, we believe that the development of responsible and entrepreneurial young international leaders is the key to creating a better world. For this reason, it is important that the youth are given a chance to see and explore the world. Because if you explore the world, you can start to understand the world. And if you understand the world, then you can start to change it. This is why we need international youth leaders. This is your world too, think about how you will shape it to create a brighter future.
Becoming young international leaders takes courage and a lot of work. By participating in the IBJ Youth Initiative, not only do you gain valuable skills for your academic and professional life, you also actively contribute to the world of your future. Participating builds your skills in:
Advocacy
Initiative
Leadership
Communication
Research
Problem Solving
Organization and Time Management
Peace Making
Teamwork
By becoming an IBJ Justice Advocate, you are:
BUILDING AWARENESS of the basic legal rights of ordinary citizens around the world and the obstacles that prevent these laws from being properly implemented during arrest and detention.
ENGAGING others within your community to take action against injustice within their legal systems.
FACILITATING CHANGE at the grassroots level, starting with your local community. When you conduct legal research and assist in the development of training resources for lawyers, you help increase the capacity of lawyers to protect human rights.
Poetry exercise with Robert McDowell
On September 2014, the Youth Scholars Program held an Online Conference on Activism Through Storytelling with esteemed writer Robert McDowell. Robert helped the scholars put their thoughts on justice and juvenile torture into poetry through a simple writing exercise. What came out of it are these beautiful poems!
Jessica Lin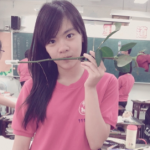 I long for a world with no pain
and a better tomorrow.
Though this thought might sound insane,
This life is just a temporary journey I borrow.
For the helpless I'd cure the injustice ill,
for those in need I'd fight for their right and health,
For this I have a strong will.
May every person have enough wealth,
and plenty of beautiful days,
to spend with their sons.
May we all extract the white out of gray,
and put down the invasive guns,
for all the mothers and fathers,
and their beloved sons and daughters.
---
Bhavani Khemka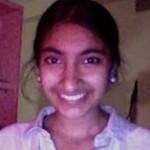 The Future
To absolve pain, creates a tomorrow, free of projections;
of hallucinations – the stuff; of thought.
Instead,
We welcome the insane:
the insane present moment
the unexpected reality.
Insane; a word some borrow to name the ill.
I think; Those "authorities"; Need help.
Will.
Fire, Water, Earth and the Wind will
coerce the day, the sun,
to rise again, shine again, come again
Elemental.
The elements creating the obstacles
are the very same
elements creating the mystic miracles.
In each moment,
those who can,
say,
Daughters and sons
You, too, can
hurl these boulders,
Obliterate them and in the presence of their beauty;
A thousand pebbles, raw, falling to the ground-
And in the presence of this blessing,
row, creating the rivers you wish to flow along.
The dark, black, dangerous
you once saw
then swiftly turns to gray
to white.
Serenely your river flows and we can hear the calls of surrender.
Surrendered
to your inner consciousness,
the guns once used are now disassembled.
Disillusioned minds,
having once blindly followed the perhaps faulty footsteps of their forefathers,
Now realise the power
Of the Future
The Future
Daughter and Son.
---
Ethan Swift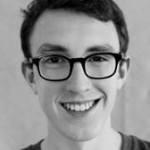 The excruciating pain
Of the worries of tomorrow
Might be driving us all insane
When there's no refuge to borrow
The feeling might just make you ill
But it is in this pain that we find health
And a strong, indomitable will
That eventually provides your inner wealth
For some day
Our sons
Whose souls are devoid of gray
Will lay down their guns
Remember they are fathers
And cherish their innocent daughters
---
Solange Pittet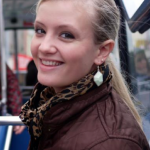 Share your pain
We always have tomorrow
I know it seems insane
But I have happiness you can borrow
To feel less ill
To aid your health
I will
Always share with you this wealth
One day
Our sons
Won't feel so gray
Will put down their guns
Look towards their fathers
To know their daughters
Online Conference on Leadership and Communication by Communication Coach Amy Carroll
On the 22nd of July 2014, the Youth Scholars Program Coordinators organized an Online Conference on Leadership and Communication. Youth Scholars from Taiwan, Hong Kong, Seoul, France, Switzerland and the US joined the conference.
The conference was hosted by Amy Carroll and Amy explained her ''Predator, Prey and Partner model''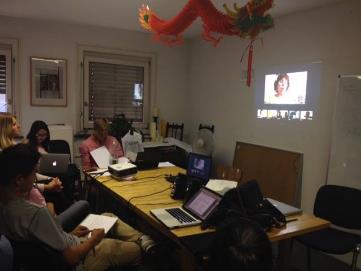 IBJ staff and Youth Scholars at the Online Conference on Leadership and Communication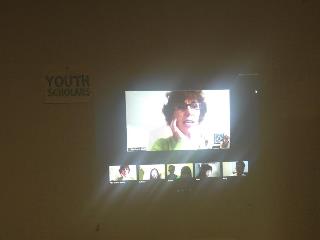 Communication Coach Amy Carroll explaining her ''Predator, Prey and Partner'' module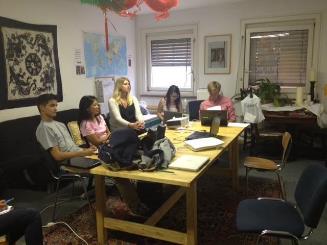 IBJ's CEO and founder Karen Tse also joined the Conference
Online Conference on Oral Presentation Skills
On the 3rd and 5th of June 2014 the first Online Conference took place for the Youth Scholars. During these 2 Conferences, Mr. Ray Boyd, talked to the Youth Scholars about how to give a good Presentation. Mr. Ray Boyd has worked in radio for many years, therefore he had lots of tips and tricks to share.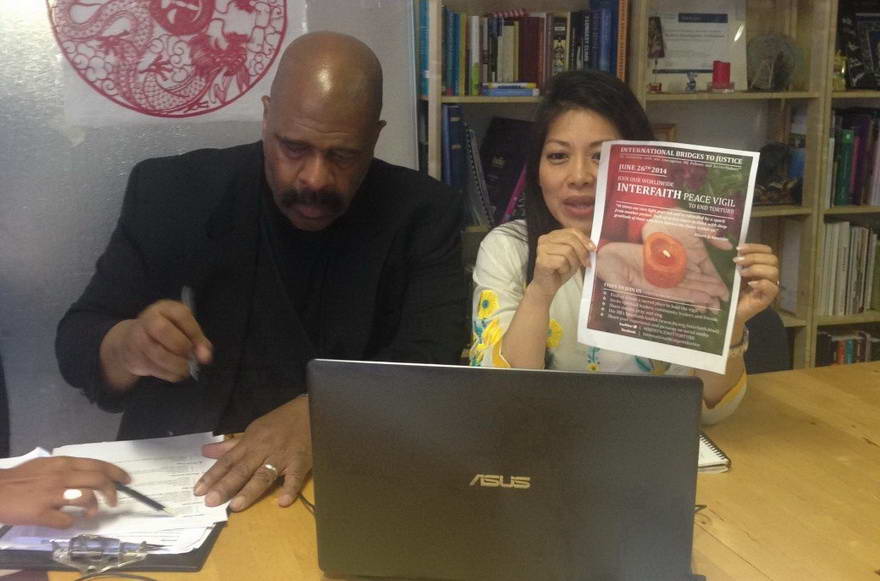 Ray Boyd and Karen Tse during the Online Conference on Oral Presentation Skills