PAST EVENTS:
Youth Justice Conference February 6th 2021
On February 6th, 2021, fifty-two Youth Justice Champions and Youth Chapter members attended IBJ's first ever Youth Justice Conference. There were participants from 12 countries in Africa, Asia, South America and Europe who convened to share their projects, learn about juvenile justice in their countries and to connect to a global network of youth. To conclude the conference, all the participants took a pledge, promising their commitment to build a future where every young person has access to justice, access to a lawyer and the right to a fair trial, and pledging their allegiance to the IBJ Youth for Youth Justice Movement.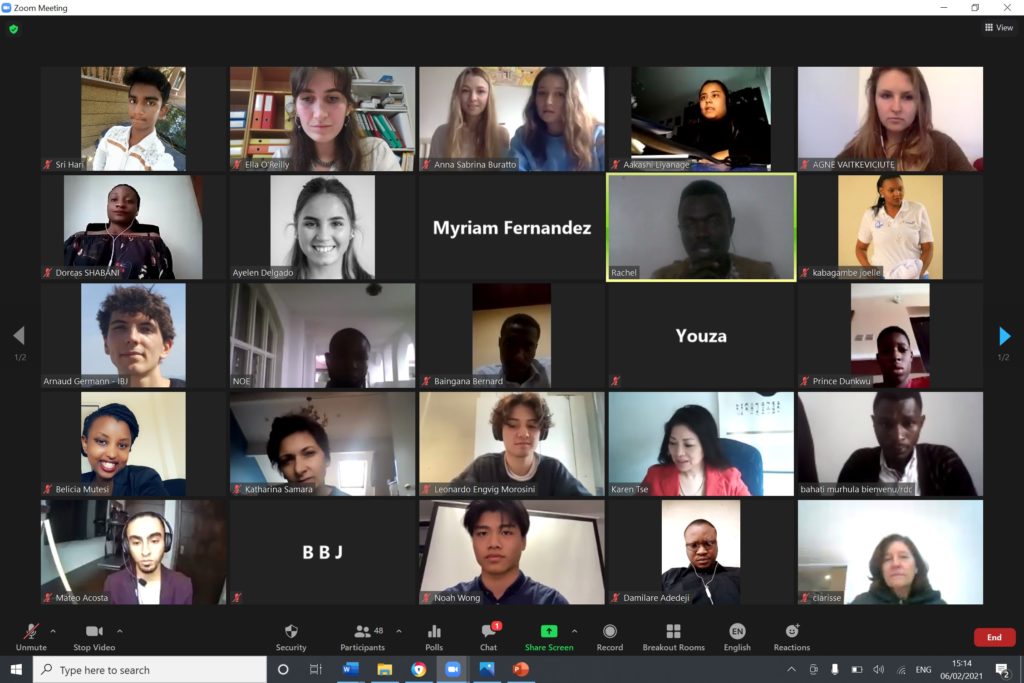 IBJ Youth India meet the Rotary Foundation Calcutta January 2021
Karen Tse, the founder and CEO of IBJ, and Noah Wong, The founder and president of the IBJ Youth Movement, presented alongside four India Youth Justice Champions, Srihari, Kriti, Niranjana and Yaqoob, to an audience of around 50 guests, which included a number of Indian Rotary Foundations. Included in the presentation on IBJ was an introduction to the youth movement, Noah discussed the issues surrounding access to justice, and the Youth Justice Champions presented their unique ideas to improve juvenile access to justice in India.
Nigeria Youth Justice Champion Launches Project December 2020
The inaugural forum was organized by Princess Stephanie Dunkwu, a Nigerian Youth Justice Champion who is 16. Attendee's of the launch included Patrick Dunkwu, her project mentor and Justice Makers Fellow 2008, human rights defenders from national human rights advocacy organizations in Nigeria as well as members of her project team.
Switzerland Youth Awareness Event August 2020
During August, 2020 young people from across Switzerland gathered together for an awareness raising event and brainstorming workshop. The youth heard about the work of IBJ country program managers in India and Zimbabwe, who reflected on the conditions for juveniles in detention in their countries.
Switzerland Youth Chapter Film Screening July 2020
In July 2020 IBJ Youth held a screening of the film 'Burundi: Boys Behind Bars' to raise awareness about the conditions of children and juveniles who are in prison in Burundi. This film exposes the plight of hundreds of children locked up for years without trial in adult prisons, among some of the most dangerous criminals in the country. It follows one man who has dedicated his life to freeing them; for many of these children, Pierre-Claver Mbonimpa a Burundian lawyer.