Burundi Team
Avenue Muyinga, N° 30, City Quartier INSS, 6877 Bujumbura, Burundi
---

Astère Muyango – Fellow and Country Manager
Astère brings more than 5 years of experience in legal clinical aid and project management to IBJ. His most formative experience was as Assistant Coordinator of the Clinical Legal Aid Project of the International South-African based non-governmental organization ACCORD (African Centre for Constructive Resolution of Disputes), where he delivered capacity-building to grassroots organizations, provided legal counsel to indigents and managed partnerships with other relevant legal aid providers in the country. Astère now provides the on-the-ground leadership to IBJ's Burundi program. He contributes to refine the program's strategic goals, coordinates the main activities of the program and cements strong working relationships with the local partners. He holds a Bachelor of Law from the Law University of Burundi.
---

Janvier Ncamatwi – Legal Fellow
Father of four children, Janvier Ncamatwi holds a Master in Human Rights and Pacific Conflict Resolution. He has been a lawyer at the Burundi Bar Association since 2004. Prior to joining the Bar, Janvier Ncamatwi worked in the Burundian army, first as a major in the military and then as a military court judge. He has thus a thorough understanding of the Burundian criminal justice system, including the civil and military jurisdictions. Passionate about human rights, Janvier cooperates with several other NGOs, including ASF, Ligue Iteka and the Christian Association Against Torture (ACAT). In 2006, he spontaneously assisted twenty juvenile detainees of Muyinga prison with the result that all of them were either released or convicted to lower sentences.
---

Aline Nijimbere – Legal Fellow
Married with three children, Aline Nijimbere is a lawyer. She has joined the Burundi Bar Association in June 2000. During her ten years experience as a legal practitioner, she has defended many indigent arrestees, especially individuals involved in civil war crimes for organizations such as the High Commissioner for Human Rights in Burundi, Lawyers without Borders and local human rights organizations like APRODH and Ligue Iteka. Strong of her passion for the promotion of women and children's rights, she has taken many cases of vulnerable women and juvenile detainees and members of ethnic minorities for the High Commissioner for Refugees via a local association, the Burundian Lawyer Women"s Association of which she is an active member. Aline holds a Master degree in Human Rights and Pacific Resolution of Conflicts. She has conducted research and trainings on women and children's rights.
---

Nadège Kwizera – Project Administrator
Nadège Kwizera is IBJ's Project Administrator at the Defender Resource Center in Burundi. She is a graduate in Economic and Administrative Sciences from the University of Burundi. Prior to joining IBJ, she has worked at the telecommunications company LEO, at Belgium International Caritas and in the project Transitory Reintegration and Demobilization Emergency. As Project Administrator, Nadège supports the daily operations of IBJ office and develops the administrative and logistics systems to facilitate the coordination of the work of the Fellow and Country Manager and Legal Fellows.
---

Jean Claude Barakamfitiye – Intern
Jean Claude is a student at the University of Burundi where he will soon graduate from a Bachelor in Law. During his fourth year at the University of Burundi, he wrote a paper on the Concrete implementation of the rights of the child in Burundi – with a particular focus on the rights of juvenile offenders – for which he got awarded the Janusz KORCZAK Prize (Switzerland). His sharp interest in Human Rights dates back to the time he was a Junior Deputy at the World Parliament for Children in Paris. As a leader of the UNESCO Club at his secondary school, he contributed to teaching on the main Human Rights international conventions. His internship at IBJ provides him the opportunity to work for detainees in general with a special emphasis on juvenile criminal cases.
---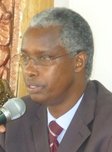 Isidore Rufyikiri – Burundi Country Advisory Council Member
A renowned lawyer for over 9 years, Isidore has defended hundreds of accused persons – often taking on his own resources to assist defenceless persons – and sometimes risking his own freedom. His brief career as a public prosecutor taught him how an unbalanced justice system where prosecution is one-sided disservices the ideal of fair justice system. As the former first counsellor at the Embassy of Burundi in Algeria and later Tanzania, he also brings a significant experience in international relations. Since September 2008, Isidore is the President of the Bar Association. His leadership has led him to work closely with the United Nations Integrated Office in Burundi to draft a bill outlining the legal framework for legal aid (Loi portant cadre légal d"assistance judiciaire et d'aide juridictionnelle), which has been submitted to the Ministry of Justice for review. Isidore's several experiences as a prisoner and victim of mistreatment have shaped his personality, reinforced his natural leadership qualities, audacity and unwavering dedication to human rights and inspired him to fearlessly campaign in favour of the rule of law in Burundi.
---

Pasteur Nzinahora – Burundi Country Advisory Council Member
Former ambassador of Burundi in France and Algeria, Pasteur holds over fifteen years of experience as a magistrate and was once president of the Supreme Court of Burundi. Along with a history of experience, he brings with him an extensive network of contacts within the judicial system, which will play a vital role in strengthening IBJ's position in Burundi. Pasteur has also a long experience of involvement on the international scene, in particular within francophone countries: among other key positions, he was the Director of the West African Regional Office at the Organisation Internationale de la Francophonie (OIF) and the Director of legal and judicial cooperation at the Association des Hautes Juridictions de Cassation des pays ayant en partake l'usage du français (AHJUCAF). Now an accomplished and notable lawyer, Pasteur will contribute to cementing relationship with other members of the judicial system to bring about systemic change in Burundi.
---
Pierre Claver Mbonimpa – Burundi Country Advisory Council Member
Pierre Claver Mbonimpa is the Founder and President of the Association for the Protection of Human Rights and Detained Persons (APRODH), a leading grassroots human rights organization that focuses on the protection of the rights of prisoners and victims of torture. A Former Burundian policeman and renowned human rights defender, Pierre Claver was honored as joint winner of the 2007 Martin Ennals Human Rights Defender of the Year. Pierre Claver is affectionately known throughout Burundi for his unwavering dedication to the protection of the rights of detainees in his country. A former prisoner and victim of torture himself, he has fearlessly campaigned against torture for over decade. Since 2006 IBJ and Pierre Claver's APRODH have joined forces to strengthen Burundi"s justice system through supporting local lawyers and promoting the legal rights of local populations across the country.