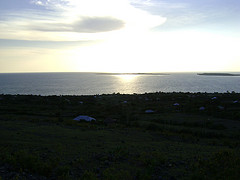 Lone cormorants arrow low to sip the water from the 'eye' of the stones on the beaches toned with black cotton sand-I have always thought sand is just white on the shores.
The tree tops around the beaches are donned egrets like large white blossoms. But there is nothing idyllic and little natural about the spectacular lakeside sunset that is in concert with the fresh waters of the lake.
A cluster of smaller rocks surround it with dense pathways littered with green shrubs and edges with green grass.
If anything it is more ramshackle and frenetic than other rocks around that I have ever come across.
The breathtaking view of the lakes islands is a marvel of beauty to behold. A definition of the intricate nature of Our Creator.
As the sun shines from the skies and gives a light glinting on the pristine waters of the lake as the fishermen carefully mend their nets while others launch into the deep of the lake hysterically on their boats in search for a catch in the waters.
They caress steadily their boats rowing them with the wooden bars to the direction of their business of the day.
On and on the waters flow gently as though they are in toning a tearful prayer for all creatures in the lake. The curious onlookers can't help but yield to the charm of the lake. This picturesque scene of the lake is a wonder of our world. It would not have come if we had not visited Gwassi for a legal awareness and education there.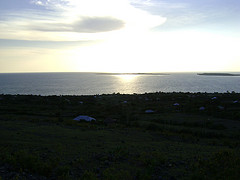 Dennis Okore Okoth is a 25 year-old Legal Aid and Communications Intern at CLEAR-Kisumu. Dennis received his Bachelors degree with honors in Communications and Media and a focus in Public Relations from Maseno University in Kenya. He is an avid reader with insatiable hunger for the news. He has passion for online-journalism and conflict resolution and intends to pursue them at a later stage in his career. As an Intern at CLEAR-Kisumu, his work entails documenting the project in print and electronic media for donors, partners and friends of CLEAR-Kisumu. Apart from these functions he handles liaisons in the community, colleges and schools.