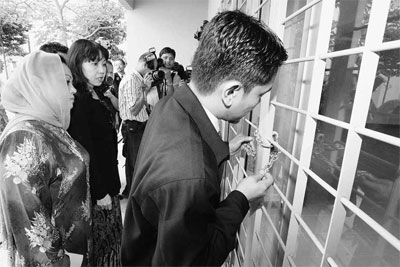 Dec 9, 2010, Kuala Lumpur, Malaysia —
JusticeMakers Fellow Dato' Yasmeen Shariff met with the Director General (DG) of the Social Welfare Department of Malaysia (JKM), Dato' Meme Zainal Rashid, to determine a policy plan for Malaysia's adoption of diversionary procedures in its children's court. This meeting signaled JKM's awareness that internal reform is necessary in revamping the way it handles juveniles. The agency, according to the DG, realizes that alternatives should be available for juveniles to divert from the traditional criminal justice system. These processes, advocated for in Dato' Yasmeen's 2010 JusticeMakers Project, encourage offenders to participate in restorative approaches that will better benefit all parties involved – victim, offender and the community.
However, the confident self-awareness emanating from Dato' Meme's responses was hampered by two critical impediments: a lack of social welfare officers with specialized training in children's issues, and interagency complexities involving other stakeholders within the juvenile justice system.
JKM, a department under the Ministry of Women, Family and Community Development, is one of many agencies responsible for dealing with children that come into conflict with the law. Under the 2001 Child Act, the Welfare Department is contacted when children are arrested and provide social background reports to assist the magistrate in doling out appropriate punishments. These reports examine the social aspect of the offense in question – family and home environments – and often necessitate physical site visits. Other welfare responsibilities include the management of remand homes and approved schools for children and monitoring of family behavior and children after their release from detention.
This is a huge responsibility for JKM, especially considering their other responsibilities. "As we say here [in JKM], we are responsible 'from the cradle to the grave,' " said Dato' Meme. "This means that our department deals with all social services from birth to death, concerning all members of Malaysian society."
But on the horizon, Dato' Yasmeen and other juvenile justice advocates are looking for JKM and government agencies to further expand their management of children in conflict with the law. Following the lead from regional neighbors, they are insisting the government offers alternatives to court proceedings for petty juvenile offenses.
"We have been looking at countries surrounding us [Malaysia] like the Philippines, Thailand, Australia and New Zealand, and see that they have all introduced some form of reform in their respective juvenile justice systems," affirms Dato' Meme. "And we too have been looking at this for the last ten years. We see many child offenses, like petty shoplifting, enter the court process and kids ending up in detention homes, when clearly other options – like counseling or mediation – would better serve them and the victims of their crime, whether it is an individual or the community as a whole."
Currently, however, Dato' Meme admits that her department is lacking in adequately trained staff to handle these types of social issues involving children.
"We do have child-specific training for our officers, but this is only a recent development of the past five years. We are still waiting for this type of knowledge to fully entrench itself in our department, and enable our staff to better handle children."
Even with this training, the implementation of novel diversionary approaches for child offenders will be a difficult mission for the already overstretched Welfare Department.
"For the past several years this topic [juvenile diversion] has been on our annual agenda. But unfortunately, we have so many competing constituencies who each envision their advocacy cause as the most urgent. The disabled think of a disabled-friendly Kuala Lumpur as the most pressing issue, while the destitute want poverty-reducing measures to take top priority.
"This situation makes giving complete attention to any one issue a tricky task, and unfortunately, this aspect of juvenile justice has gotten a bit sidelined recently."
But even if diversion ended up on the top of JKM's annual agenda, notes Dato' Meme, it would still require the undivided attention, support and collaboration among the other juvenile justice stakeholders, namely the National Bar Council, Attorney General's Chambers, Magistrate's office and Ministry officials. This interagency coordination problem, argues Dato' Meme, is the key barrier halting the formulation of a coherent diversionary program for children.
"Even if JKM was to go full throttle in this pursuit and train all of our staff in mediation and counseling for family and children, we would still have to get the buy-in from other agencies like the ones representing lawyers, prosecutors, judges and law enforcement. This is what is really halting this progress – we have yet to all sit down in a room and really examine what needs to happen for diversion to be an actual legal alternative."
Coordinating these agencies will be an arduous undertaking, and one that Dato' Yasmeen hopes to do through her 2010 JusticeMakers project. By drafting a policy presentation for the Ministry of Women, Family and Community Development promoting juvenile diversion, she hopes to ignite a passion that will trickle down to the other agencies.
And Dato' Meme recognizes the value of Yasmeen's role in this mission.
"We must convince the Ministry to put diversion on the top of their agenda, and spearhead this project. Once this is done, directives can be given and we will have the mandate to organize these meetings.
Because Dato' Yasmeen is so close with the Minister [Dato' Sri Shahrizat Abdul Jalil] Dato' Yasmeen can effectively persuade her to take on this issue. All it takes is a compelling argument and the Minister will be on board."
Concluding the meeting, they agreed to continue the conversation and collaboration in future Ministry meetings, and pursue juvenile diversion as a top priority. Hopefully this year, concurred Dato' Meme and Dato' Yasmeen, juvenile diversion will be crossed off the list of annual agenda priorities.