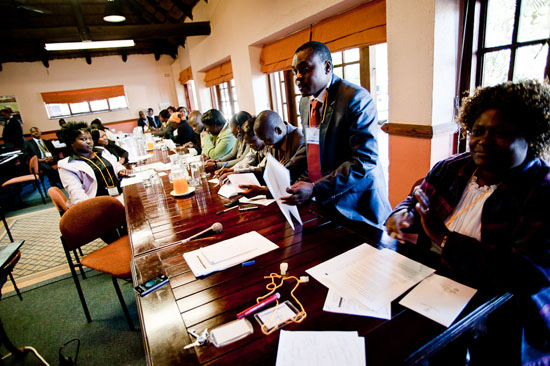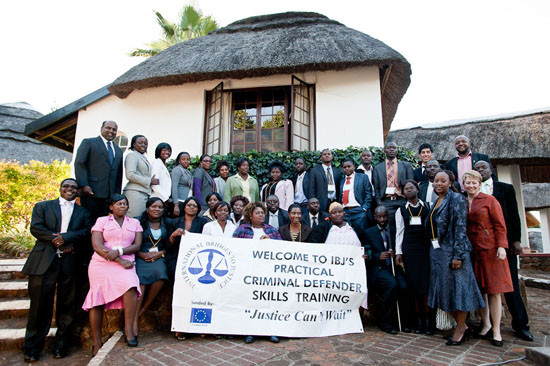 This week IBJ is again bringing its unique approach to criminal defense training to Zimbabwe, with a two-day advanced training conducted in Harare on Monday and Tuesday, followed by two days in Bulawayo.
Led by IBJ Training Director Kellie Krake and IBJ's Zimbabwe Fellows Innocent Maja and John Burombo, Harare lawyers interested in expanding their trial skills and devoted to public service gathered together to advance the movement towards guaranteed legal representation for every man, woman and child facing criminal accusation in Zimbabwe.
Early access to counsel for vulnerable accused was the primary theme of the conference. Dynamic speakers talked about the importance of counsel including notable Zimbabwean defense attorney Alec Muchadehama and the Deputy Secretary of the Law Society of Zimbabwe, Wilbert Mandinde. Technical instruction in the application of Zimbabwean law designed to protect accused persons whose mental capacities may be impaired by psychological illness was delivered by Dr. Antony Petrie of the Counseling Services Unit of Zimbabwe. Mr. Nelson Zvidzai, the Director of the Legal Aid Directorate, discussed the State's role in protecting early access to counsel for vulnerable accused.
Weaved throughout these skills-building training sessions, exercises devoted to allowing lawyers to explore their motivations, values, and goals stimulated this community of defenders to coalesce around a common vision for justice. This feeling of common purpose culminated in these lawyers continuing the tradition IBJ had established in Singapore and Davos, and joining their voices to sing "Woyaya": "We will get there, heaven knows how we will get there, we know we will."