COVID-19 Response
Wrote a letter addressed to the Ministry of Justice suggesting measures to prevent and protect Burundi detainees against COVID-19.

Visited relevant state institutions to practically discuss the implementation of the

 suggested measures.

Increased police cells visit in Bujumbura police stations.

Organized virtual discussion with criminal defense lawyers regarding challenges and plans

during the Covid-19 pandemic.

Continued providing legal assistance while taking into account safety for BBJ lawyers and beneficiaries.
---
Impact in Numbers
347 lawyers trained
5,131 cases represented by BBJ lawyers
451 justice officials trained through roundtables
4,529,524 people reached through rights awareness campaigns
Data as of January 2021
---
Activities
Since its Defender Resource Center was established in Bujumbura in 2008, Burundi Bridges to Justice has worked to strengthen the legal system in Burundi.
They have carried out numerous activities, including:
Building a group of "Women Lawyers Team" to offer pro-bono legal defense to female detainees by female lawyers.

Conducting training for prison officials, police, and judges. 

Organizing roundtables in order to promote best practices and legal reform. 

 Providing training for defense lawyers.
---
MOUs + Partnerships
      MOUs
General Inspectorate of Burundi National Police

 Ministry of Justice and Civic Protection 

 Burundi Bar Association
     Partnerships
African Union Human Rights Observers Mission

National Independent Commission for Human Rights (CNIDH)

Association des Juristes Catholiques du Burundi (AJCB) 

Trauma Healing and Reconciliation Services (Thars)

Gitega Bar Association

Observatoire l'Action Gouvernementale (OAG)
---
Future Goals
Consolidate the work of the Bujumbura Defense Resources Center.

Launch an additional DRC in Gitega (the Political Capital of Burundi).

Expand early access to a counsel to the western region of Burundi with an aim of attaining a 

nationwide coverage.

Intensify the use of technology to boost legal assistance services, rights awareness, and

training.

Conduct more training for Burundi criminal justice actors especially police officers.
---
Country Background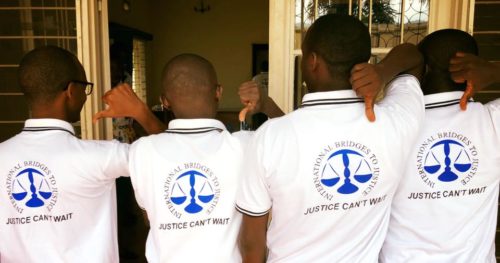 When IBJ first came to Burundi in 2008, there were only 70 lawyers working in the entire country and there was no form of legal aid for its approximately 9 million people. Those arrested are being held in appalling conditions with an occupation of more than 200% percent of total capacity.  With the agenda for development straining to meet a myriad of urgent needs, few resources are directed towards fostering the rule of law. 
 In wake of grave political turmoil in 2015, many human rights NGOs have left the country. Through its local entity, IBJ is one of the few remaining independent NGOs providing legal representation to detainees. IBJ lawyers continue their efforts even though they face numerous challenges. IBJ has registered itself as a local NGO under the name, Burundi Bridges to Justice. Since its inception, BBJ has established itself as a critical link working with the justice sector. The barriers that had prevented the implementation of our programs were lifted by the partnership agreements concluded in 2017 with the Ministry of Justice and with the General Inspectorate of Burundi National Police.
A decade after IBJ started working in Burundi, the number of lawyers registered with the Bujumbura Bar Association multiplied by ten. In 2018, the first National Legal Aid strategy has been adopted. While legal aid remained funded by non-state actors and other bilateral donors, the government of Burundi started to consecrate a very small share of the budget to legal aid. IBJ recognizes that local criminal defense attorneys operate on the front lines to end torture.
---
Generating Change
In May 2018, BBJ in partnership with the General Inspectorate of Burundi National Police, completed an intensive training of 150 judicial police officers. Ceremonies were organized under the patronage of the Ministry of Security and Fight Against Disasters. Both the General Inspector of Burundi National Police and the Minister were thankful to BBJ for the support that arrived at the right time.  In his address, the Minister of Security advised the officers to implement what they had been taught and contribute to solving abuses that are reported against officers on the ground. He insisted that they have been trained to serve citizens. Their wish is that BBJ keeps supporting similar training as they hope to train a further 200 officers which would enable them to appoint at least 3 judicial police officers per commune.
---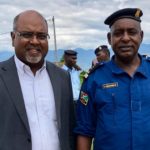 Sanjeewa Liyanage with Andre Ndayambaje, Inspector General of the Burundi National Police, who welcomed him to show off a class of new police recruits at the Gatumba Police Training School, whose extensive training was supported by IBJ Burundi/Burundi Bridges to Justice.
---
Read Burundi country case stories
Become an IBJ supporter with a donation of any size online
IBJ in Burundi 2009| IBJ in Burundi 2010| IBJ in Burundi 2011-2012| IBJ in Burundi 2013-2014