On 26th November, twenty lawyers from the Criminal Defense Task Force gathered in IBJ's Kigali DRC to discuss challenges facing the justice system in Rwanda, with a particular emphasis on how to ensure access to legal counsel at the earliest stage of the criminal process and the implementation of the principle of the presumption of innocence. The objective of this Justice Café meeting was to come up with concrete solutions to challenges that ordinary defendants face regarding these issues.
A multitude of strategies and recommendations were put forward by the lawyers. One of the main suggestions was to enhance cooperation with relevant national authorities. An open roundtable discussion on the issue of prolonged pre-trial detention in Rwanda with judges, prison officials, Supreme Court personnel, national prosecution authorities and law clerks, was sought to ensure that the accused have increased access to legal counsel. Experience shows that when all actors of the justice system are aware of the problems pertaining to pre-trial detention and greater cooperation among authorities and lawyers is promoted, a major step is taken in solving this issue.
IBJ lawyers were also advised to monitor and document cases dealing with prolonged pre-trial detention and use it as an advocacy tool. Lawyers were encouraged to consider how the cases of illegal detentions they handle can be leveraged as opportunities to establish the right to a speedy trial for all arrestees across the country. Regarding early access to counsel, lawyers suggested an early intervention mechanism through the deployment of lawyers to police stations and prosecution offices to assist people as soon as arrest is effective.
Lawyers voiced particular concerns over juveniles' access to legal representation and delays in juvenile cases. The Ministry of Justice (MoJ) recently signed a Memorandum of Understanding with the Kigali Bar Association (KBA) to appoint two lawyers to the Intermediary courts. Lawyers requested IBJ's increased intervention to support the MoJ and KBA and continue promoting the growing culture of legal aid in Rwanda.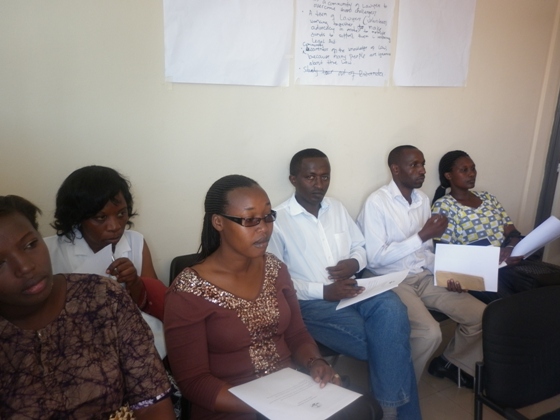 Above: Studious atmosphere prevails at IBJ's third Criminal Defense Task Force Meeting at the CDRC in Kigali (Photo by Hadijah Batamuriza).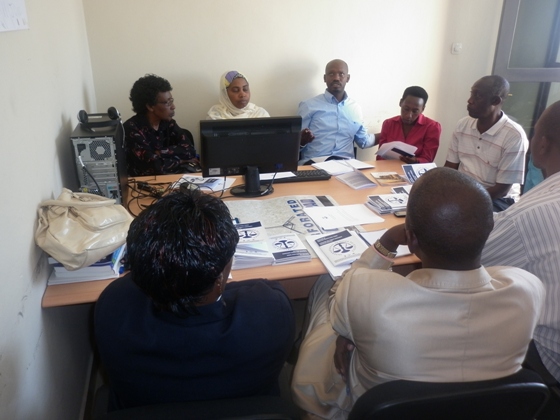 Above: IBJ Rwanda Fellow John Bosco Bugingo reasserts the need for lawyers' continuous involvement to secure legal aid for all in Rwanda (Photo by Hadijah Batamuriza).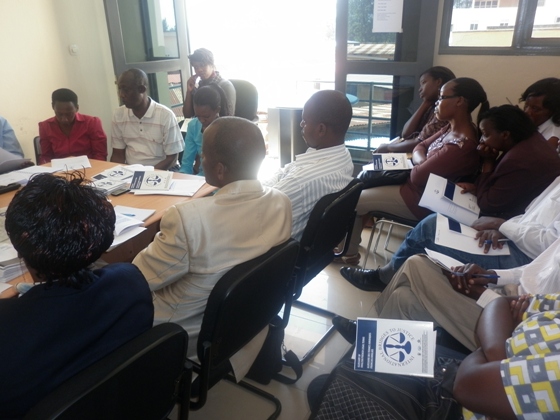 Above: Members of the Task Force expressed a strong appreciation for IBJ's English/French French/English Glossary of Legal Terms (Photo by John Bosco Bugingo).