Cambodia
---
Country Background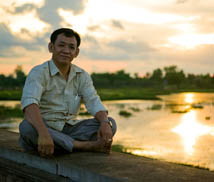 Cambodia's legal system was completely destroyed during the Khmer Rouge regime. Legal professionals were virtually driven into extinction as the regime systematically eliminated its "enemies." In the aftermath of Pol Pot's regime, those arrested had no access to justice and were left in prison indefinitely. The lack of legal representation also increased the likelihood of torture at the hands of prison officials.
Today, Cambodia continues to suffer from a significant shortage of lawyers and trained professionals. Permanent legal aid services are available in only 14 of the 25 provinces. Without adequate legal representation Cambodians are more likely to wait longer in jail for trial, dramatically increasing their risk of torture, abuse, and disease.
---
IBJ Country Facts
Working on the ground in Cambodia since 2005.
First Defender Resource Center established in 2006.
9 Defender Resource Centers currently providing legal protection across 15 out of 25 provinces.
9384 cases handled.
Over 14,000 people reached in 276 Community Legal Awareness events (CLAs)
Over 1,800 detainees reached in 72 Prison Legal Awareness events (PLAs)
48 roundtable discussions with over 1,128 participants. rights awareness campaigns reaching over 9 million Cambodians.
23 defender/justice-sector officials joint training sessions, with over
1648 participants.
All data as of December 31, 2019
---
What we do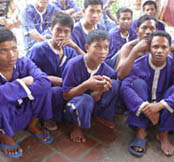 IBJ provides access to high quality free legal aid services to the poorest in 15 provinces and in the Court of Appeal.
Through early access to counsel, IBJ eliminates instances of torture or other inhumane treatment.
IBJ conducts rights awareness campaigns to inform individuals of their legal rights and encourage them to claim these rights.
IBJ runs radio rights awareness programs to explain to individuals their legal rights to counsel, to a fair trial, and to be free from torture, and advising them on where to seek legal aid services.
IBJ provides legal skills training to increase the capacity of Cambodia's criminal defense lawyers.
IBJ organizes Roundtable discussions to promote cooperation among justice stakeholders including Governors, Commune Chiefs, Judges, Prosecutors, NGOs, Prison Chiefs.
IBJ conducts monthly meetings with other local NGOs for better inter-organizational communication and case referrals.
IBJ established a 24-hour legal aid hotline for accused, allowing IBJ to provide the fastest possible legal representation to detainees in receiving about 50 calls per month.
IBJ Karen Tse from Eli Laliberte on Vimeo
---
Future challenges
Five critical areas have been identified to help create a functioning legal aid system:
Increase the number of Defender Resource Centers to cover all 25 provinces.
Further increase early access to counsel through agreements with local police officials.
Continue capacity building and training of criminal defense lawyers and justice sector officials.
Expand rights awareness campaigns to reach out to all individuals in Cambodia.
Engage in an advocacy dialogue to establish a state-sponsored legal aid system.
---
Read Cambodia country case stories
Become an IBJ supporter with a donation of any size online
IBJ in Cambodia 2009| IBJ in Cambodia 2010| IBJ in Cambodia 2011-2012| IBJ in Cambodia 2013-2014