Cambodia
---
Impact in Numbers
6 Defender Resource Centers providing legal protection in 15 of 25 provinces
749 lawyers trained
12,389 cases represented
1,718 justice officials trained through roundtables
10,092,049 people reached through rights awareness campaigns
 Data as of January 2021
---
Activities
IBJ began work in Cambodia in 2005, with its first Defender Resource Center established in 2006. Today, we continue to work to build constructive relationships with authorities in order to provide comprehensive legal representation.
Our activities in Cambodia include:
Running radio rights awareness programs to explain to individuals their legal rights to

counsel, a fair trial, and freedom from torture, and advising them where to seek legal

aid services.

Providing legal skills training to increase the capacity of Cambodia's criminal defense

lawyers.

Establishing and maintaining a 24-hour legal aid hotline for accused which receives about 50 calls a month, allowing IBJ to provide the fastest possible legal representation to detainees.

Providing access to high quality free legal aid services to the poorest in 15 provinces and

 in the Court of Appeal.
---
MOUs + Partnerships
      MOUs
Ministry of Interior of the Kingdom of Cambodia

Ministry of Justice 

Bar Association of the Kingdom of Cambodia
     Partnerships
Ministry of Foreign Affairs 

Ministry of Interior, General Department of Prisons

Cambodian Human Rights and Development Association

Cambodian League for the Promotion and Defense of Human Rights

 
Legal Aid of Cambodia
---
Future Goals
Increase the number of Defender Resource Centers to cover all 25 provinces.

Further increase early access to counsel through agreements with local police officials.

Continue capacity building and training of criminal defense lawyers and justice sector

officials.

Expand rights awareness campaigns to reach out to all individuals in Cambodia.

Engage in an advocacy dialogue to establish a state-sponsored legal aid system
---
Country Background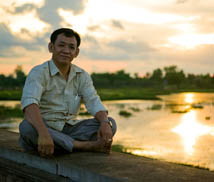 Cambodia's legal system was completely destroyed during the Khmer Rouge regime. Legal professionals were virtually driven into extinction as the regime systematically eliminated its "enemies." When IBJ's CEO and Founder, Karen Tse first started working in Cambodia in 1994 in the aftermath of Pol Pot's regime, there were only 10 lawyers left alive in the whole country. Those arrested had no access to justice and were left in prison indefinitely. The lack of legal representation also increased the likelihood of torture at the hands of prison officials.
Today, Cambodia is working towards adopting a comprehensive state-sponsored legal aid system but continues to suffer from a significant shortage of lawyers and trained professionals. IBJ works to build collaborative and constructive relationships with local authorities, and train lawyers to provide competent legal representation to vulnerable prisoners.
---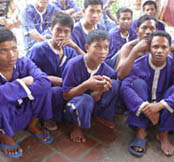 IBJ Karen Tse from Eli Laliberte on Vimeo
Read Cambodia country case stories
Become an IBJ supporter with a donation of any size online
IBJ in Cambodia 2009| IBJ in Cambodia 2010| IBJ in Cambodia 2011-2012| IBJ in Cambodia 2013-2014