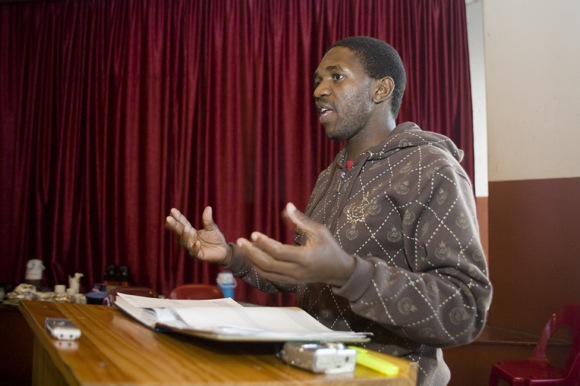 Seven months into their program to combat police torture and fight for human rights in the traditional courts Buhle Dube  and his team of JusticeMakers have started to look to the future.
After receiving an offer from the Mkhwanazi Attorneys to take on Hlengiwe Msibi's case and observing a drop in reports of abuse and torture  the team is moving onto phase two.
Moving forward, Dube notes, does not mean that previously visited areas will be left behind.
"There is a booklet that carries all the presentations that have been made to them," Dube explained. "What we'll do will be to go back distribute these booklets to the very same communities and our interactions with them at that level will let us know if there has been an impact."
Currently participating in a legal fellowship in the Hague, Dube has left the day-to-day operations to his second-in-command, Alfred Magagula, AMICAALL  Aids program coordinator for the Matsapha Town Board.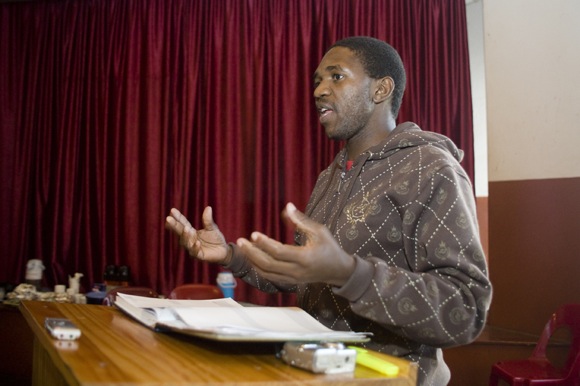 Alfred Magagula clarifies a point during a workshop with community police in Ngwenya. (Photo by Nicholas Loomis.)
According to Alfred the JusticeMakers will soon expand the scope of their activities.
"We are working on so many things for the second phase of this project," Alfred said.
"For now the project is on the community police but it's not the only focus it's just that this has been the start."
Alfred foresees the JusticeMakers expanding to tackle the issue of human rights at a national level.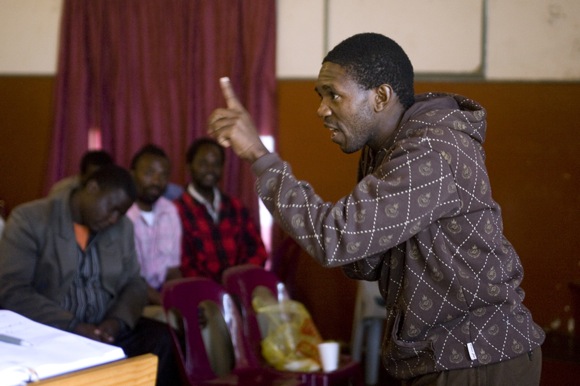 Alfred Magagula leads a discussion during a workshop with community police in Ngwenya. (Photo by Nicholas Loomis.)
"Maybe the first activity will be to do a campaign on human rights nationally then it will make it much easier to even visit the prisons and the other holding centers," Alfred said.
"If the whole community has a clear understanding of this concept it will be easier even for the prison authorities to allow us to teach the prisoners."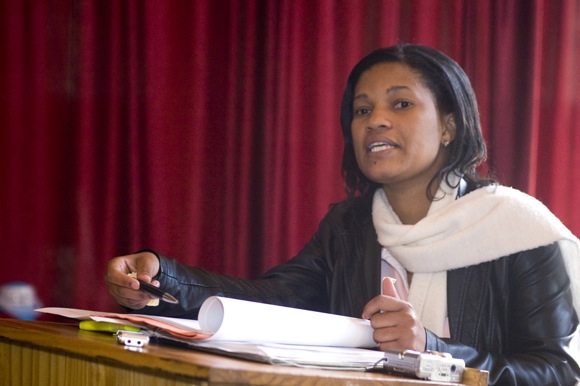 Gugu Simelane gives a presentation on private arrest during a workshop with community police in Ngwenya. (Photo by Nicholas Loomis.)
To help the JusticeMakers achieve these ends Dube, and Alfred co-founded the Centre for Human Rights and Development, the rare Swaziland based human rights NGO.
Gugu Simelane, JusticeMakers communication intern, thinks Dube and the CHR are changing the culture and creating a new future for the country.
"You could actually say that it is training a new generation of lawyers in Swaziland," Gugu said.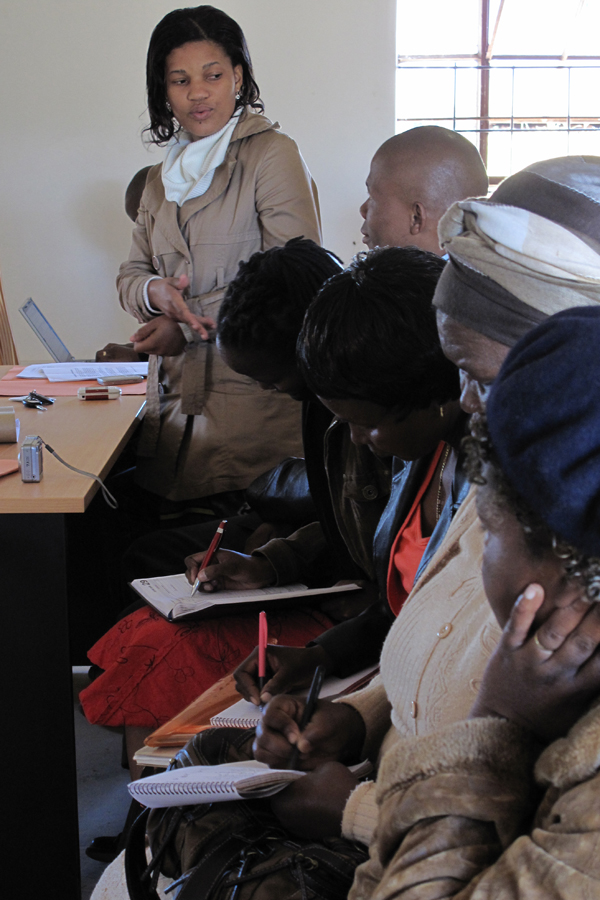 Gugu Simelane interacts with community members during a workshop in Matsanjeni. (Photo by Walker Gunning.)  
"I never thought I would end up in human rights before but I am looking forward to working for CHR. Then from there I want to go do my masters in the human rights realm."