[Ed. Note: Part 3 of reflections on IBJ International Program Director Sanjeewa Liyanage's Visit to Cambodia in 2010]
I have always wondered how these lawyers will adjust to working in remote provinces with a slow pace of life. It was truly touching to hear Vannophea's answer and to know that he does not plan to go back into the city to practice law. There are other indirect advantages too that one gains by living in a province. One of my young lawyer colleagues in a province told me: "If you are looking for a girlfriend, if you want to find a pretty girl, you go to Phnom Penh…but if you want to find a good girl, you find them in provinces." We laughed aloud after this discussion. After Vannophea's statement, I was unsure of the general mindset of other IBJ lawyers working in provinces. When I visited them in other provincial offices, I posed the same question: "how do you find it working in provinces?" They all had the same answer: "tough but we like working here!" This response made me think of how lucky IBJ is to find these committed young lawyers to work for us. Then I also realized, while technically they are working for IBJ, they are actually also working for their own people; people who are the most vulnerable and forgotten in society.
I am confident that the motivation for them to continue their hard work comes from deep within, from the meaning of their work and seeing how their work directly impacts the lives of their clients and their families.
In Prey Veng, when I visited IBJ's DRC3 in Cambodia, I was again touched by the commitment of my colleagues there. They were telling me that sometimes they have to travel over 100km to interview a single client, and that the roads they often travel are unsafe and in terrible conditions. Their caseloads are increasing every day. In Prey Veng, the IBJ office is in a strategic location, right opposite the Provincial Court.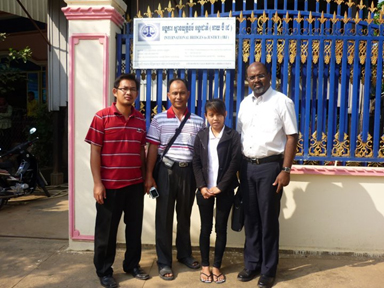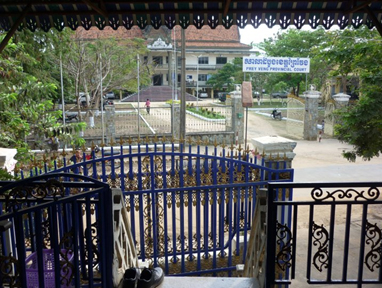 The office is quite simple, consisting of a wooden house with metal sheets covering the roof. IBJ lawyer there, So Bengtharun, was telling me how difficult for him it is to work in his office in the afternoon when the heat of the sun is reflected from the metal sheets below the window of his first floor office room. There is no air conditioning but a tiny fan, and Cambodia is generally very hot with temperatures often rising above 35 degrees Celsius. The IBJ lawyer there has moved into the province with his young wife and child. He said that despite all of the difficulties, he is enjoying his life there, especially the fresh air and slow pace. When I visited the prison at Prey Veng, the chief prison guard emphasized the importance of early access to counsel which will result in a lower number of detainees at the prison. I was again happy to hear these words from a prison official. There is growing awareness among public officials that the actual laws on the books need to be implemented throughout Cambodia.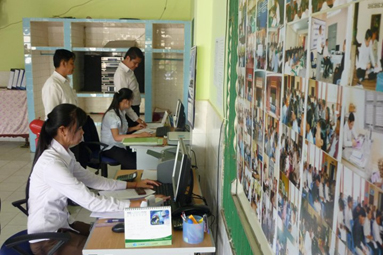 Ouk Vandeth accompanied me throughout my entire trip. He obviously planned every detail of the trip in advance, including various important meetings that he set up for me to interact with key officials. IBJ is blessed with persons like Vandeth. He makes a constant effort to ensure that IBJ is working efficiently on the ground. Whenever he visits a provincial DRC, the first thing he does is sit at a computer in the office and directly go through the case files. He then talks with the staff, especially the lawyer and the investigator, about the status of all of these cases and issues related to each proceeding. He meticulously goes through the case management spreadsheet and amends all necessary records. Only after he performs this task does he talk with the staff about other issues. Indeed, Vandeth is a man of many talents, and a man with many contacts and connections throughout Cambodia. His past interactions with the police force and military in Cambodia have created a large group of persons that he is connected to who hold important positions throughout the nation. For example, one of his former colleagues in the military is now the deputy governor of a province where IBJ is working. This person was extremely kind-hearted, as he insisted that Vandeth and I go to his home to have lunch before we left the province. When we went to his place, his family and close friends joined us to enjoy a delicious meal prepared by his wife. We all sat on the floor around a mat where food was placed.
Vandeth also has his own unique way of interacting with people that always seems to leave a lasting impression. Whether it is a high-level government official or an ordinary vendor, he is always capable of engaging in small talk and making fun out of the situation. Paul Rickard, who is assisting IBJ and Vandeth with our Cambodia Country Program, was telling me that he misses out on many jokes Vandeth makes due to the language barrier. Although Paul is learning Khmer, he was telling me that his Khmer is not good enough to follow Vandeth's jokes. Such small talk and a little bit of fun, coupled with the non-threatening smiling face of Vandeth, work well in building the foundation for many important relationships throughout Cambodia.
He is a person who understands the intricacies of Cambodian society well. This wisdom he possess, coupled with his experience with different disciplinary forces, and the legal knowledge and skills that he has obtained, form a very unique and special individual. His non-threatening approach has worked well to develop strategic and trusting relationships with civil society organizations as well as with the Government. I truly enjoyed every minute that I spent with Vandeth during my journey throughout Cambodia.