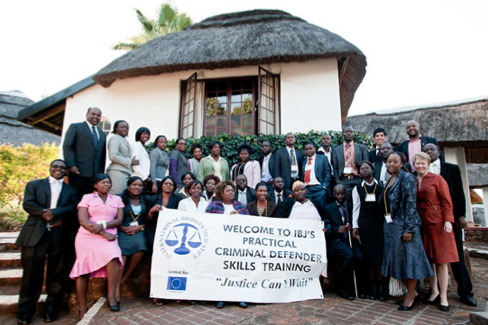 International Bridges to Justice (IBJ) first established its Zimbabwe Country Office with the Harare-based DRC, which has quickly become a crucial legal hub for the entire nation and has consequently led to increased cooperation with local civil society. The program was established in 2008, the same year a government power-sharing agreement was signed to facilitate the adoption of new legislation, particularly in the field of human rights. This has created an unprecedented opportunity for effective human rights enforcement.
Since the beginning of this project, IBJ Zimbabwe has already come a long way. The police and prison officials have grown more accepting of lawyers' interventions for the accused. Most notably, IBJ's influence on Zimbabwe's practices and legislation as evident by the institution of a free bail system, where low-level offenders are freed from pre-trial detention on condition of appearing for trial.  Your donations made this possible. Please click here to donate again and be part of their transformative work.
Quick Facts:
2013 Prison Population: 16,902 (129 per 100,000)
IBJ-mobilized lawyers took on 108 pretrial detainee cases between December 2009 and October 2010
In 2010, there was a 42% increase in IBJ-trained lawyers meeting the minimum competency standards for representation of accused persons
Further, a 81% increase in preventing the use of coerced statements in criminal proceedings was seen
In 2011 and 2012, IBJ lawyers represented more than 150 indigent accused who otherwise would have had no access to counsel
IBJ's relentless fight for legal rights has been recognised in a positive light as Innocent Maja, Country Fellow, was featured as a facilitator of a January 2011 panel discussion on the abolition of the death penalty in Zimbabwe. In the same year, IBJ legal fellows appeared and were interviewed on the Zimbabwe Broadcasting Corporation's SFM "Wheels of Justice" radio program, which is estimated to reach a half-million listeners. However, the IBJ program works not only on the national level, but takes measures to reach out to smaller communities in remote, rural provinces.
At the September 2014 roundtable meeting, the IBJ Zimbabwe fellows were able to address the main causes of the rise of corruption in the system such as poor remuneration for legal practitioners and other key justice stakeholders, general decline in morals and ethics, a culture of greed and self-enrichment, poverty, and abuse of power by state officials.
In order to consolidate and sustain progress through this next phase, IBJ has defined three imperatives for its future work in Zimbabwe:
Expand the Defender Resource Centers to meet the country's legal representation needs
Continue and expand capacity building training of legal professionals
Expand the reach of legal rights awareness campaigns to empower indigent Zimbabweans to claim their rights
This is why we are calling for your donations to IBJ Zimbabwe this week. Your continued support for International Bridges to Justice and IBJ Zimbabwe is the only way we can guarantee all citizens the right to competent legal representation, the right to be protected from cruel and unusual punishment, and the right to a fair trial throughout the country. We cannot thank you enough for your generosity.
---
For more on the Zimbabwe Program:
https://www.ibj.org/where-we-work/zimbabwe/
https://www.ibj.org/category/programs/zimbabwe/
https://www.ibj.org/meet-ibj/our-team/team-zimbabwe/