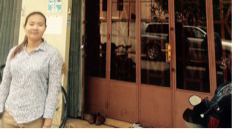 "Justice is finally happening in Cambodia and strong advocacy in the courtroom
is what is needed for this justice to continue"
On December 23, 2013, a group of neighbors in Koh Kong, a province in southwest Cambodia, were gathered together watching television when two men suddenly entered their home on the ground floor. The men were masked and armed with knives and two guns. They approached the family, pointed their guns and yelled for them to lay down on the ground. The two men then proceeded to rob the group of all their money and jewelry. When Narith who was lying on the ground proclaimed that he had no money, one of the men fatally stabbed him on his neck with a large cleaver. The men fled soon after with almost 1 million in riels and jewelry.
While at home with his family, Sokun heard of the murder of his friend. He immediately ran over to the house to assist the family in the aftermath of this tragedy and with arranging the funeral. Unfortunately, a few days later on January 1, 2014, Sokun was arrested for Narith's murder. Police said that his shirt was found at the crime scene despite his alibi that he was at home with family. Sokun could not believe that he was charged with this murder! He went to Narith's home to help out the family and mourn the loss of his friend.
Kosal was at a nearby cafe with friends when he heard of the murder. Their village is small and neighbors from all around the village soon began to head over to the place of the crime to help out. He was saddened by the loss of his friends and the damage done to his community. Police arrested him a week later on January 1 as well on suspicion that a package of rice found at his house was from the scene of the crime. Despite witnesses' statements that he was at the cafe, police detained him.
Both Sokun and Kosal were very confused as to why they were arrested. They were arrested under various charges including murder, theft, and aggravating circumstances. Fear and panic began to take over as they realized that they could face a lengthy sentence for crimes that they did not commit. After a lengthy investigatory phase, they were acquitted on all charges. However, the prosecutor appealed the acquittal and Sokun and Kosal were once again in prison.
In February 2016, Sokun and Kosal's family members contacted IBJ to represent them on appeal. Sim Dalis poured over the court documents to develop the best case theory to present to the judge on appeal. She determined that there was just no evidence tying Sokun and Kosal to the crime scene. Additionally, testimony by witnesses that Sokun and Kosal were at their home or at the cafe respectively could help her clients be cleared of the charges. Even the children of the victim said that the the Sokun and Kosal were not similar in build and stature to the men that murdered their father! Dalis was confident that she had a strong case and was ready to defend her clients against an unjust conviction.
On March 22, 2016, Dalis argued in front of the judge that the evidence just did not add up. The judge delivered the verdict a bit later and dismissed both Sokun and Kosal's charges on appeal. Both were thrilled to have the charges dropped and happy to return to their families.
Content and satisfied that justice had been delivered, Dalis continues to advocate daily for those who have been wrongly accused. She seeks to promote a more equal justice system in Cambodia by working with IBJ defending the most vulnerable.
By Jenessy Rodriguez