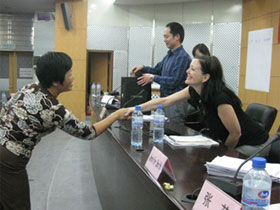 From September 19-21, 2008, IBJ sponsored a Criminal Legal Aid Advocacy training at the Northwest University of Political Science Law in Xi'an. Co-hosted by Northwest University of Political Science and Law and Shaanxi Provincial Legal Aid Center, "How can defense lawyers better protect clients at the investigative stage?" was the theme of the program. The event attracted more than 40 attendees, including 25 legal aid lawyers, 5 private lawyers, 15 legal aid staffers, and one prosecutor. IBJ's China Program Director Jennifer Smith and Northwest Regional Director Peter Lowrie were also in attendance as training facilitators.
| | | |
| --- | --- | --- |
| | | |
| A county legal aid director, left, and IBJ's Jennifer Smith | | Legal aid lawyers |
Faced with day-to-day challenges, including poor work conditions and limited resources, defense lawyers in China are often unable to provide significant help for their clients at the investigative stage, which can be the most crucial aspect for later defense. The three-day event focused on providing this young and energetic group of legal aid workers with support through workshops and lectures on practical skills that can be applied at the investigative level.
The core team training programming included talks and practical guidance on legal theory for criminal cases at the investigative stage. Interactive sessions demonstrated how to work with prosecutors during the process, how to conduct attorney-client interviews, how to apply for bail pending trail, and how to developing a theory of a case. Overall, one of the priorities of IBJ is to introduce training sessions like this one to more legal aid workers so that IBJ's specific methodology can be spread to other legal aid workers in their provinces and communities.