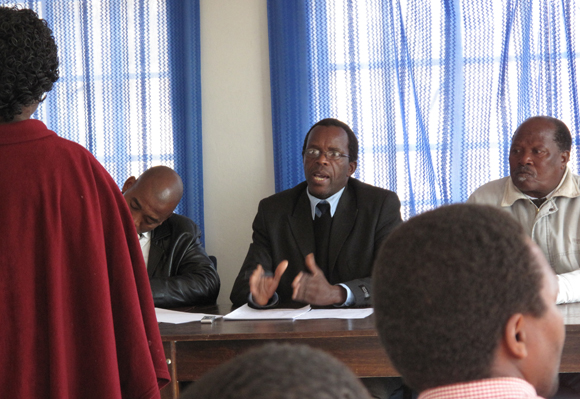 "Seven months in prison or 240 Emalangeni fine."
Ndumiso Dlamini, the court president who threw out Hlengiwe Msibi's case, proclaimed the sentence in Mliba's traditional court.
Involving a fight between romantic rivals, assault with a weapon, and severe bodily harm, the details of the case were nearly identical to Ms. Msibi's. This time however the evidence and a witness were presented and the verdict was guilty.
Following up on Ms. Msibi's case, members of Buhle Dube's JusticeMakers team were on hand to view the traditional court proceedings.
Above: Swazi Court president Ndumiso Dlamini speaks to a witness during an assault case heard in Mliba, Swaziland. (Photo by Nicholas Loomis.)  
Presided over by a court president the traditional courts rely on orally transmitted Swazi customs and the Swazi Courts Act of 1950 when producing their decisions. A parallel magistrate court system employing legal representation and western-style law codes also exists. The traditional courts generally hear less serious civil and criminal cases from petty theft to common assault. Corporal punishment such as caning, while no longer used in practice, still remains on the books as a constitutionally viable sentence.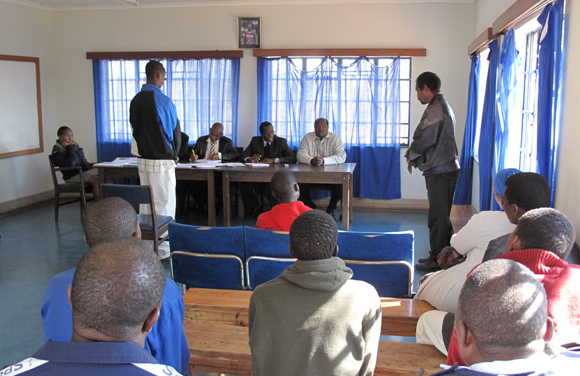 Above: The complainant, left, and the defendant, right, stant before the Swazi Court officials during a vandalism case heard in Mliba, Swaziland.  (Photo by Nicholas Loomis.)
Explaining the structure of the courts Dube pointed out the challenges the courts pose to human rights.
"Only customary rules, rules of customary law, apply," Dube said. "Which means your rule of evidence does not apply which would mean you cannot ask for evidence obtained through torture to be disregarded."
Mr. Dlamini however was adamant in insisting that the courts and their officers take human rights into account.
"That is not true, we are being trained every year," Mr. Dlamini insisted.
"We are well versed in human rights."
Above: A police officers swears in under the portrait of King Mswati III before testifying during a session of Swazi Traditional Court in Mliba, Swaziland. (Photo by Nicholas Loomis.)
While traditional court officials are sensitive about questions of human rights JusticeMakers intern Phakama Shili maintained they do not always carry this attitude into the courtroom.
"In fact the human rights of the individuals in practice they are not observed but theoretically they may admit that 'we do know about human rights, we've been trained,'" Shili said.
Indeed instances in the trial seemed to highlight both the ignorance of the accused and possible violations of their rights.
"There are so many things that happen in the courts that greatly affect human rights," Shili claimed. "In one of the cases that we've been to the accused didn't produce any witness yet the complainant produced some witnesses so there is that imbalance there."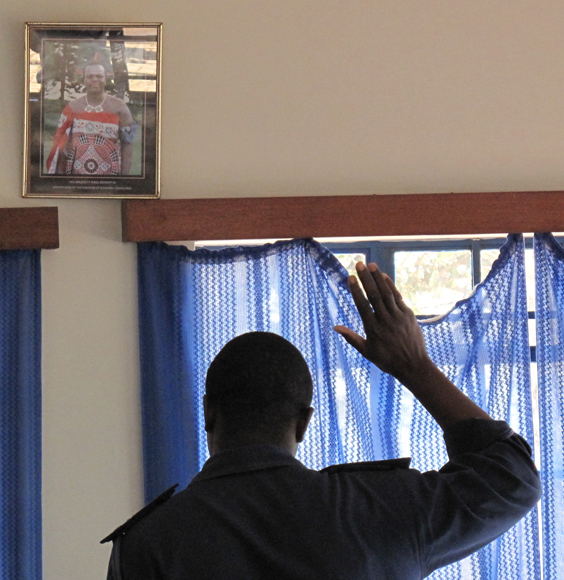 Above: A police officers swears in under the portrait of King Mswati III before testifying during a session of Swazi Traditional Court in Mliba, Swaziland.  (Photo by Nicholas Loomis.)