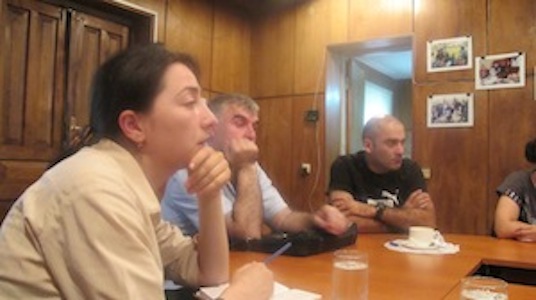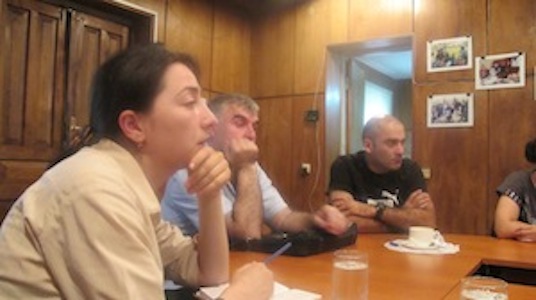 Above: Nana and other GYLA members convene with representatives of Georgian and international partner organizations to discuss the frailties of local governmental infrastructure/photo by Jasmine Van Deventer

Speaking with Nana Chapidze about her project, Supporting Juvenile Justice Reforms in Georgia, one finds little to be apprehensive about. She endeavors to realize an undertaking that is unequivocally imperative on a multiple levels. It is part and parcel of efforts underway to bolster Georgia's still emergent democracy and buttress the political capacity of Georgian society's most vulnerable members. When I interviewed Nana, she emphasized the methodology she plans to engage and how she envisions it bearing fruit in the pursuit of an equitable juvenile justice system that accounts for the particularities of juvenile misdemeanors, including the push factors that tend to propel them. Explaining how she anticipates initiating a systemic overhaul of the waning aspects of Georgia's juvenile judicial infrastructure, she told me "For these aims to be achieved, the project intends to first conduct legislative research, analyzing domestic legislation in comparison with UN standards and concentrating on incompatibilities and problems. Such analysis is necessary in order for us to prepare legislative recommendations for refining and rendering the Georgian legislation compatible with international standards." Discussing it further, she stressed the importance of assuming a perspective that is socially deep and disciplinarily broad. Ultimately, she conceded, the fragmentation of Georgia's juvenile justice system finds its foundations in a grave lack of formal infrastructure to address the abounding circumstances that tend to marginalize certain juvenile individuals and constrain their agency, rendering them more likely to engage in unlawful behaviors. Such a lack of societally integrative mechanisms to account for fraught personal conditions and inept social infrastructure, including, but not limited to educational facilities, is another field the project aims to eventually incorporate.

Nana assembles her team to draw up a blueprint detailing how each party will contribute to the realization of her project/photo by Jasmine Van Deventer.

Presently, Nana's project consists in developing a set of procedural initiatives that will ultimately yield a justice system specific to juveniles, beginning in Kutaisi and proceeding to encompass Georgia at a federal level. Her work seeks to develop a common and unified set of understandings that will render government wholly transparent and accountable to juveniles as such, who will become educated about their rights, either as adolescents or children or as affiliates thereof. Through the inauguration and establishment of such a set of norms, it is hoped that persons affected by the absence of a full-fledged juvenile justice system will be sure to seek redress in the case of violations permitted or perpetrated by official governing bodies. The project promises to distribute a brochure addressed specifically to members of civil society, as well as a proposal, made for formal administrative actors- lawyers, judges, legislators- that posits a number of legislative initiatives, which, if implemented, would effectively renovate the current juvenile justice system and bring it into compliance with international legal norms and standards. Even more, the organization through which Nana is undertaking the project- the Georgian Young Lawyers' Association, Kutaisi Branch – plans to visit civilians residing in rural districts of Georgia, who might otherwise have a harder time accessing a detailed explanation of their rights as juveniles or their affiliates.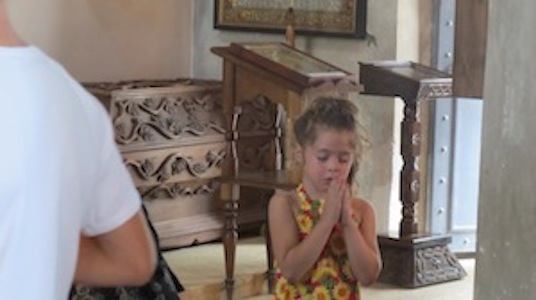 Zugdidi, Georgia/photo by Jasmine Van Deventer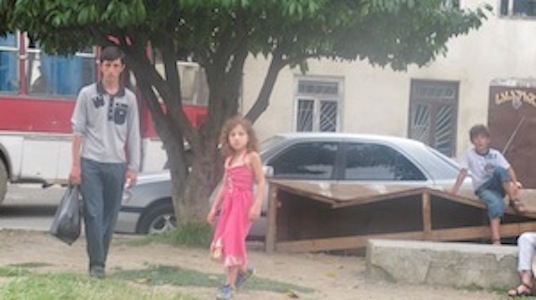 Zugdidi, Georgia/Photo by Jasmine Van Deventer

The project looks promising even on a more macro level, as it should be capable of eventually providing a blueprint for renovating other aspects of the justice system and civil code that have yet to be brought up to par with internationally agreed norms and standards or that fail justice in certain ways as defined by members of civil society. Such encouragement of vociferous participation by members of civil society inflects this project to such an immense degree that its potential to precipitate formidable democratic engagement extends beyond the mere contours of its immediate aims. And therein resides the potency of Supporting Juvenile Justice Reforms in Georgia, as both a symbolic exemplification of the prime importance of civil society in the functioning of legitimate, accountable governing structures and a testament to the imperative of ensuring citizens' access to detailed accounts of their rights and the norms inscribed in their civil codes, and thus of protecting their power to partake in these codes' renovation should they fail justice. Given that Georgia has a literacy rate of 100 %, this project looks all the more promising. But in order to become exportable to other localities and fully realizable here, it will need to take into account the indispensability of facilitating engagement, which may mean bringing pressure to bear not only upon government, but also upon citizens, whose responses to attempts to engage them in such projects purportedly range from receptive to ironically condescending, as such initiatives can seem so abstracted from the realities of most people's everyday lives. Nana plans to challenge this sense of hopelessness by harnessing a team, based largely at GYLA, through which she can launch a sustained initiative to reach out to those residing in less politically engaged areas of Georgia, where people experience marginalization and, concomitantly, a stark sense of political impotence. 

Nana's proposal is multifaceted and complex, shaped by the particularities of the Georgian justice system, all while remaining capable of serving as a very credible model for the rectification of juvenile justice systems in countries the world-over. This is largely because of its concentration upon transparency and correspondence. The crux of her plan aims at developing a cohesive and tenable framework of norms, both profoundly aligned with those espoused in the UN Convention on the Rights of the Child and responsive to the idiosyncrasies inscribed in Georgia's existing legal frameworks. This isn't to say that her project assumes that these international standards and norms should be malleable or fail justice for the sake of promoting cultural sustenance. Rather, they are to be made capable of speaking to official actors tasked with the responsibility of ensuring the operation of Georgia's legal framework, and especially those who oversee its criminal justice procedures. Essentially, government actors have to be reached, as do members of civil society, but without a coherent analytical framework designed to assess the current Georgian juvenile justice establishment in relation to the norms elaborated in the UNCRC, the renovations made may wind up pale manifestations of those espoused in the convention. In order to bring Georgia's juvenile justice system into correspondence with international legal frameworks and norms, the brochures the project intends to produce must speak both to Georgians and to international legal experts, but primarily to the former as international understandings are unraveled and evaluated by both civil society and actors affiliated primarily with governing bodies. As Nana told me, "Georgian legislation concerning juvenile justice must be brought into compliance with the standards espoused by the United Nations, for Georgia has been a member of the UN Convention on the Rights of the Child since 1994, and it has agreed to a number of obligations regarding juvenile justice and juveniles' rights. Georgian legislation should therefore at least be compatible with the norms and standards inscribed in the UN Convention, and perhaps even more vigorous. It should be oriented towards the rehabilitation and reintegration of juvenile offenders and not towards punishing them as if they were fully capacitated adults."