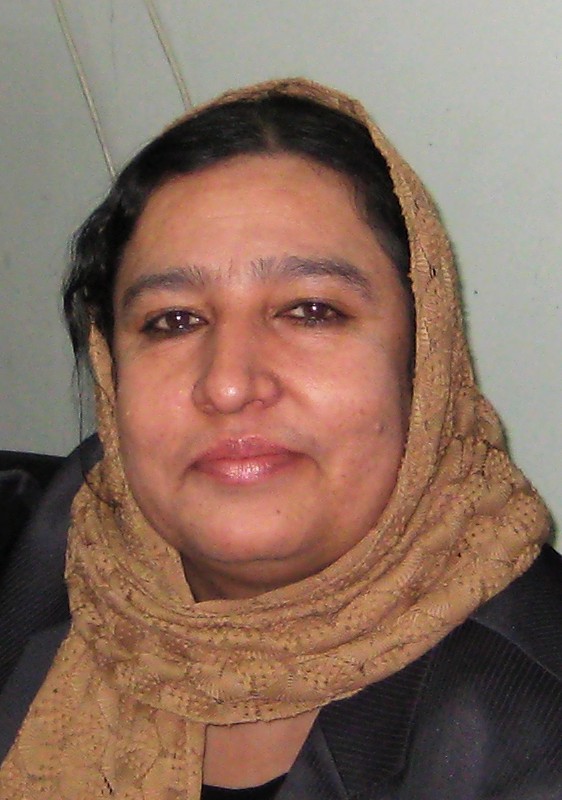 "I lost nine years of my education because of fighting – first the civil war, then the Taliban. I had just started attending Kabul University's Law Faculty, where I had decided to honor my father's dream of having his oldest daughter obtain a law degree and become a judge." Mahfuza began her story.
"But just a month into my first semester, the civil war started and all the schools were closed. Kabul was destroyed and daily, we heard rocket attacks and bombings. Soon after, the Taliban came into power and we girls were not allowed to return to school. We had to wear a burkha and be accompanied by a male relative at all times. Most women did not even venture outside. However, I was desperate to continue my education – so I secretly went to my uncle's house to learn how to use the computer. It was dangerous – so my aunt kept watch near the door to alert us in case she saw the Taliban approaching. After I learned some basic Microsoft Word and Excel, an opportunity arose to begin teaching the computer in a secret class for women. It turned out that I was possibly the only woman in Kabul who knew how to use a computer at that time, so I agreed to teach the class. At first, a group of women began meeting in secret at a hospital – but the Taliban was informed of our activities, and we had to flee before we were caught. Eventually, I had to move the class into my own home – but again the Taliban found out about our classes. When we heard the Taliban were coming, we had to quickly hide or destroy our computers and pretend that we were all members of an extended family. I was scared for my life, but I believed in educating women, so I took the risk."
Hearing the story of JusticeMakers Fellow Mahfuza Folad was heartbreaking and hard to stomach. It hit me that every woman in Afghanistan today had lived through the brutal Taliban regime – that almost everyone in Kabul today has stories of hearing rockets hitting nearby buildings and kill neighbors, being forced to flee Afghanistan to live in refugee camps, or of attempting to continue their education in secret during the Taliban regime – despite the very real threat of torture and death.
Still, I was inspired by Mahfuza's commitment to continuing her education; after the Taliban regime was toppled, she finally completed her B.A. in Law and Political Science, and afterwards completed a course to become a Judge in Kabul's primary court. Mahfuza was courageous enough to work as a defense lawyer, often representing those accused of murder, theft, abduction, narcotics trafficking, and forgery – a controversial role in a society where women are routinely attacked and threatened for taking public positions. In 2008, building upon the lessons she learned from working as a Judge and defense lawyer, Mahfuza founded Justice for All Organization (JFAO) or Adolat Barrae Hama in Dari, to strengthen the rule of law in Afghanistan and fill the much needed gap in access to justice for the poor.
Things are much better today in Afghanistan, though security remains tenuous with constant reports of gunfights, suicide bombings, and attacks by insurgents and Taliban on international forces and aid agencies.  Additionally, women remain a severely marginalized group despite the gains made in the past ten years. Particularly in rural areas, women are often subject to a litany of abuses ranging from domestic violence and child marriage to lack of opportunities to obtain an education and build a career.
Perhaps one of the most ignored aspects of women's rights in Afghanistan, however, is the imprisonment and detention of women on charges such as "moral crimes." Although statistics are hard to come by, women are frequently reported to the authorities when suspected of adultery or running away. Although adultery is a crime under Sharia and Afghanistan's enforced law, it requires testimony from four witnesses who observed the act taking place. For obvious reasons, such evidence is hard to come by. Yet, many women are imprisoned on charges of adultery – often based on biased reports. For instance, one young woman was detained in Kabul on charges of adultery; she told us that she had met a man at a public hotel because she believed he would offer her a job. She was poor, and needed a job to care for her children. She had not committed adultery, but unfortunately was imprisoned based on reports that she had met a man who was not her relative in public.
Additionally, many judges continue to make rulings based on Afghanistan's customary law, rather than the country's criminal or civil legal codes. For instance, under customary law, women and girls can be imprisoned on the charge of running away, which is not a crime under Afghanistan's penal code,[1] or Sharia law. Imprisonment of women on such charges reflects patriarchal cultural attitudes in which women are seen as the property of men, especially their fathers or husbands. Generally, customary law places a strong emphasis on female "honour" and "chastity," further oppressing women who are not deemed to be chaste or honourable.[2]
When I went to Kabul's detention house, I met a number of women being held for running away. Women run away for many reasons – including domestic violence, abuse from family members, or forced marriages. While many women who run away from home are able to seek refuge in Afghanistan's shelters, many others end up detained if family members report them.
Finally, a huge problem in the criminal justice system remains the lack of defense lawyers for those accused of a crime. The culture of having a defense lawyer is still uncommon in Afghanistan, especially in rural provinces. There is still a widespread perception that defense lawyers help criminals, and that defense lawyers are thus the enemy of the general public. Such negative attitudes towards defense lawyers are unfortunately prevalent despite the fact that access to a lawyer for the accused in Afghanistan has been mandated by the Afghanistan constitution after the fall of the Taliban regime.
Despite all this, there is room for some optimism. Meeting Mahfuza and seeing the work being done by JFAO provided some much needed inspiration. JFAO provides access to justice to indigent women and girls in a wide range of family, economic rights, and criminal cases.
Mahfuza's JusticeMakers project focuses on representing 15 women accused of a crime in Kabul, providing 12 days of rights trainings for female inmates, and distributing 1000 brochures on prisoner's rights.
Mahfuza and her organization are making a real difference by ensuring that every woman in the Kabul detention house receives high quality representation and fair trials. They are working to enforce the rule of law and strengthen the judicial system, a necessary aspect of rebuilding the country's fragile justice sector after it was decimated by years of conflict. Mahfuza hopes to expand JFAO's criminal defense work to rural provinces of Afghanistan, and also seeks to eventually implement legal clinics in Law Faculties to better train law students to become strong legal aid lawyers.
Mahfuza's work has already provided much-needed assistance and hope for several women in Kabul, and I can only be optimistic about JFAO's positive impact on the rights of women and prisoners in Afghanistan.
---
[1] Source: "We Have the Promises of the World" Women's Rights in Afghanistan – Human Rights Watch, 2009, p. 72, http://www.hrw.org/en/reports/2009/12/03/we-have-promises-world-0
[2] Source: "We Have the Promises of the World" Women's Rights in Afghanistan – Human Rights Watch, 2009, p. 8, http://www.hrw.org/en/reports/2009/12/03/we-have-promises-world-0