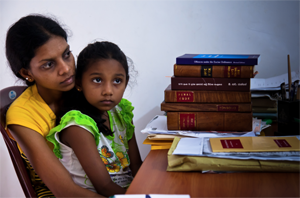 IBJ Selected as Semi-Finalist for the 2016 Fuller Challenge

Geneva, Switzerland – July 20 2016 – International Bridges to Justice (IBJ) has been announced as a 2016 Semi-Finalist in the Fuller Challenge, a prestigious annual competition named "Socially-Responsible Design's Highest Award". Each year, The Buckminster Fuller Institute invites scientists, designers, architects, activists, entrepreneurs, artists and planners from all over the world to submit their innovative solutions to some of humanity's most pressing problems. A $100,000 prize is awarded to support the development and implementation of one outstanding strategy.
IBJ is working to bolster fair, professional criminal justice systems around the world. Our organization seeks to end torture and abuse of detainees by training attorneys and legal officials in legal best practices, and by creating a global legal community that can be supportive and protective of lawyers working in difficult contexts. IBJ works on the "inside" to reinforce credible legal infrastructures, building relationships with local attorneys, national bar associations and government officials, and holding workshops and multi-stakeholder roundtables to work toward correcting systemic problems. We currently have programs and projects in over 40 countries in the world, including Cambodia, Burundi, China, India, Rwanda, Zimbabwe, and the Democratic Republic of Congo.
Nineteen proposals, including ours, have been selected as Semi-finalists after rigorous review for adherence to the seven-point Challenge criteria: Visionary, Comprehensive, Ecologically Responsible, Feasible, Verifiable, and Replicable. Our application has been through three rounds of vetting by the members of the Challenge Review Committee, including analysis and evaluation by an interdisciplinary team of experts and advisors.
"Each of these projects deserve the attention of the world for their commitment to 'solving for system' – an approach that takes an unusual degree of insight, patience, tenacity and courage", said Elizabeth Thompson, The Buckminster Fuller Institute's Executive Director. "The teams behind these initiatives have made extraordinary efforts to define the systemic context underlying the problem they are seeking to solve, and have designed strategies that provide enduring and sustainable solutions. Each is a remarkable example of the transformative power of individual initiative and provide much needed hope by demonstrating that solutions to our most entrenched problems are indeed at hand."
The finalists will be announced in August, and the winner will be announced in September.
For more information, please visit: http://bfi.org/challenge