DR Congo Team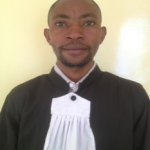 Munguwampaga Birere Dieudonne –Country manager
Originally from Bukavu in RDC, Dieudonné, became Programme Coordinator of DR Congo Bridges to Justice in 2017.  Previous to this, Dieudonné worked with IBJ offering pro-bono l
egal services. He completed his undergraduate studies in Latin and Philosophy and then successfully graduated in Private and Judicial law from the University of Bukavu. As well as qualifying as a defense lawyer, he obtained certificates in International Humanitarian Law and International Law. Dieudonné completed internships at the TGI de Bukavu and the Institut National de Sécurité Sociale, as well as working with with Fondation Solidarité des Hommes on projects regarding detention. Additionally, he partnered with the American Bar Association on projects regarding children in conflict with the law.
Dieudonné also teaches Law at the Centre Multimédia Langue et Métiers and at the Ecole National du Cadastre et des Titres Immobiliers in Bukavu.