Burundi
---
Country Background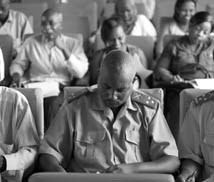 Burundi's 12 year civil war ended in 2005. The country's legal and judicial infrastructure was destroyed; there were only about 70 lawyers working in the entire country. Today, the country is estimated to have only 300 lawyers serving a population of approximately 9 million. In 2013, the prison population reached nearly 8,000, double the built capacity of Burundi's prisons. More than 50% of inmates are pretrial detainees.
Most of the accused are unable to afford legal representation. The lack of focus on juvenile justice issues results in hundreds of child detainees being held in communal cells with convicted adults, making them extremely vulnerable to abuse. As yet, no formalized legal aid is available at all; IBJ's priority is to put into place a state-sponsored, structured public defender/legal aid system throughout the entire country.
---
What we do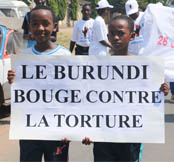 IBJ has established relationships with key justice sector partners.
IBJ organizes pro bono lawyers to directly represent clients.
IBJ brings together lawyers, prosecutors, magistrates, police officers and prison officials for joint trainings on all aspects of the legal process.
Rights awareness campaigns demonstrate individual legal rights to counsel, to a fair trial, and to be free from torture.
Rights awareness posters are distributed in prisons, police stations, local government offices and other public centers, sparking an overwhelming demand for legal assistance.
---
IBJ Country Facts
Program established in 2008.
Defender Resource Center operating in Bujumbura.
Over 360 cases handled.
14 rights awareness campaigns held, reaching over 31,000 individuals.
13,000 " Know Your Rights " posters distributed throughout the country.
Over 400 justice sector participants at trainings and roundtables.
---
Future challenges
Four critical areas have been identified to help create a functioning legal aid system:
Consolidate the initial Defender Resource Center and expand to other provinces.
Continue capacity building through further trainings.
Expand legal rights awareness campaigns.
Continue to develop the justice system through collaborative dialogue and roundtables.
---
Read Burundi country case stories
Become an IBJ supporter with a donation of any size online