This March, CLEAR-Kisumu was invited to attend Kisumu Law Courts' second annual open-day. The team took this as a welcome sign that they are steadily gaining local recognition for their efforts. This year's theme was "Promoting the Expeditious Administration of Justice", therefore it seemed like the perfect opportunity for CLEAR to showcase their efforts. Although the Kisumu team had just arrived back from an education and awareness trip to Gwassi, they quickly regrouped and channeled all their efforts into organizing materials for the event, which they believed would be key in expanding their network of clients and getting some much needed exposure in the local community.
On the morning of the open-day, the team was led by CLEAR-Kisumu's resident advocate, Mr. Peter Onyango, and CLEAR-Kenya's Legal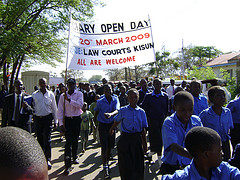 Education Coordinator, Mr. Joram Mutsotso, in a procession around the city featuring the local prison's marching band. This was followed by a keynote speech from the Resident Judge of Kisumu, who talked about the significance of the day for the judiciary and for the many men, women and children who would benefit from improved access to justice. Afterwards, members of the public were invited inside to walk around the tents that showcased the work of the wide array of organizations in attendance.
CLEAR set their tent up next to the Judiciary's customer care tent. In addition to providing information about the organization's services, CLEAR had asked their legal aid lawyers to attend so that they could advise walk-in clients. CLEAR staff said the most interesting and rewarding part of the day was when a group of four deaf-mute woman approached the tent. The CLEAR staff managed to find someone who could translate some legal advice to sign language for the women – the team was happy to be able to make such important information accessible to them.
The day ended with an open forum at the town hall, where people were invited to ask questions and share experiences with the Judiciary, police and legal organizations in attendance. In his closing remarks, the Resident Judge acknowledged the large turnout and thanked the lawyers and legal aid organizations for their tremendous work. Indeed, CLEAR staff were happy to oblige.