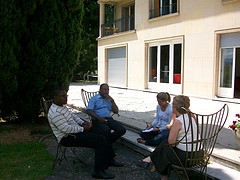 Most lawyers would consider themselves lucky to hear the experiences of practiced defense attorneys in their own countries. Few, then, ever imagine that they might be able to spend a week learning with skilled defenders from five different countries. This week, IBJ's "Fellows"-criminal defense attorneys who are spearheading IBJ's programs- have come together from Zimbabwe, Rwanda, Burundi, Cambodia, and India for the first-ever "Fellows Summit" at Fondation Heim in Chambésy, Switzerland, to share the wisdom drawn from their diverse international experiences.
The Fellows immediately dove into the critical issues of criminal justice in their countries. During Monday's opening session, the Fellows took turns introducing each other to the governing rules of criminal procedure in their countries. Almost immediately after Cambodia Fellow Ouk Vandeth began his summary, the other Fellows responded eagerly with questions about the procedural protections available to Cambodian defendants. The Fellows left no stone unturned with questions ranging from the right of a detainee to access a doctor to the amount of time the police can hold a detainee in prison before appearing in court. The conversation quickly turned into a symposium on comparative criminal procedure as the Fellows took on their topic with the passion that only practitioners can bring.
After Monday's intellectually charged discussion, the focus shifted on Tuesday to a different but equally crucial element of a criminal defender's practice. Poet and musician Antony Hequet led IBJ in a vocal exercise that taught Fellows and staff how to use the power in their voices. The halls of Fondation Heim rang with the sounds of IBJ staff and Fellows stretching their vocal chords. India Fellow Ajay Verma and Rwanda Fellow John Bosco Bugingo stood out for their vocal prowess, especially when they faced off in a grunting match toward the end of the session that left everyone laughing.
With their understanding of criminal procedure enhanced, not to mention their ability to make themselves heard, IBJ Fellows, staff, and interns are ready to continue learning from each other throughout the remaining days of the Summit.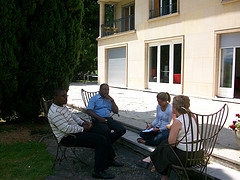 IBJ Zimbabwe Fellow Innocent Maja (left) and IBJ staff plan their next move