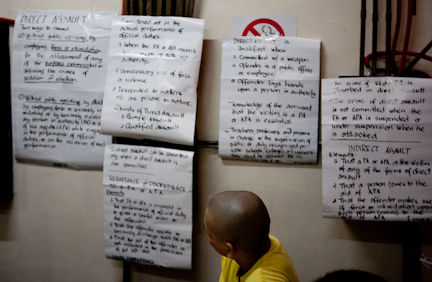 Every Monday, the Humanitarian Legal Assistance Foundation (HLAF) runs a training seminar in the Mandaluyong City Jail.  The goal is to serve the inmates by training inmate Paralegal Coordinators that will engage in providing their co-inmates with knowledge on their rights and pertinent laws regarding their cases.
HLAF has found that many inmates overstayed in jail because most of them did not know their rights and did not know the procedure of the criminal justice system.  In a system where the average inmate waits 6 years for a verdict, the paralegal coordinators can be an invaluable help in decongesting the jails and trial dockets.
This week, Junard, a staff member working with 2008 JusticeMakers Fellow Rommel Abitria, instructed a group of about 15 inmate Paralegal Coordinators on some common laws and legal definitions that the inmates are likely to see in their trials.  After, the Paralegals are tested on their knowledge.  Every afternoon, they meet with other inmates to give advice and answer questions about upcoming trials.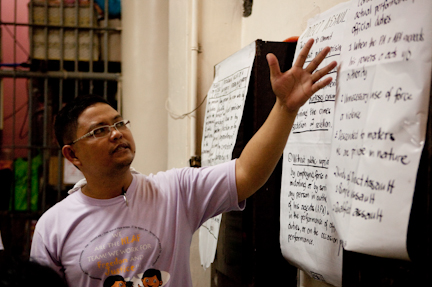 Junard, one of the Justicemakers at HLAF, instructs prisoners in the Mandaluyong City Jail.  The jail is at more than 300% of capacity, and instructing inmates on their rights allows them to move through the justice system in a quicker and more organized manner.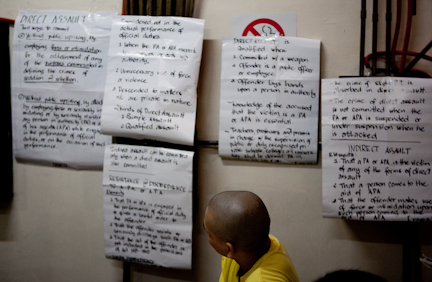 A paralegal coordinator studies material before a quiz on Monday.