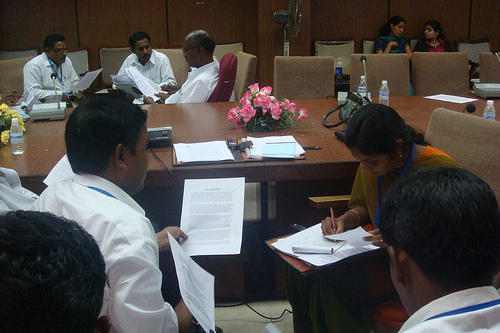 The third session of IBJ's training programme in Pondicherry India was designed to encourage communication and discussion. The participants were divided into groups of five and asked to identify all the procedural errors they could see in the hypothetical case expertly formulated by trainers Ajay Verma, IBJ Fellow in India and Manohar Raju, San Francisco Public Defender.
Participants identified all the procedural errors they could see, including several innovative ones challenging the mental capacity of the imagined accused. Since all were aware of the judgment in the case of D.K. Basu pinpointing errors such as forced confessions or refusal of legal representation, this came easily to the well prepared participants. As a response to the hypothetical acceptance of the confession given and its effect on the verdict, several participants proposed a series of defenses that could be readily used, and advocated plea bargaining as the future of criminal litigation.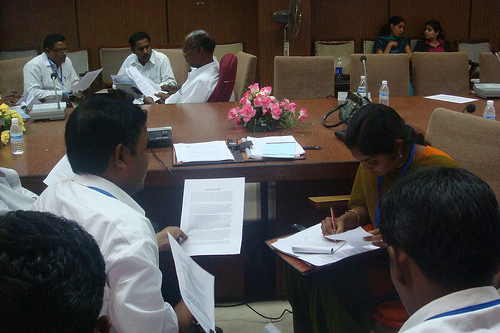 Participants in small groups
When asked to specify the various trends that daily affect their practices as legal aid lawyers, several common problems raised their heads. Lawyers often face hurdles such as non- cooperating investigating agencies, unavailability of First Information Reports, delays in the procedure, lack of sufficient infrastructure and meager pay that can barely sustain a living.
After this, the groups were asked to state the various goals they hoped to achieve during the course of their practice and identify short term plans to help reach their ultimate goal. While a few lawyers wanted to spread legal awareness and knowledge, increase literacy and empower women, others wanted a more impartial judiciary and an incorruptible police force and to help achieve there goals they sought a more active role from the legislature in the form of stricter laws.
To end on a lighter note, participants were asked to describe the defining moment of their career as a lawyer, most of which included winning the first case or their client being granted bail, and a general sense of camaraderie could be observed. The trainers then asked groups of three to draw a picture of what the legal system should look like in 10 years. With several participants taking up crayons for the first time in years, this brought about the training programme to a successful close with groups coming up with imaginative drawings and catchy slogans.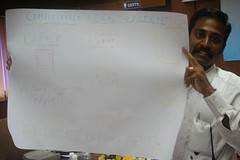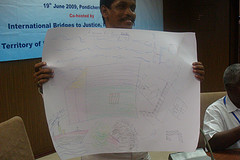 Particpants share their vision of the legal system in ten years time
Mr. K.Uthirapathy, District Judge and Hon'ble Member Secretary of the Pondicherry Legal Service Authority, addresses the group
The day ended with a thank you from the Hon'ble Member Secretary of UTPLSA and the distribution of certificates and group photos.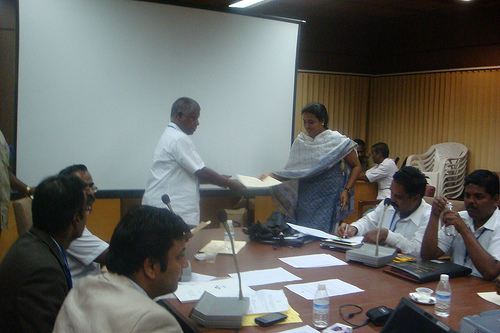 Participants receive their certificates at the end of the day