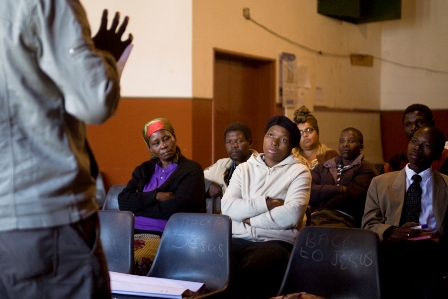 On a cold Saturday morning Buhle Dube and the rest of the Swaziland Justice Makers team journey to Ngwenya to lead a workshop on prisoners' rights and the legal system for community police. A rural area famous for its glasswork, Ngwenya lies just short of the border with South Africa and has a high crime rate, especially theft.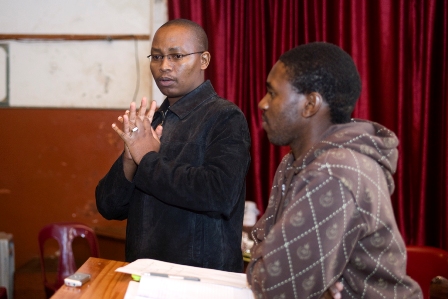 Above: Bhule Dube, left, speaks to a group assembled at a church in Ngwenya, Swaziland as Alfred Magagula, right, looks on during a workshop on prisoners' rights and abuse on Saturday, June 13.  (Photo by Nicholas Loomis)

In conjunction with the Municipal authorities Buhle, three of his students, Sibusiso Nhlabaisi, Ngeti Dube, Gugu Simelane and Alfred Magagula, his second-in-command, came as part of a series of workshops designed to teach the, often untrained, community police aspects of the law and how to conduct a proper arrest.
Hot tea and sandwiches were passed out as the police prepared presentations on their duties and challenges. The Justice Makers let Benjamin, the municipal liaison, lead the first half of the session before Alfred stepped up to field questions.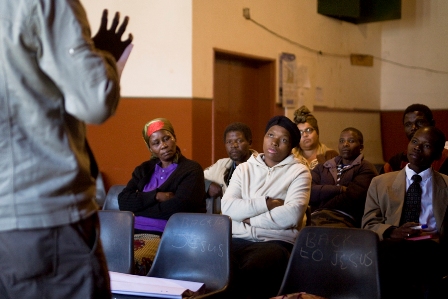 Above: A group consisting of villagers, police officers and government officials listens during a workshop on prisoners' rights and abuse conducted by Justice Makers in Ngwenya, Swaziland on June 13.  (Photo by Nicholas Loomis)

While the audience was engaged and frequently shared laughs with the JusticeMakers they were reluctant to confront the issue of prisoner abuse. Finally Buhle stepped in to break the tension a task he has become familiar with.
"In rural communities they do not admit to torture. So we tell them look we have been around the country we know the only way to arrest an armed suspect is to beat them up. Then they say, 'Yes, O.K. we beat them up.'"
Afterwards Buhle's students gave presentations on the use of minimal force, presumption of innocence, and the court system, which elicited an enthusiastic response. Bhekie Dlamini, the head of the community police's secretary, summarized the speeches' reception.
"They were so inspirational. We had to ask questions and we got information and I think which we are going to take back to our community."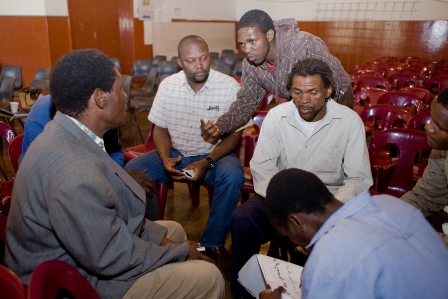 Above: Alfred Magagula, top, works with a small group of police officers during a breakaway session at the workshop conducted by the Justice Makers team in Ngwenya, Swaziland on Saturday, June 13. (Photo by Nicholas Loomis)

Nor did the accolades end there. Also present was Ms. Barbosa, head of the Crime Prevention Unit for the Hhohho region. She described the session as a partnership workshop that identified a gap in training.
"You could just tell some of them were totally ignorant of how the law operates there's still the normal people who haven't been trained on anything on the law and how they should actually treat the suspects and go about cases. And so we'll be conducting a brief workshop for those that haven't been trained."