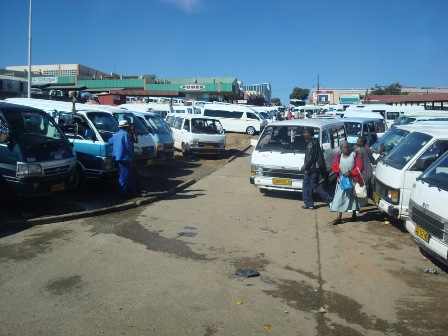 These were the first words we heard upon arrival in Manzini, Swaziland's largest city. Emerging from our minibus into the swarming chaos of the bus rank we found Gugu Simelane, a fourth year law student at the University of Swaziland and member of the Justice Makers team, waiting for us. Gugu was our link to Buhle Dube, a law professor at the University and head JusticeMaker.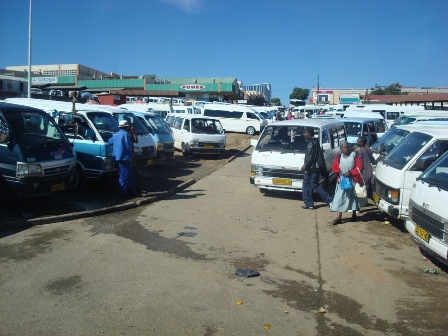 Above: The bus and kombi (minibus) rank in the center of Manzini. (Photo by Walker Gunning.)
After whisking us through the streets to our accommodations we finally met Buhle and three more members of his team. Sibusiso Nhlabaisi and Phakama Shili are both second year law students in Buhle's class while Alfred Magagula, the second in command, is a law graduate working for a local municipality. We would meet their fourth-year colleague, Ngeti Dube, later.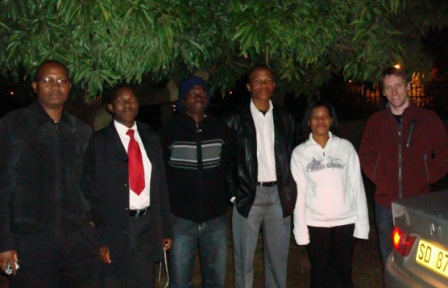 Above: The JusticeMakers team. From L to R Buhle, Alfred, Shili, Sibusiso, Gugu, and IBJ photojournalist intern Nick Loomis. (Photo by Walker Gunning.)

Buhle and the team have been conducting workshops across Swaziland with community police in an effort to raise awareness on human rights issues and to combat the use of torture and excessive force. Working in conjunction with local municipalities the JusticeMakers field questions and give presentations on the presumption of innocence, the court system, and proper procedures in making an arrest.
The JusticeMakers' work is critical in a country where recent dialogues have been held on the question "Are human rights a myth in Swaziland?" and where some hold the view that human rights are "Un-Swazi." Extreme poverty, 69% of the country lives on 65 cents or less a day, and the highest HIV/AIDS rates in Africa only exacerbate the situation.
Yet despite this Buhle is calm collected and frequently hilarious. His Justice Makers shirt proclaims "Justice Can't Wait" but "Justice Never Sleeps" would be just as appropriate for this family man who wakes at 3AM each day. After a short meeting we discover our first workshop will be in three days time and say goodnight to the team before turning in ourselves. Journalists, it turns out, must occasionally sleep.