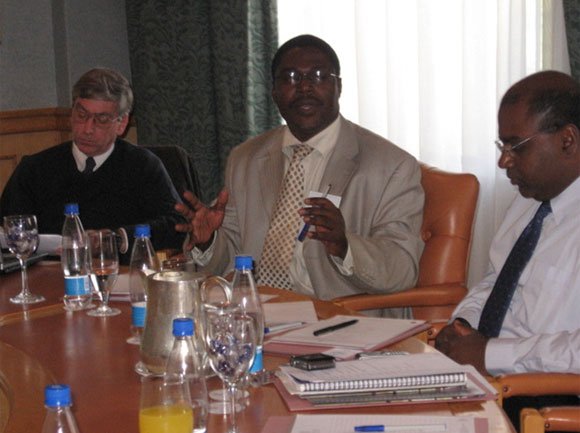 On July 7, 2009, participants of IBJ-Zimbabwe's first official roundtable discussion spoke passionately about the role of lawyers in decongesting Zimbabwe's prisons. The discussion was chaired by IBJ Fellow, Innocent Maja. In attendance was Sanjeewa Liyanage, the IBJ Program Director, Professor Geoff Feltoe, five private practicing lawyers and representatives from the Law Society of Zimbabwe, Legal Resources Foundation, and Zimbabwe Association for Crime Prevention and Rehabilitation of the Offender (ZACRO).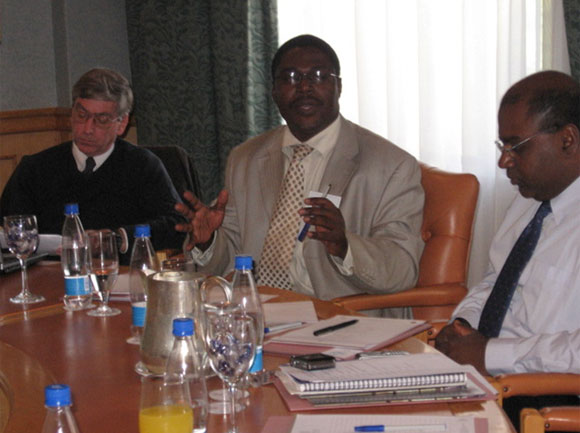 Above: IBJ Fellow Innocent Maja leading a discussion. (Photo by Florence Chatira.)
Participants cited corruption, economic hardship, little resources, and shortage of transport to convey accused persons to court as causes of overcrowding. After much deliberation and IBJ Zimbabwe Fellow, John Burombo presented the concept paper and a moving story of how IBJ Zimbabwean fellows released 26 accused persons from remand prison, participants agreed that lawyers had an ethical obligation to represent indigent accused persons pro bono as one of the means to decongest prisons.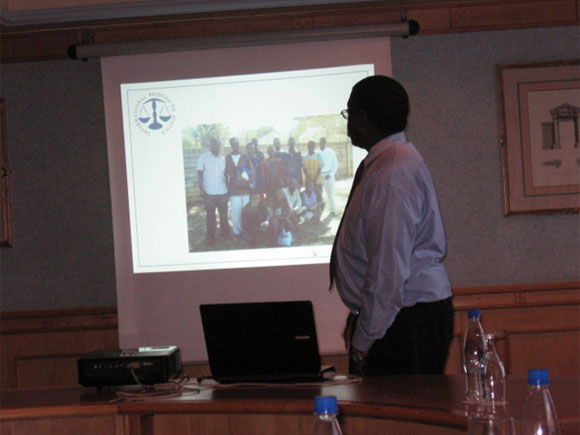 Above: John Burombo, an IBJ Laywer, presenting during the roundtable discussion. (Photo by Florence Chatira.)
At the conclusion of the discussion, ZACRO (with the assistance of the Law Society of Zimbabwe and IBJ) undertook to create a database for indigent accused persons in remand prison in need of pro bono legal assistance. Legal practitioners present pledged to take up at least two cases a month pro bono and at a nominal fee, to help indigent incarcerated citizens.
Above: IBJ Program Director Sanjeewa Liyanage discussing criminal justice with a roundtable participant. (Photo by Florence Chatira.)
The roundtable was a resounding success. In giving feedback about the roundtable, one participant stated that she had "learnt a lot of things" and another branded the event as "quite insightful and thought provoking." As IBJ Zimbabwe Fellows look to organize their next roundtable, they are certain it will be another great success.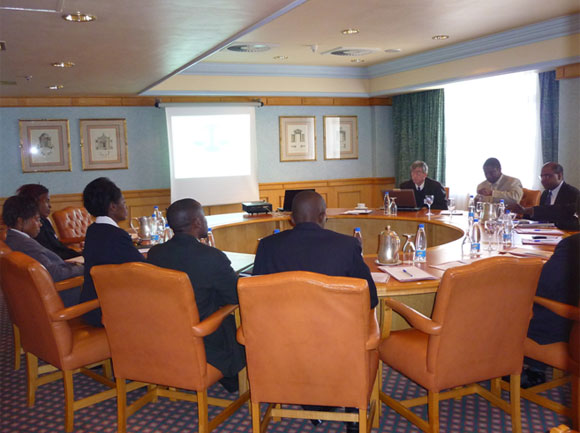 Above: Participants in the July 7 Roundtable dicussion in Harare. (Photo by Florence Chatira.)