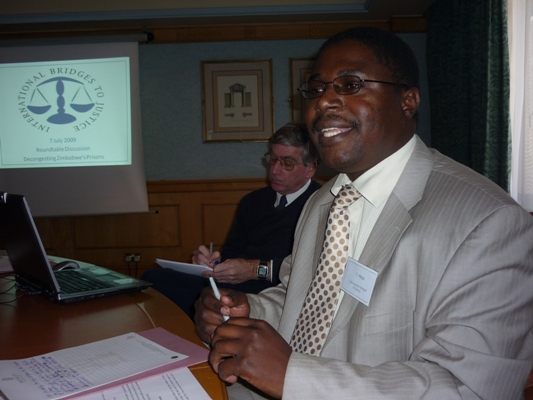 IBJ is excited to announce its first ever Zimbabwe Criminal Defense Training which will be held in Harare, on August 28th, 29th and 30th 2009. This three-day skills-building training will be lead by an experienced panel of eminent trainers. Anthony Natale, a Federal Public Defender from the Miami Federal Office, in Florida, USA will train in tandem with Karen Tse, IBJ Founder and CEO, as well as Professor Geff Feltoe, a leading legal authority in Zimbabwe, and IBJ Zimbabwe Fellow and Country Manager, Innocent Maja.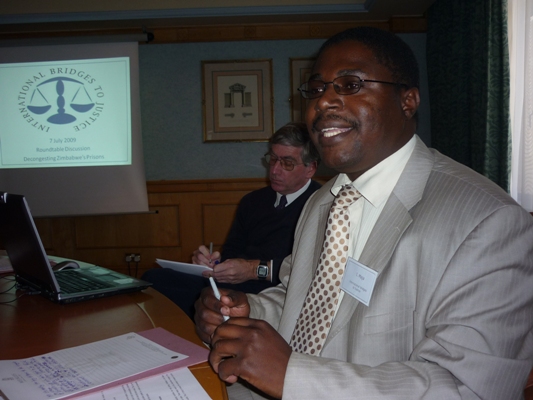 Above: From left to right: Professor Geoffrey Feltoe and IBJ Zimbabwe Fellow, Innocent Maja, moderating the first roundtable on prison overcrowing in early July 2009. (Photo by Florence Chatira).
More than 70 criminal defense and legal aid lawyers are expected to join forces in Harare to discuss and share practical tips about Development of Theory of Case, Investigation, Interviewing, Opening and Closing Arguments, Direct Examination, and Cross Examination. Procedural issues surrounding the use of torture as an investigative tool and other issues will also be pondered during evening roundtable sessions.
The training aims at equipping lawyers with a set of practical skills they can leverage to provide quality counsel to their clients and to have them reflect upon the values which led them to become advocates. Beyond, the hope is to build the leadership of a criminal legal aid movement that can push for systematic access to legal counsel throughout the country.
To view the full training program, please click here.