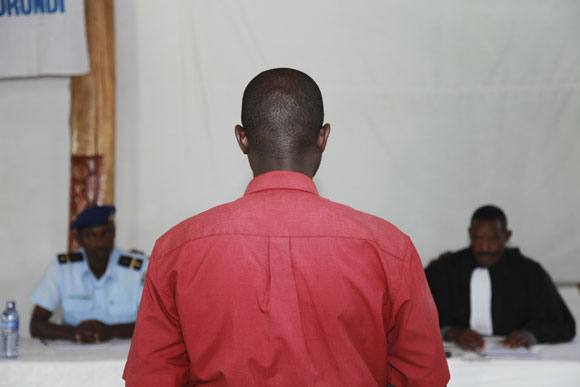 International Bridges to Justice's second sucessful training session on the Burundian penal process was held last week, captivating the attention and imaginations of participants in envisaging an efficient and equitable judicial future.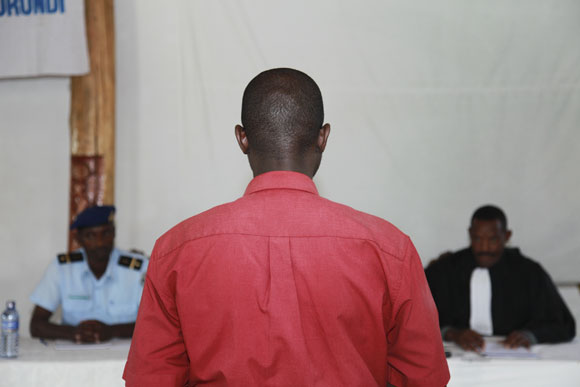 Above: During the mock trial portion of the training, the defendant stands before the magistrate and the arresting officer. (Photo by Nathalie Mohadjer.)
From Monday 29th June to Friday 3rd July, an IBJ delegation met with 58 participants from all levels of the penal system in the Burundian capital, Bujumbura. The training covered the process from arrest through interrogation to detention, treating each theme separately to facilitate the atendees with precise skills.
Employing diverse means such as role play, visual representation and group discussion, the training brought a dynamism to the intricacies of legal practise. (Click here to see an online version of this training.) Round table discussions hosted by Burundian IBJ Fellow Astère Muyango closed Monday's training for police officers, magistrates and officials from the penal system and Thursday's session for lawyers, bringing together the preeminent minds of Burundi's penal system to brainstorm solutions to the crucial issues of juvenile justice and juristictional aid.
Friday, the highlight of the week for many, brought these groups together in a mock-trial with judges playing detainees, prison directors as magistrates and General Commandant of Police Bernard Sekeganda trying his hand as a lawyer. "It's a difficult role," he admitted, the integrated approach of the training provoking sympathies between particpants for the challenges to the work of people they often work against rather than with.
The target of the trainging, to bring together different actors in the penal process to effect an integrated and efficient system, addressed one of the greatest hindrances to justice in Burundi. "It's a lack of respect for processes at all levels," André Mbayabaya, director of Gitega province prison, identified as the main obstacle to justice. "We need to work together – it's all the same system."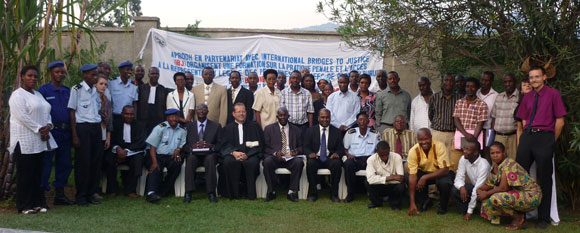 Above: Particpants included magistrates, police officers, prison officials and defenders. (Photo by Nathalie Mohadjer.)
The training also had frequent recourse to distributed copies of the new penal code of Burundi, encouraging the use of this document which marks both much progress made – such as a new precision in the definition of torture, aiding its eraditcation – and the work still to be done, as lack of distribution results in much of the small country operating according to the 1981 version.
With the training bisected by Burundian Independence Day, a moment of national pride gave additional resonance to the newly-equipped legal agents' dream of a penal process of which the country can be proud. IBJ's training session has equipped participants with the capabilities to bridge the gap between the justice system as it is and a future Burundian justice system of functioning processes and fair judgements.