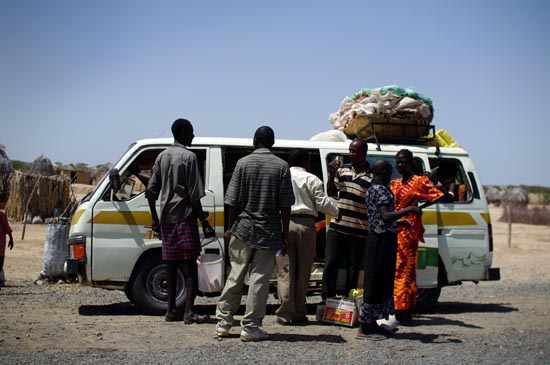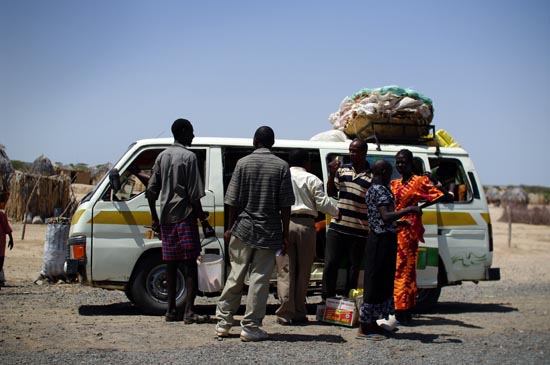 A matatu stopped outside Lodwar to reshuffle passengers. Photo by Ian MacLellan
I can just make out the peeling yellow letters painted on the Matatu sitting next to us in traffic – We Don't Break the Laws; We Bend Them. Matatus – old Nissan vans converted into public buses – make, break, and bend the laws on Kisumu's streets. Notorious for their reckless driving, near accidents are a just part of the ride. And when the inevitable does occur, negotiations and a quick settlement are the accepted form of justice. Passengers sit tight, while the drivers reach a hurried agreement and get back on the road.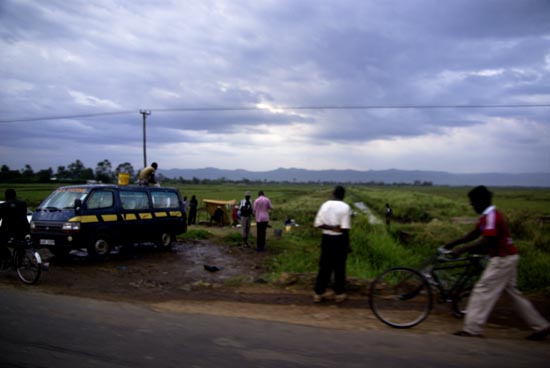 Matatu carwash as seen from a speeding matatu outside Oyugis. Photo by Ian MacLellan
Matatus give this city character. Conductors shout at passers-by, jump in and out of the moving vehicles, and tussle with competitors. The vans come in all colors, bright green and orange with upholstered interiors. Some are even outfitted with 30" television screens and blaring stereos. Bold statements and photographs are also an essential embellishment. Bible verses are sticker-ed up alongside oversized photos of Barack Obama and Britney Spears.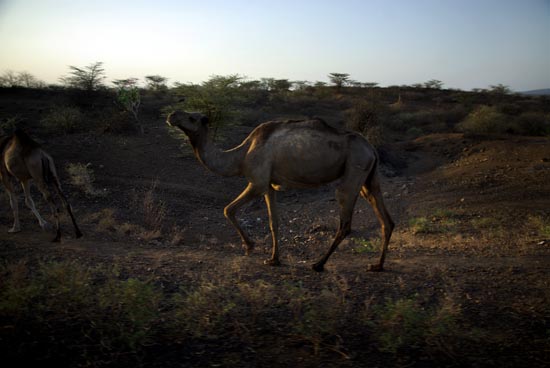 Camels strolling past a matatu outside Lodwar. Photo by Ian MacLellan
Ian and I have witnessed the construction of two new speed bumps since arriving in Kisumu, allowing pedestrians a few extra seconds to make the risky crossing. But amid the chaos there is some order. The conductor taps a fistful of change on the roof to tell the driver when to stop and go. There are numbered routes and destinations. Stroll out to the side of the road, and you are on your way in matter of minutes.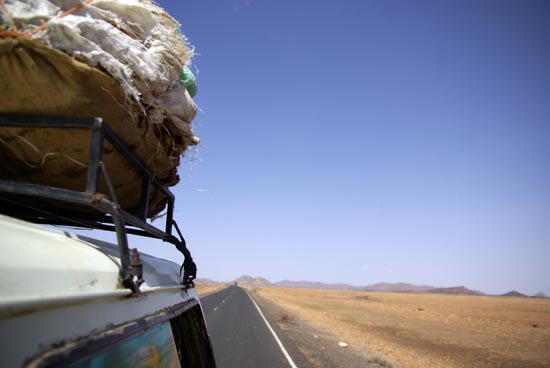 The view outside a matatu on its way to Kakuma refugee camp. Photo by Ian MacLellan
On our matatu to Oyugis courthouse we joined twenty-two people and two babies packed into a vehicle with seats for fourteen. These days, Kenyan police are cracking down on unsafe vehicles, a worthy undertaking – on our matatu back from Kakamega, the van door flew off at 80 km an hour, skidding six meters before settling down on the side of the road.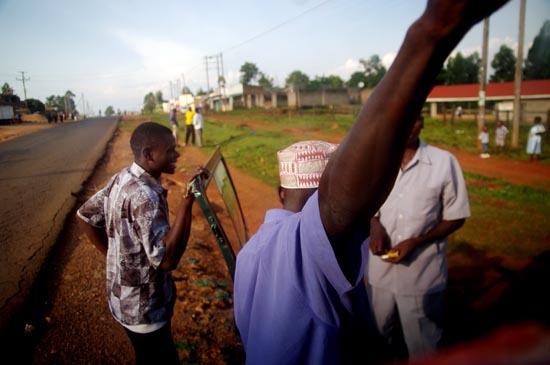 Matatu driver and conductors convene for a quick meeting to discuss what to do with the door that flew off. Photo by Ian MacLellan
We cross road blocks on nearly every outing – long wooden boards of 3" long, gnarled nails used by the police to stop vehicles for routine checks. The officers stroll up to the driver's side and peer casually at the vehicle. They glance at Ian, the only Muzungu – white man – on board and tell him to put his seatbelt on. On these roads, matatus and police officers have a comfortable relationship. The driver promptly hands over the going rate – and the matatu is on its way.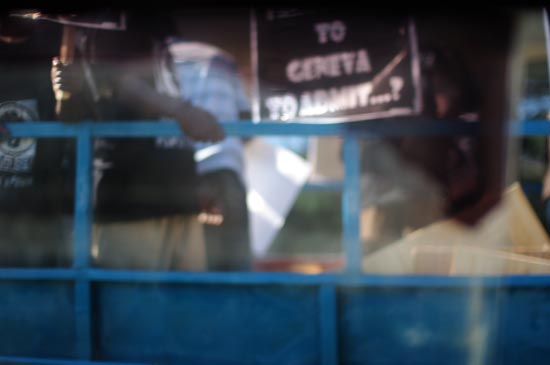 Protestors loaded into a flatbed truck as seen from a matatu. Photo by Ian MacLellan
Matatus are perhaps the most dangerous part of our daily life, and usually the most entertaining. Drivers ride calmly on the wrong side of the road, force open new lanes, and jump off to go for a quick pee. The conductors are generally funny and friendly, with the exception of one who suffered a very real fear of swine flu. He refused to shake our hands. And a day wouldn't be complete without at least two eager young men welcoming us to Kenya. Ian's from America – and Kisumu is Obama's homeland after all.
Boda Boda man as seen from a matatu outside Vihiga. Photo by Ian MacLellan