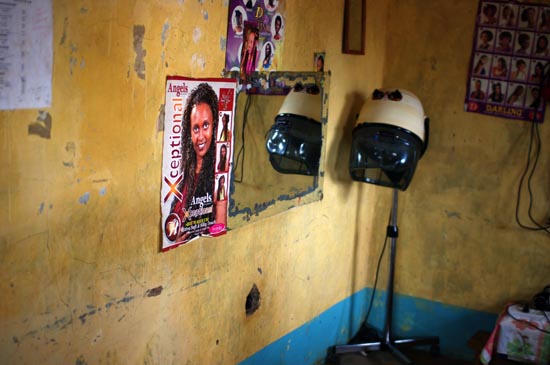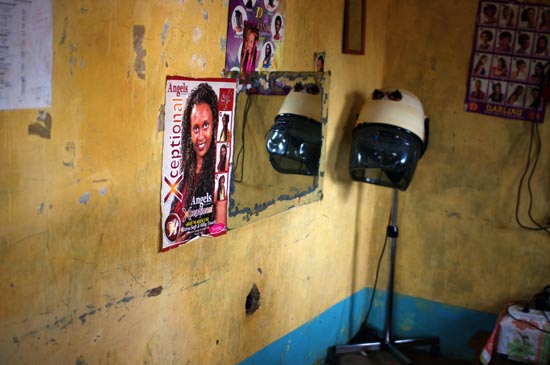 Inside the GK Prison Saloon – Photos by Ian MacLellan 
Ian and I bought our first souvenirs today – woven baskets made by women at Kodiaga women's prison – an appropriate first souvenir for our trip which has consisted of over a dozen prison visits. I always imagined prisons as steel bars and white cement blocks, uniforms and handcuffs. But here, I am surprised every time we cross the prison gates. At a women's prison, children and babies greet us shouting 'Muzungu, Muzungu,' – white man, white man. Their mothers, dressed in the white one-pieces worn by convicts send them over to shake our hands. Children of tender age, 4 and under, are permitted to stay with their mothers when they have nowhere else to go.
Some women sit in the corridors talking and playing with their children. Others do the washing and lay clothes out to dry. We joined CLEAR Eldoret, affiliated with CLEAR Kisumu, who visit the prison regularly for legal education. The women's prison is very different from what I have come to expect. At Kodiaga and Kibos, the inmates are far more inquisitive and assertive. They seem determined to understand the law, to file their appeals, and get out. In contrast, the women sit so far from Winnie, CLEAR's student intern, I wonder if they can even hear her speak. They seem rather complacent, chatting, coming and going during the presentation. Or rather cultural norms have made them this way. Many are content waiting on their husbands and families to come to their aid.
Finally, one woman pipes up and asks a question. Winnie walks over to answer, and sits down down with her. We move from our seats and walk over as well, leaning in to hear her question, audible above a whisper. I realize that their quiet and reserved demeanor should not be confused with complacency. They want out. The food is terrible, their children don't get enough to eat, and the bed bugs keep them from sleeping. But many women simply lack the capacity to take independent action. Educating women about their legal rights comes with its very own set of challenges; they need encouragement and a personal approach.
Dark clouds, and the whole affair comes to an end. The wash was left out on the field to dry and must be collected before the rain falls. Maybe it's the relaxed atmosphere, the presence of children, or the G.K. Prison Saloon – a Government of Kenya beauty salon located just outside the main gates, but I find the whole experience to be rather bewildering. I don't know if these women are any more informed by our visit, but I leave with greater respect for CLEAR staff. Change comes with time, and this work requires patience.