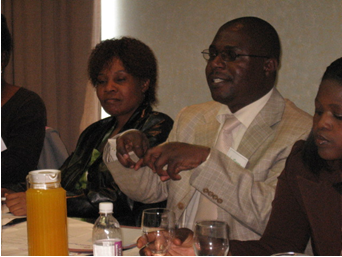 On 31 July 2009, IBJ-Zimbabwe Fellows, Innocent Maja and John Burombo, collaborated with the Legal Resources Foundation (LRF) to bring 16 magistrates together to discuss the role magistrates can play in decongesting Zimbabwe's prisons. In a frank and engaging conversation, Magistrates indicated that their challenges include political interference, lack of resources leading to demotivation, corruption, and judicial procedures (e.g invocation of section 121 of the Criminal Procedure and Evidence Act) that limit their ability to make proper decisions. So open was the discussion that one participant admitted, I "didn't expect the level of openness that was received."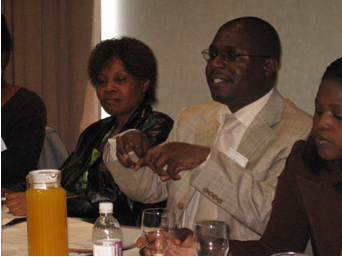 Above: from left to right: former Magistrate and Head of the Legal Unit of the Legal Resources Foundation, Evangelista Kabasa; IBJ Zimbabwe Fellow and Country Manager, Innocent Maja making a strong case for bail releases of detainees accused of minor offenses to decongest the country's prisons. (Photo by Florence Chatira).
After discussing the problems and sharing experiences, the magistrates came up with practical solutions to these problems. The Magistrates committed to do the following:
(i) Grant bail to every accused person that appears before them as of right unless the state
proves otherwise;
(ii) Stipulate a quantum of bail that matches the offence and the offender;
(iii) Patiently secure the rights of the unrepresented accused persons;
(iv) Consider community service and fines first and then imprisonment last in sentencing;
(v) Train and mentor junior Magistrates in sentencing, the first such training being held on
14 August 2009;
(vi) Lobby for the repeal of section 121 of the Criminal Procedure and Evidence Act).
Magistrates undertook to compile all cases where section 121 was invoked, ascertain how many were eventually pursued and then make a case.
(vii) Undertake monthly prison visits;
(viii) Co-operate with IBJ to produce Sentencing Guidelines and Court Management Manual.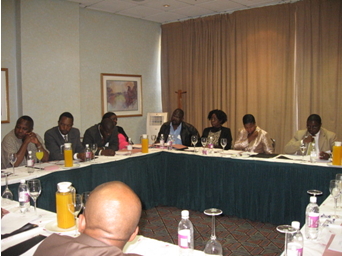 Above: The roundtable participants reflecting upon the challenges plaguing the Zimbabwean prison system and solutions to alleviate pre-trial detention and prison overcrowding. (Photo by Florence Chatira)
Throughout the event, the Magistrates were motivated and dedicated to working with IBJ and other players in the criminal justice system to improve prison conditions and reform the criminal justice system. The event was a resounding success. IBJ will continue to provide the necessary platform for this to be achieved.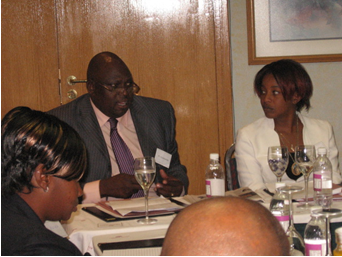 Above: Provincial Magistrate Mishrod Guvamombe leading the discussion on proposed solutions. (Photo by Florence Chatira)