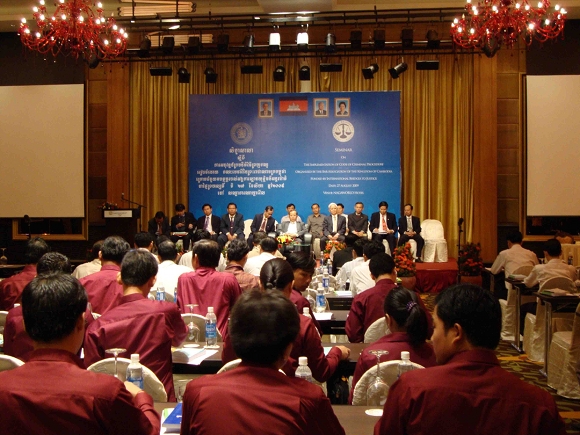 On August 27th, 2009, IBJ Cambodia and the Bar Association of the Kingdom of Cambodia (BAKC) joined together to hold a workshop defender training program in Phnom Penh. Held at the Naga World Cambodia Hotel, this highly successful event tallied up a total of 94 participants to discuss the difficulties of implementing the new criminal code procedure in Cambodia. The main objective being an overhaul of the current knowledgebase that runs throughout the defender foundation, through the combined use of past experience from both lawyers as well as law makers and law enforcement officials.
Kicking off the workshop were speeches by IBJ Fellow Ouk Vandeth as well as the Chief of the BAKC H.E. Chiv Song Hak, which led into the first of two main sessions, where lawyers and government officials introduced the procedures of accusations within the court, and evaluated the difficulties lawyers may face in relation to these accusations.
In the second half of the event, Mr. Hing Thirith, a Prosecutor from the Supreme Court, was the head speaker and articulated the procedure of investigation that takes place when in the role of an Investigating Judge. Following this,  a lawyer of the Royal Government of Cambodia spoke of the challenges a lawyer faces in the investigation stage
We saw an immense amount of interest from the crowd, with many questions being asked and problems being solved, with the facilitators, the speakers, and anyone else who may have been knowledgeable providing support through this portion of the workshop.
IBJ's first collaboration with the BAKC resulted in a great achievement. To wind down the final moments of the workshop, the Secretary of State of MOJ, H.E. Sam Sophal, thanked all of the participants for such a keen and engaging experience, and expressed his enthusiasm with regards to the great success of the event. Through the continued alliance between IBJ and the BAKC we will be able to improve and upgrade the knowledge and awareness required for lawyers in relation to the accusation procedure as well as the investigative procedures in the system.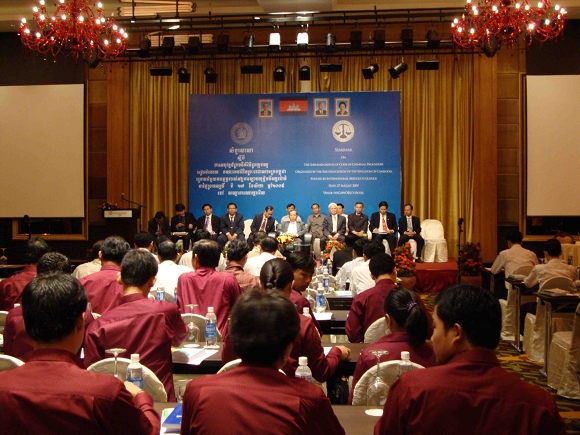 Participants gather as the first panel of speakers opens the workshop in Phnom Penh.
(Photo: IBJ)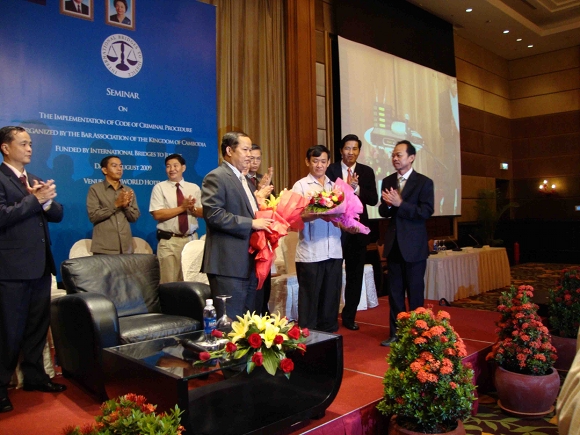 Government officials and representatives of the Bar Association gather for the opening ceremonies
(Photo: IBJ)