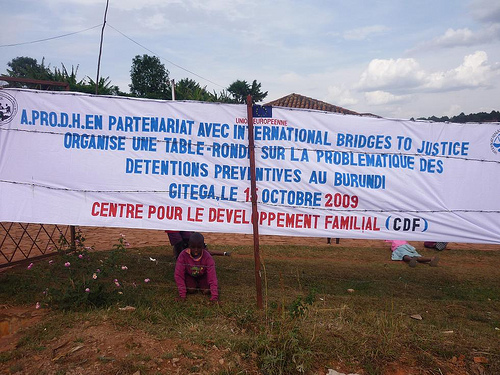 From October 14th to 16th IBJ left Bujumbura to head to Gitega, Burundi second largest city, to pursue its roundtable program and rights awareness campaigns. We already did the two hours drive in July with the visiting team from Geneva so as to visit the local prison and former participants to the June training session. We then came back in September to be formally introduced to officials and initiate the necessary contacts for organizing activities in the province.On Wednesday 14th October, after one holiday commemorating the assassination of Prince Louis Rwagasore, hero of national independence, the small IBJ car left Bujumbura with Astère, Claire and I onboard. We first went back to the same guest house where we lodged some 3 weeks before and then joined Nestor, APRODH local representative, to start with a first afternoon full of surveys. As usual, people were a bit shy and didn't want to be the first to be interviewed. After a few minutes however, ice was broken and people were massing around interviewers and questions were answered by many participants at the same time, creating a nice mess with newcomers wishing to grab posters distributed by IBJ. This session lasted more than 3 hours, sometimes interrupted by heavy rain, a common fact during this period of the year. We were back at 6.30 in the guest house where we spent a quiet evening and we didn't wait long before going to bed. We nonetheless took the precaution to order our breakfast in order to avoid last time surprise to wait for more than one hour to get 3 omelettes!
The day after started at 7am with our pre-ordered breakfast and we then dropped Astère at the venue so as for him to begin preparing for the event. Maître Herman Ndayishimiye, freshly recruited IBJ lawyer, was already waiting for us and replaced Astère in the car to head to the Vice Governor's office, whom we had met 3 weeks before to express our wish to hold a roundtable and ask him to open the session. Unfortunately, he had forgotten the event and committed himself to open another roundtable. At the last minute, he nevertheless managed to free himself up to respect his initial engagement. In the meantime, the first participants had arrived at the venue, among them 6 lawyers coming from Bujumbura with Dieudonné, who has recently joined IBJ Burundi as a volunteer. After the opening speech of the Vice Governor and Astère's welcome speech, Herman started animating the debates and introducing the problematic. Following the results reached in Bubanza, the session was once again dedicated to the question of pre-trial detentions. After having seen how pre-trial detentions were averse to the principle of alleged guiltlessness, the participants broke out into groups in order to identify the root causes of this phenomenon. Various ideas were suggested such as the lack of vehicles and fuel to allow judges to visit detainees and speed up procedures, the lack of access to lawyers or even paralegals to inform detainees of their rights. More challenging, some participants highlighted a certain shortage of professional conscience and even political pressures put on magistrates that lead to the justice dysfunction.
During the afternoon, participants were requested to reflect upon concrete solutions to put an end to this predicament. Numerous ideas were put forward, ranging from pleading the nullity of the procedure for lawyers defending long-term pre-trial detainees to making available police escorts to facilitate detainees' transfers to courts so as to accelerate procedures. The most interesting proposal came along with the lawyers' group suggesting to renew the operation held in Bubanza consisting in mandating lawyers coming from Bujumbura to visit Gitega prison and to point out illegal detentions. A few days after, a special court hearing could be organized where judges would statute on potential releases. Members of the penitentiary administration turned out enthusiastic and magistrates were not opposed to the proposal. Details have now to be discussed between IBJ and APRODH on how we could effectively support this effort.
After group pictures, participants went back home but the IBJ delegation stayed in Gitega for another last day of rights awareness campaign. Overall, about 1450 people have been educated about their rights in Gitega. We had a very safe night too, surrounded by several machine gun equipped security men, as the President of the Senate was also finding shelter at our guest house, even if he was hardly recognisable the next morning, as he was wearing sport suit and slippers… Our last day in Gitega went on smoothly and was dedicated to post-campaign surveys, aiming at evaluating the efficiency and visibility of our awareness efforts in Burundi. We finally left Gitega Friday at the beginning of the afternoon, after having shared a last lunch with our local partner APRODH representative and the young volunteers who helped us raising the population awareness. The drive back was a bit longer due to abundant rains making the road slippery and a few stops to buy delicious vegetables, while listening to rock music or religious preaches, depending on preferences. Anyhow, at the end of the path, it was a well deserved week-end for everyone.
Above: The banner displayed in downtown Gitega (Photo by Jean-Baptiste Bouzard)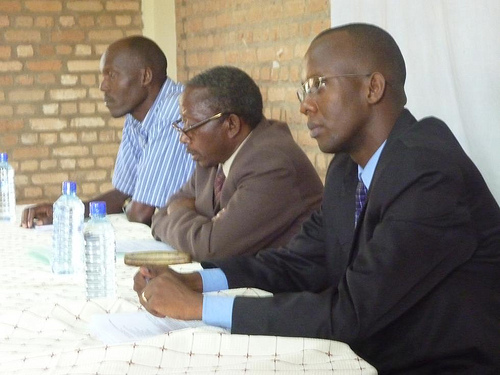 Above: The Senior Counsellor of Gitega Governor opening the roundtable (Photo by Claire Habimana)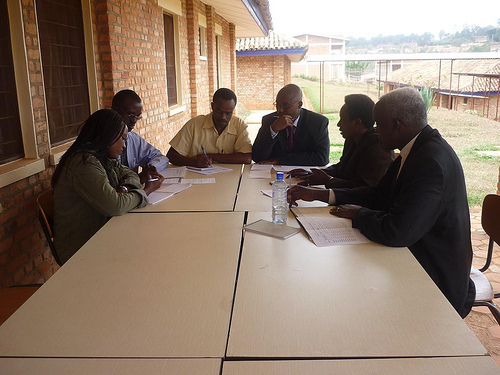 Above: Breaking out into groups: lawyers discussing strategies to curb pre-trial detention (Photo by Jean-Baptiste Bouzard)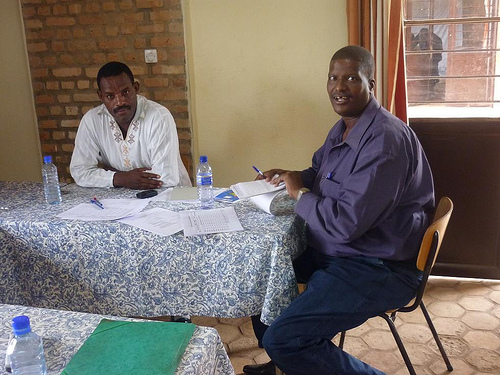 Above: Senior prison officials putting together ideas to fight prison owercrowding in Gitega (Photo by Claire Habimana)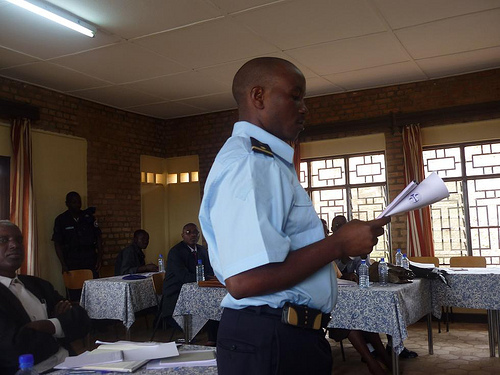 Above: Police officer exposing the commitments of the police to reduce pre-trial detention (Photo by Claire Habimana)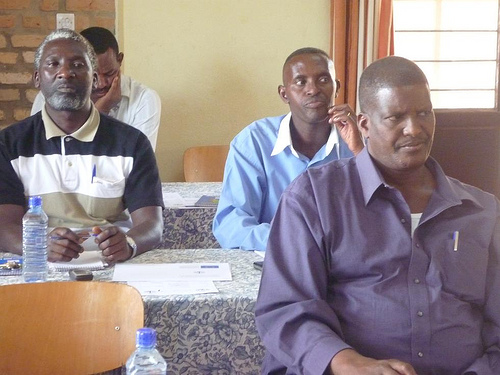 Above: Participants of the roundtable reflecting upon the challenge of delayed justice (Photo by Jean-Baptiste Bouzard)