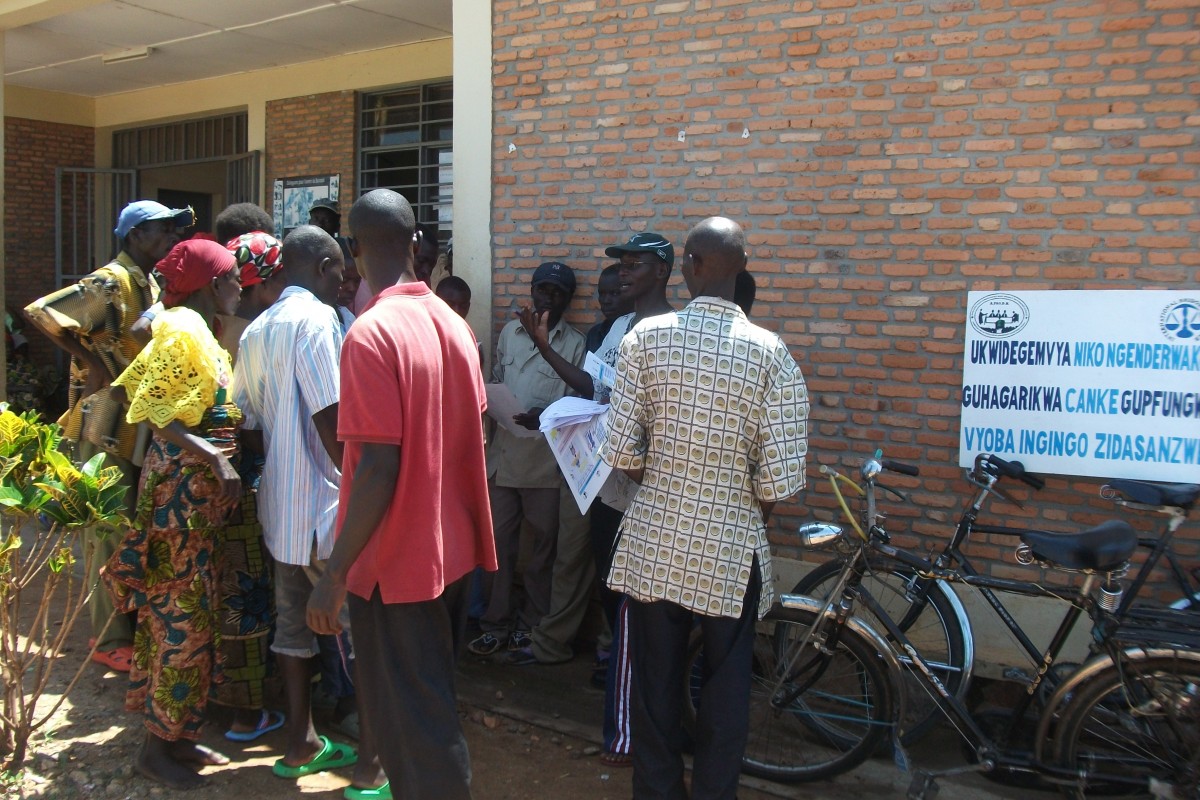 On 26th and 27th January, IBJ Burundi organised a street law campaign in Kabezi, a commune located in the province of Bujumbura rural, 20 kilometres southwards of the capital. This campaign was already well-rehearsed, since it was the seventh awareness campaign brought into play by IBJ. IBJ team cooperated with its partner APRODH, which provided six volunteers, who conducted the campaign with IBJ and APRODH staffs, and indicated us frequented places.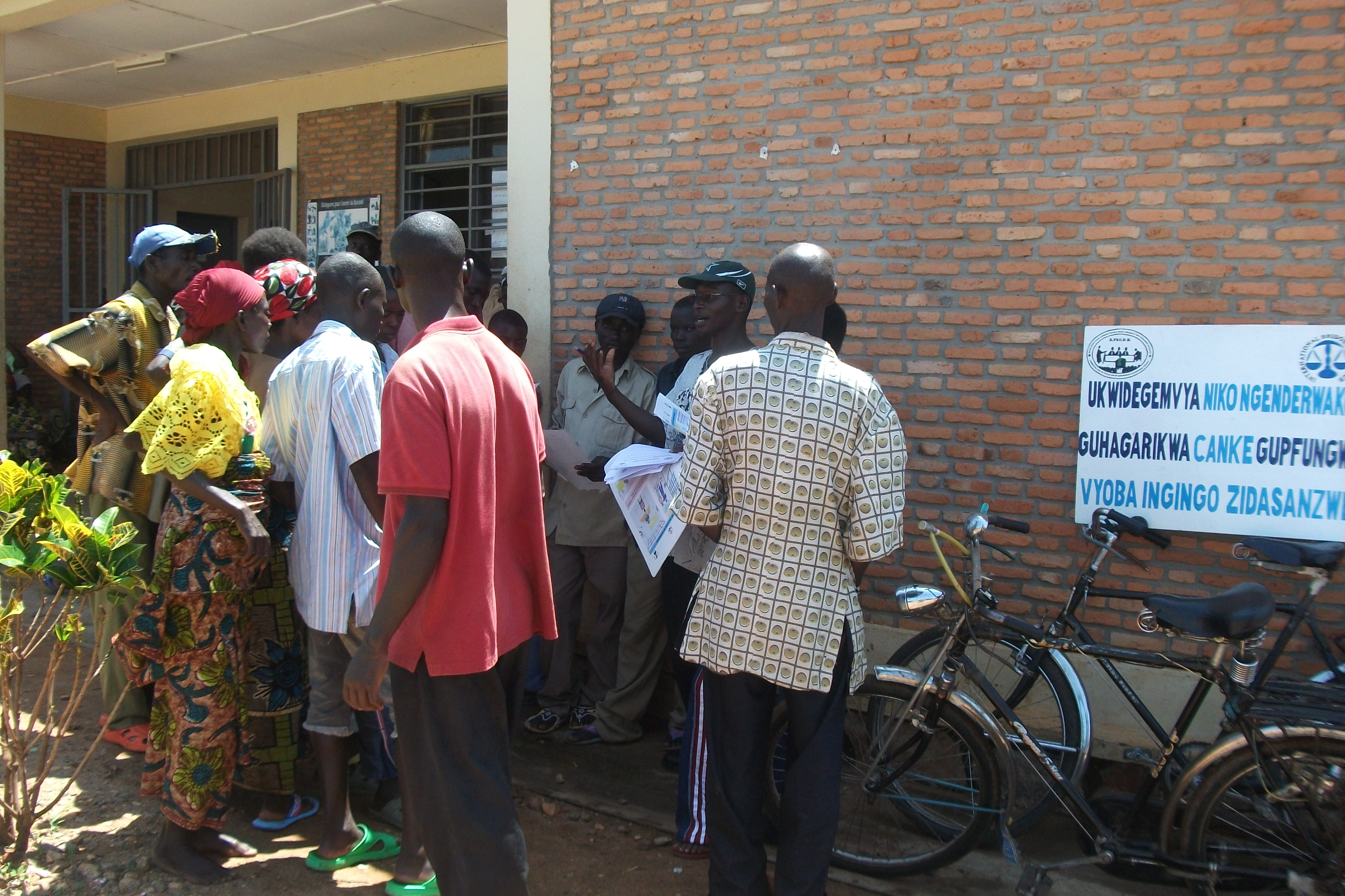 Above: volunteers conducting the campaign. Photo: Caroline Arnaud
Kabezi administrator's cooperation was also valuable as this activity could not have been conducted this campaign without his keen authorization. He further proved to be enthusiastic regarding IBJ's mission and activities, asking for a copy of the new Penal Code, which he still hadn't acquired since April 2009 when the new Penal Code got enacted.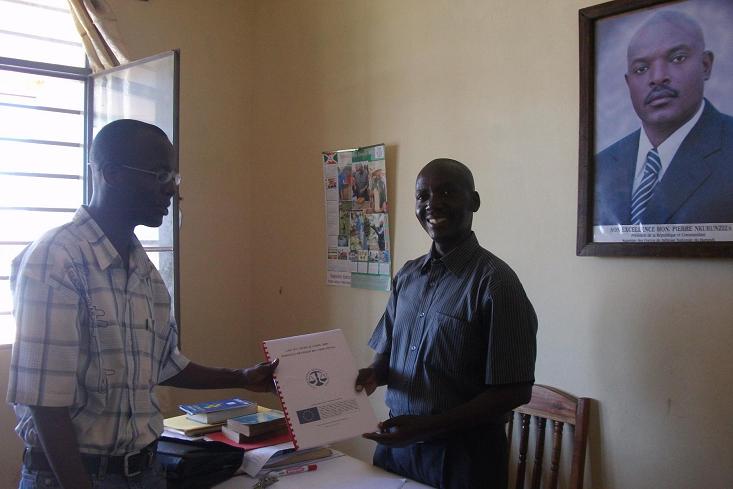 Above: IBJ fellow Astère Muyango handing out the Penal Code to the Administrator of Kabezi. Photo: Caroline Arnaud
Here again, the aim was to explain basic legal rights to rural populations, including the right to access a lawyer should they be arrested. Too many people still think that if they cannot afford an attorney, they are condemned to self-representation. However, the population of Kabezi displayed a real interest in being educated, asking questions and assiduously listening to the answers. At the end, more than 150 people were individually interviewed, and nearly 1400 were sensitized. Even armed forces turned out to show a great interest in the rights of the accused: soldiers spontaneously joined the crowd, and some of them even asked to be trained on their legal rights.
Above: Astère Muyango interviewing a soldier. Photo: Caroline Arnaud
The change in this campaign was the environment where it took place. Kabezi has the characteristic to be really widespread, because the commune includes several hills. In this extent, the campaign was conducted on a 16-kilometre long territory, with groups of interviewers disseminated in little hamlets in the hills, and moving from places to places. This mobility enabled to access and educate more people, and to increase IBJ's visibility on a larger land than if we had stayed on the same place.
The campaign ended with an enjoyable feeling of success. Rural people are indisputably concerned about their rights and its implementation. More significantly, they asked for cards – in Kirundi language – where the legal procedures about pre-trial detention are outlined. Thus, 190 cards and 60 posters where disseminated all over the territory of Kabezi. The campaign is still going on today, as posters and cards are circulating from neighbourhoods to neighbourhoods across the area.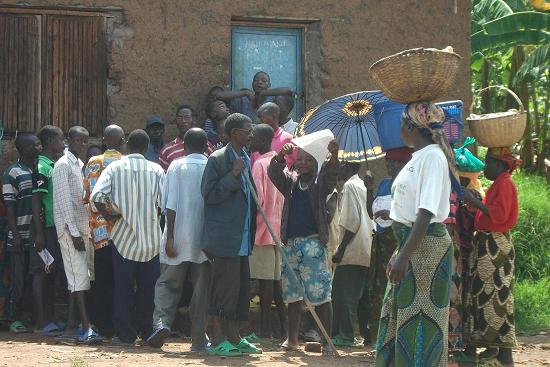 Above: rural population getting educated concerning their legal rights. Photo: Caroline Arnaud