JusticeMakers Fellow Evans Muswahili is working in Vihiga district, Kenya to reform traditional beliefs and practices in his community. He has focused his JusticeMakers project on helping women who suffer from prejudice and violence, due to the continued practices such as forced wife inheritance and underage marriage.  The work Evans is doing is vital because outdated beliefs are the main contributor to gender-based injustices. Women were previously afraid to speak out against the discrimination they faced from corrupt judicial officials, employers and village chiefs. Additionally, they had been unable to access the appropriate legal procedures, such as a fair trial, that would grant them justice.
Evans at home with his children.
Evans explained the challenges of operating in a district, such as Vihiga, that is so resolutely patriarchal. He found it difficult to convince male members of the community that his project was not disproportionately empowering women at the expense of men. Evans' determination and efforts to convince more 'hardliner' males was finally rewarded as the men in Vihiga district now fully support his project. The women in Evans' community have praised his work and the fact that they finally have someone who voices the problems they face in Kenya's criminal justice system. On a more light-hearted note, Evans pointed out that many women laugh at the fact that it's a male voice addressing their concerns!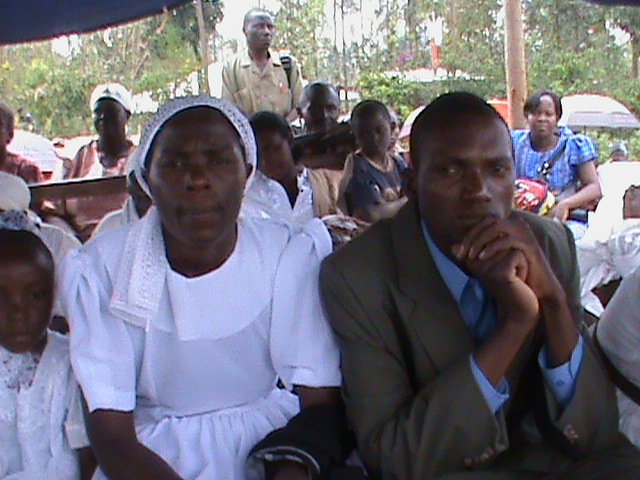 Evans at a function, with one of the many women he is helping in his community.
In a major breakthrough, Evans secured a working relationship with the Provincial Administration of Vihiga district, which is the authority controlling local governance in Kenya. This gives Evans access to key actors such as chiefs, village elders, judicial officers and the administration police. Consequently, it has enabled Evans to educate members of the judicial system on their responsibilities and obligations to women through seminars. This breakthrough has also meant that Evans can establish forums in which the judicial officers, members of the public administration and the public can interact and conduct peer review of each other.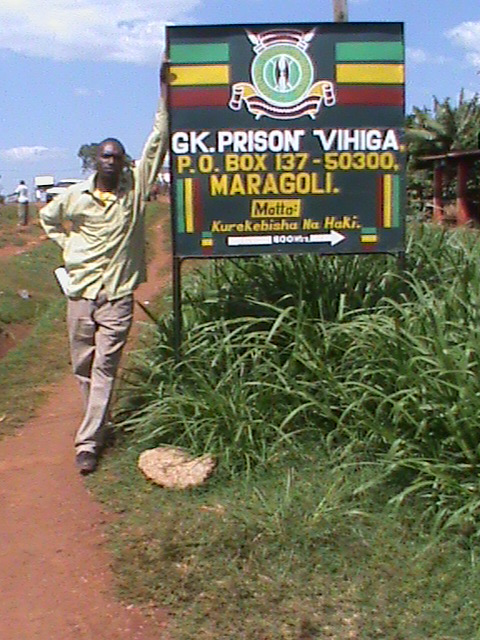 Evans at Vihiga prison.
During a meeting Evans explained the grave situation in the prison system of Vihiga district. At a 600 capacity prison there are currently 3000 prisoners locked away awaiting trials. Additionally, those who stand accused of petty crimes are sharing their cells with capital offenders. Owing to the overcrowding in prisons, many of the prisoners died. The healthcare facilities have been unable to deal with the high numbers of prisoners needing treatment for diseases such as TB and cholera. Some of the prisoners' reactions to their dire circumstances has been violent, threatening the lives of prison wardens and fellow prisoners. Evans has been documenting and reporting on this problem, and then writing letters of petition to the prison superintendent. His efforts have led to the approval of a prison being constructed in Vihiga which will help reduce the overcrowding of the district's prisons.
Evans plans to broadcast a two hour radio show once a week which will help raise awareness for his JusticeMakers project. He also hopes it will increase the number of people he can reach and offer help to. More details about the radio show to follow soon!