From 23 to 25 February, IBJ staff went to Rumonge, a city in the south of the country, to conduct two activities. For the first time indeed, both a street law campaign and a round table were conducted at the same time, thanks to the invaluable help of six volunteers recruited by the local APRODH office. While the rural population was educated about its legal rights, stakeholders of the penal system gathered to find solutions to the difficulties of pre-trial detention. This issue remains a crucial challenge for the Burundian State in order to promote the rule of law, as more than 63% of Burundian detainees are awaiting trial as of the 31st of January 2010.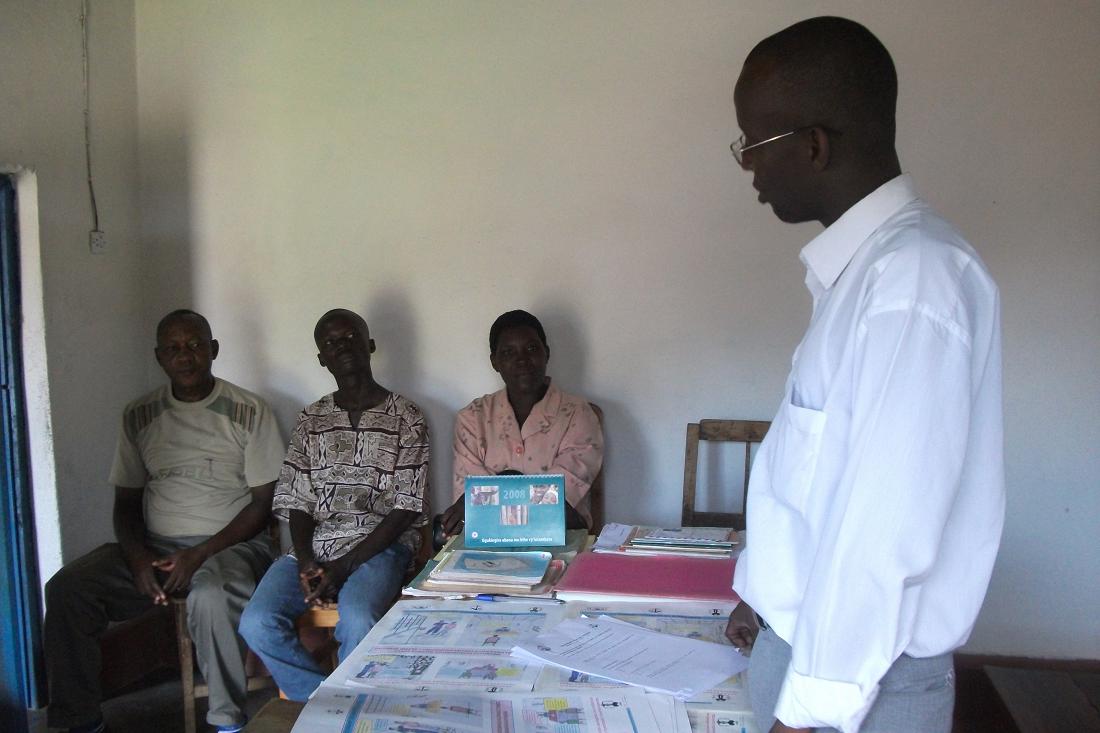 Above: IBJ Fellow Astère Muyango briefing volunteers who were to conduct the awareness campaign while IBJ staff would organize the round table. Photo: Caroline Arnaud
IBJ warmly thanks all the attendees for their participation. In addition to four lawyers who kindly traveled from Bujumbura, many members of Bururi and Makamba jurisdictions were present, such as the president of the Tribunal de Grande Instance of Bururi, the director of the Rumonge prison, and the Procureur de la République of Bururi. At the end, there were more than 25 people who tried to solve the delicate problem of pre-trial detention. After having indentified the challenges to an efficient penal system, the participants considered the possible causes of these dysfunctions.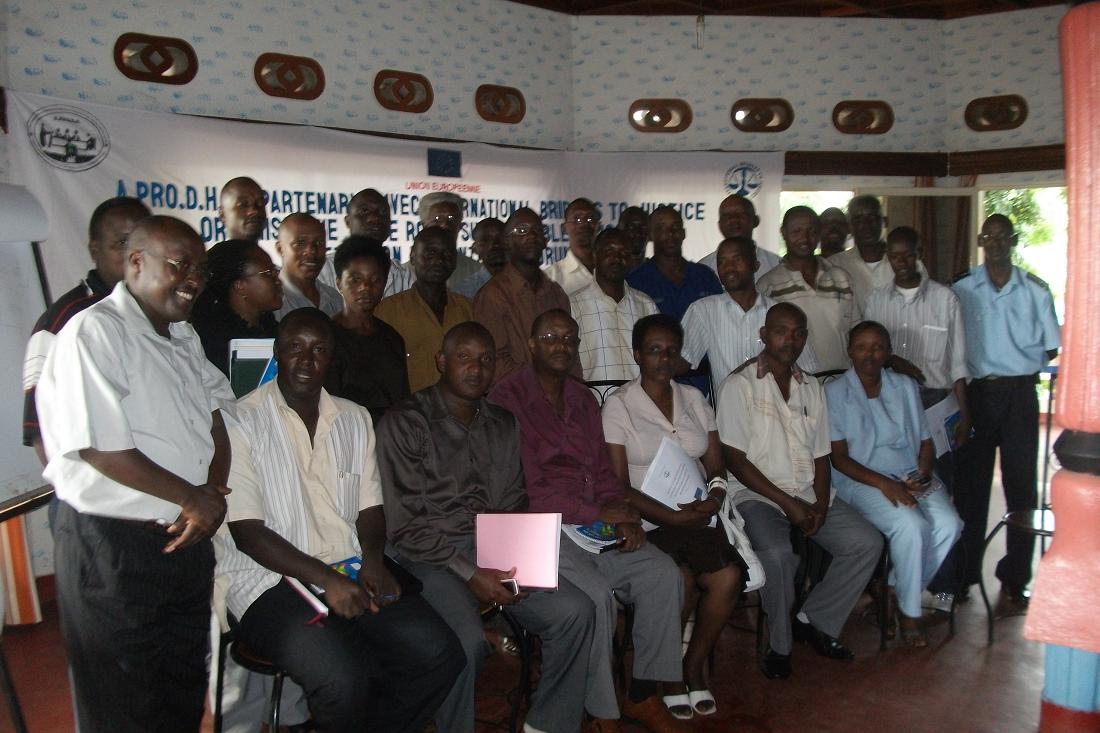 Above: All the stakeholders of Bururi and Makamba provinces' legal system gathered to find solutions to the issue of the pre-trial detention. Photo: Caroline Arnaud
They showed a real commitment to denounce the obstacles they encountered, identifying, throughout open discussions, what is not working. A new problem was pointed out: several police officers and members of the administration try to leverage a loophole in the law to arrest people for an offense which is not forbidden by the penal code. Indeed, many people are arrested for "consumption of prohibited alcohol", while this alcohol, although dangerous, is not forbidden by the Burundian Penal procedure code. The aim of these illegal arrests is quite clear-cut: policemen do not release detainees unless they pay a semi-official bail. The participants strongly condemned this too recurrent practice and let themselves in for trying to make its consumption officially out-of-law. They moreover committed to several other concrete engagements, such as meeting each other on a regular basis, as a dialogue platform in which everyone express his difficulties is definitely lacking. Each participant made real commitments to improve the legal system within their capacity. Lawyers even proposed to offer pro-bono legal assistance to pre-trial detainees of the Bururi and Makamba provinces. IBJ acclaims this exemplary commitment.
These three-day events ended with everyone being willing to make change happen, for what IBJ expresses its profound gratitude.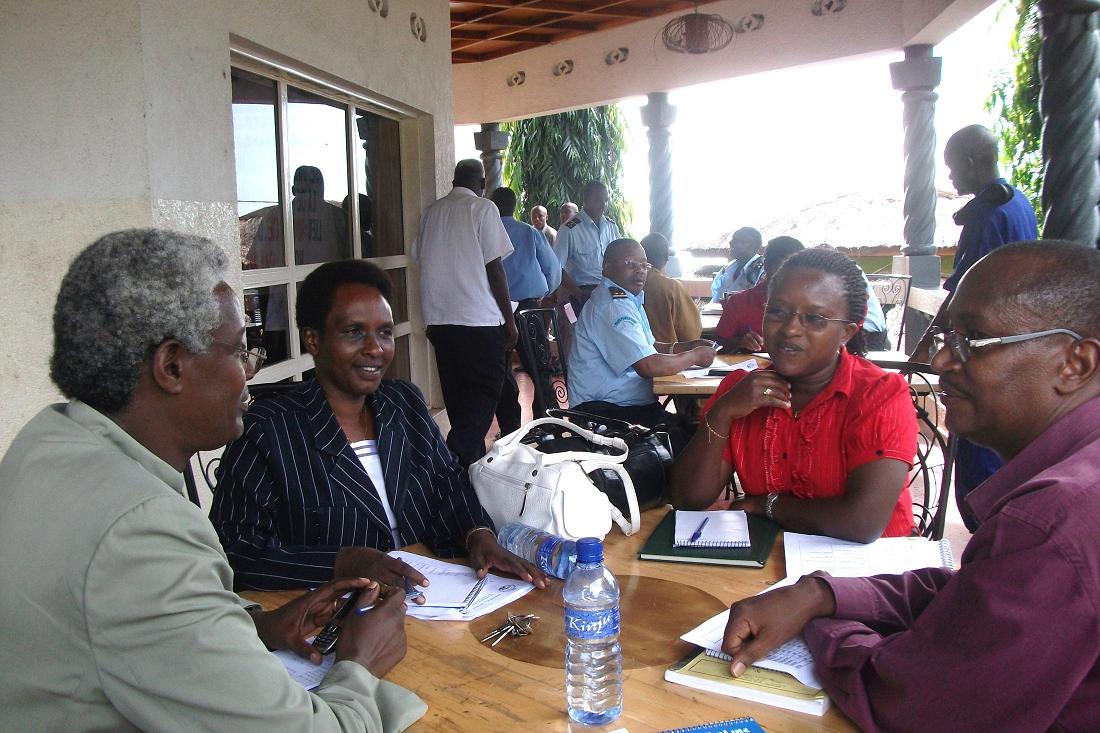 Above: Divided in different groups according to their function, participants discussed about what they could do in order to improve the legal system in Bururi and Makamba province. Here lawyers discussing. Photo: Caroline Arnaud