Moved by his father's detainment by the police for six months without trial, Patrick Dunkwu has worked towards improving transparency in the criminal justice system in Nigeria.  He is a JusticeMaker after being one of eight winners of the JusticeMakers competition and was a recipient of the 2008 fellowship.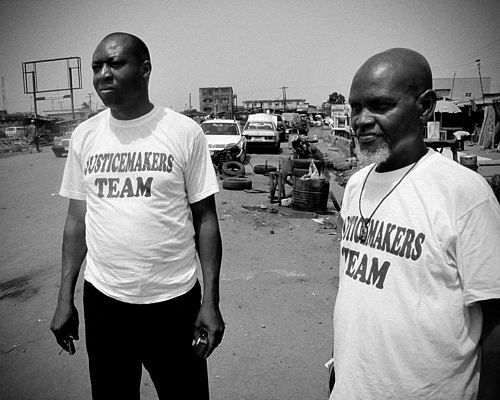 Patrick Dunkwu and Fitzpatrick Maria form the JusticeMakers team in Lagos, Nigeria. Photos by John Densky. Text by Chelsea McConnell.
In breach of the Nigerian constitution, the police force is known to arrest criminal suspects without allowing them to notify their family or a lawyer.  Patrick documented cases of prisoners being held for years without trial.  The detainment of accused people is further facilitated by the Holding Charge system, which gives the police the power to detain suspects while they are searching for, and gathering evidence against them.
Using his JusticeMakers grant, Patrick has mobilised a network of legal aid lawyers and paralegals to visit prisons, courts and police stations.  By arming them with mobile telephones, Patrick has helped detainees receive legal representation as early as possible, as well as ensure that their families are notified upon arrest. In his latest report, Patrick praised the 'tremendous support' from the Nigerian Bar Association who helped make his project possible, by encouraging its members to work with him.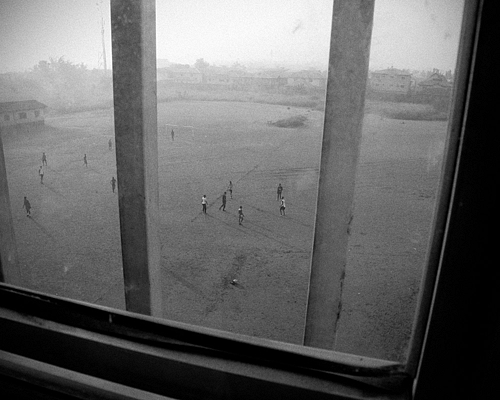 A view from a prison cell of young Nigerians playing football in the morning.
Patrick has visited over 20 police stations in Lagos to offer immediate legal support to arrested criminal defendants, filed cases in courts to enforce their fundamental rights, and successfully conducted a human rights and legal aid training programme for paralegals and his local community.  So far, Patrick has ensured the release of 38 criminal defendants from unlawful detention, which was made possible by the volunteers stationed at prisons.
Patrick's main challenge was the hostility he received from police officers in the initial stages of his project.  Through holding a series of consultations and meetings with senior prison and police officials, Patrick was able to pave the way for collaboration.  From the meetings, he received written confirmation from senior officials directing junior police officers to allow him access to criminal defendants.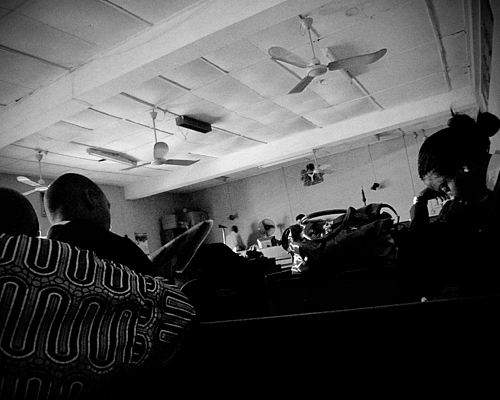 The courts in Lagos were more often than not without electricity. As a result the accused are shipped back to prison and must wait often months for the next appearance.
In the future Patrick hopes to replicate his project in other parts of the country. A number of local NGOs in Nigeria have extended invitations to him for help with the development of their legal aid programmes.
Incredibly, Patrick was also recently (in January 2010) invited to Ghana by a local NGO to train lawyers and paralegals to replicate his project there.  The Ghana based NGO read about Patrick's project through the JusticeMakers website.  While in Ghana, Patrick successfully trained 18 lawyers and 12 paralegals on legal aid delivery strategies and the use of ICT to deliver legal aid to prisoners.
"My lawyer friends working in big corporate organisations and who earns fat salaries always tell me that they do not understand my passion for defending criminal defendants almost for no material gains when I did not go to law school free of charge."  Explains Patrick in a recent report that does not do justice to the amount of compassion he has.  "I always refer them to the biblical saying, that man shall not live by bread alone."