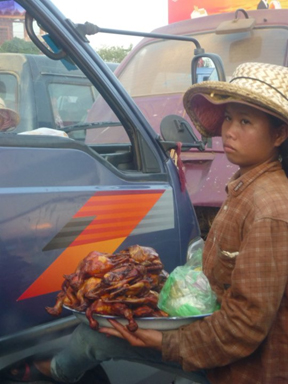 [Ed. Note: Part 4 of reflections on IBJ International Program Director Sanjeewa Liyanage's Visit to Cambodia in 2010]
When we left Prey Veng one afternoon we began a long journey to go to Pursat through Phnom Penh. It was about a two-hour trip from Prey Veng to Phnom Penh. The road was rough and in the middle of the trip we needed to cross a river through a ferry, as there was no bridge at that point. As we began to cross our vehicle lined up with many other vehicles, including lorries, containers, and buses – all preparing to drive onto the ferry. While we were waiting to drive onto the ferry people were busy trying to convince waiting travelers to purchase their goods displayed on trays and metal basins.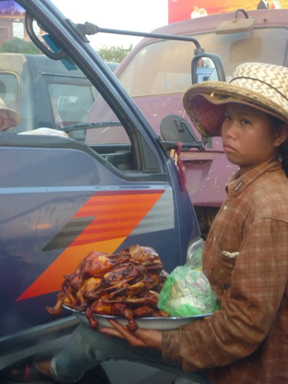 I was not brave enough to devour some delicacies offered, like deep fried grasshoppers. Instead I purchased a peeled, cut, and ready to eat green mango and enjoyed it thoroughly. Eating a sour green mango reminded me of my childhood growing up in a village/town called Hendala on the outskirts of Sri Lanka. My friends and I used to throw wooden sticks at mango trees to get some mangoes to the ground so that we could enjoy them. This occasionally resulted in mangoes, or sticks, landing on rooftops of houses who actually owned these mango trees. When this happened we had to quickly run for cover before someone came out of the house to see what was going on. We first traveled to Phnom Penh from Prey Veng, which took us over two hours. We arrived just in time for a meeting with a potential donor and partner at the office in Phnom Penh. Afterwards we set off for Pursat. Paul Rickard joined us in Phnom Penh for the second leg of the journey.
The trip to Pursat rekindled my childhood memories of Northern Sri Lanka. When one travels from Kampong Chhnang to Pursat, you see flat and dry land, lined with palm trees reminiscent of Palmyras. This was my memory in and around Jaffna when my father took me along a number of trips to the northern region of the country when I was between four and five years old. It took us about four hours to reach Pursat without a break. We arrived at the same hotel Vandeth and I stayed in last year. A spacious room with two large beds, air-conditioning, and hot water for $13 per night. Quite a deal! My whole body was aching after nearly eight hours of travel through three provinces – Prey Veng, Phnom Penh and Kampong Chhnang. I was desperately in need of a good night sleep and I got exactly that. The next morning I was joined by IBJ's DRC2 lawyer, Chhoun Sithann, during breakfast at the hotel restaurant. Again, you could see Vandeth's humor as he attempted to talk to the local waitress at the restaurant in English instead of Khmer. He told her that speaking with foreigners was a good chance to practice and improve her English. By the end of the conversation, the young waitress could take all of our orders in English.
After breakfast we then set off to the Provincial Prison in Pursat. We first visited the administrative building of the prison, which is a house primitively built with metal sheets on the roof. The prison Director was a subordinate of Vandeth when he was working in the military. This was my second meeting with the Director. When I finally met him, I immediately realized that he was not well. He looked like he had aged many years during last 12 months. He then told me that he was very sick and is under medication, which caused him to lose a significant amount of weight. He was very cooperative with us. The Director was speaking with Chhoun Sithann about the issues surrounding pre-trial detainees. He even opened a printed copy of the Cambodian Criminal Procedure Code and began discussing its provisions protecting rights of accused persons. After this conversation we then decided to visit the prison medical centre. I remembered this place well. The former young health worker named Davy Chau, whom I met there last year, was no longer present as he was pursuing his studies in Phnom Penh. It was Devy who convinced me that urgent assistance is needed to equip the prison health centre. Last year he told me that even medicine for a common headache or fever was not available in the health clinic, and that there was no stethoscope or medicine to dress wounds. Since I returned to Geneva, Davy had written me emails every other week reminding me of these needs. He showed me that it was a health centre without medicine, any basic equipment for a health worker, and without running water. He pointed to a hole in the wooden wall of the health centre and told me that was the place where there should be a tap and a basin to wash hands. When I visited this time, Davy was not there. I saw a sink on the ground, ready to be mounted on the wall. This time, I went there prepared with basic medical equipment and medicine. The older health worker at the prison health centre was beaming with happiness when she saw the medicines and equipment. It was a pity that Davy was no longer there to see that he had finally achieved what he wanted in taking efforts to make the health centre functional.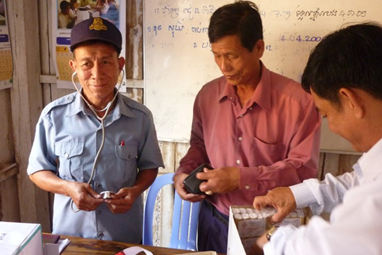 Thereafter, we visited the prison and the Director told us that the Red Cross had recently installed clean drinking water in each building where a number of cells are housed. We then stumbled upon an English class that was in progress, which was run by a fellow young prisoner.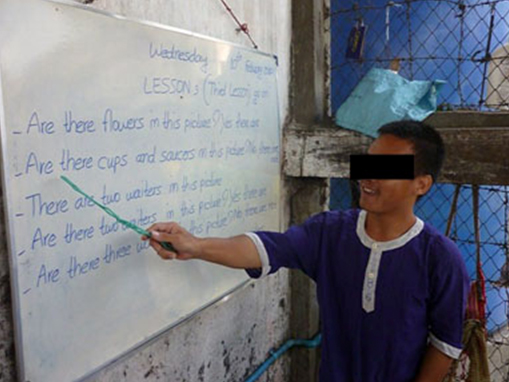 He had written some notes on a white board in beautiful handwriting and then proceeded to demonstrate his teaching skills. This young man looked very enthusiastic and confident to teach his fellow inmates English. We were very encouraged. In this English class, Sithann met with three of his clients, who agreed to pose with him to take a few photos.