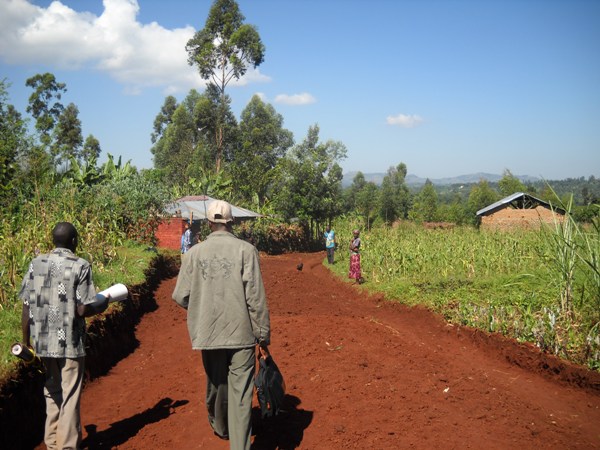 For some, pursuing justice seems to be an addiction. Following the successes of his JusticeMaker project for IBJ over the past year, Evans Muswahili continues to work for justice in Kenya by undertaking a new project to establish twenty "people forums" throughout his home district of Vihiga and the surrounding districts.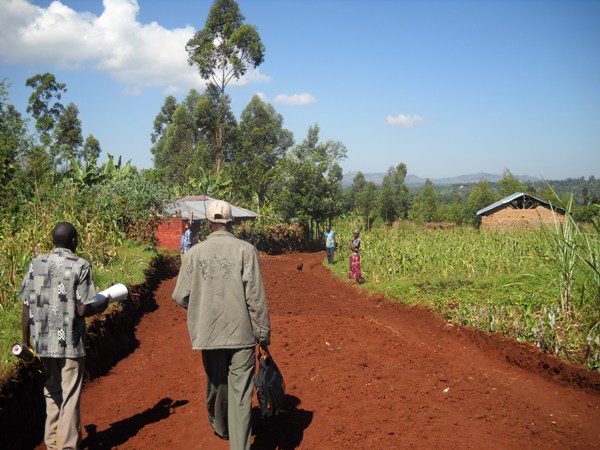 Above: Muswahili and his assistant Brown walk to a nearby forum on a typical, red clay road, often found worse for wear after heavy rains. (Photo by Rachel Roberts)
Currently operating through an NGO called NOVOK (National Organization of Volunteers of Kenya), his continuing commitment to sharing information and encouraging others to share his passion for justice is clear, and often sees him working long weeks (conducting meetings on Saturdays!) and late evenings, much as he likely did during his JusticeMaker tenure. Muswahili mentioned that once his hectic June pace slows, he wishes to return to some of his JusticeMakers work, even though his formal year is over. The forums are part of the Western Kenya Rights Support Initiative (implemented through NOVOK with the support of Amkeni WaKenya and the UNDP), which shares many of the same goals as Muswahili's IBJ sponsored project; namely to increase political participation within rural and marginalized populations, to increase the awareness of rights and the capability to monitor and report abuses, and to provide a framework for discussing community problems, including those related to the justice system, and proposing solutions.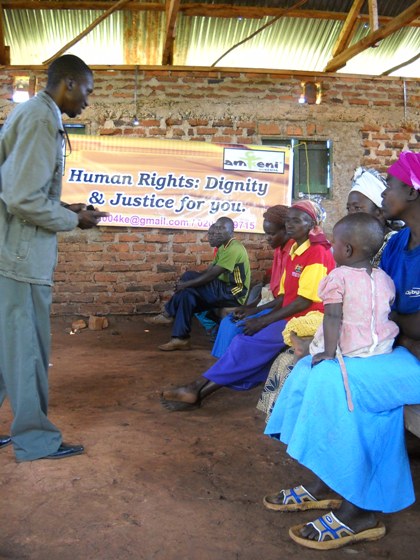 Above: Muswahili addresses a forum near his home. Though many of the attendees can't read or write, they are still eager to participate and discuss community issues. (Photo by Rachel Roberts)
Ideally, the forums will also serve as a nexus for dialogue with members of local government. Muswahili envisions local and district level administrative officers being invited to and attending future meetings, where citizens would have the opportunity to bring forth problems and possible solutions and hear the government's responses.
Walking through his hometown of Mbale and surrounding areas, it is obvious that Muswahili has created quite a network of contacts from the sheer number of people who pause to greet him and inquire about his work. An engaging speaker who has already drawn many locals to his push for justice system and governance reform, he utilizes his network to help mobilize people into groups that congregate in churches or schools (or even on a lawn in a patch of shade)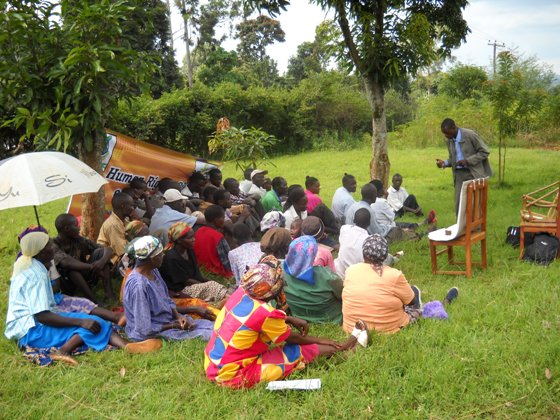 Above: Looking more like a lawn party than a meeting, Muswahili addresses a forum in Kima. (Photo by Rachel Roberts)
and wait patiently for him to arrive and explain the project's goals and structure. He seems to be knowledgeable on just about every subject – including areas as widespread as agriculture and world politics, but his most important knowledge bases remain the people and problems of Kenya's Western Province. Muswahili's rapport with local communities and his familiarity with their unique problems will be a significant asset in future pushes for reform.
Even in this early phase of his current project, some successes are materializing. At their first independent meeting on June 7, the forum in Emusenjeli focused on the rights of the elderly and of widows to receive periodic government aid in the form of food. Apparently this aid often does not make it to the intended beneficiaries, but is instead lost somewhere along the way within the delivery channels. The forum was able to get the Chief (a local administrative official) on the phone to discuss the problem with him as a group and press him for assurance of delivery in the future.
Above: A particularly youthful forum near Majengo votes for interim officers to call, run, and record their next meetings. (Photo by Rachel Roberts)
Future foci for discussion include criminal justice issues, particularly in areas Muswahili deems more "cosmopolitan," such as Ekwanda, which is near Luanda town and where a forum was formed on June 9th. Particularly striking is the fact that many people accused of crimes are held for long periods in overcrowded prisons, unaware of their legal rights and without access to an attorney. Though the overcrowding issue may not be easily addressed without a long term overhaul, with interaction between the forums and local officials, and with education coming from individuals like Muswahili, the forums may start to address the knowledge deficit among the accused with regard to their rights. Muswahili stresses that it's important for people to view their rights as an entitlement – if, as a result of these forums, even one person is able to successfully demand justice in the form of faster adjudication or the presentation of just cause and ample evidence for arrest and detainment, he'll likely deem them a success.
The forums are ultimately about participation, discussion, and empowerment. People who would be reluctant to act individually draw strength from numbers and it enables them to push collectively for much needed reform in the justice system and related realms of governance.