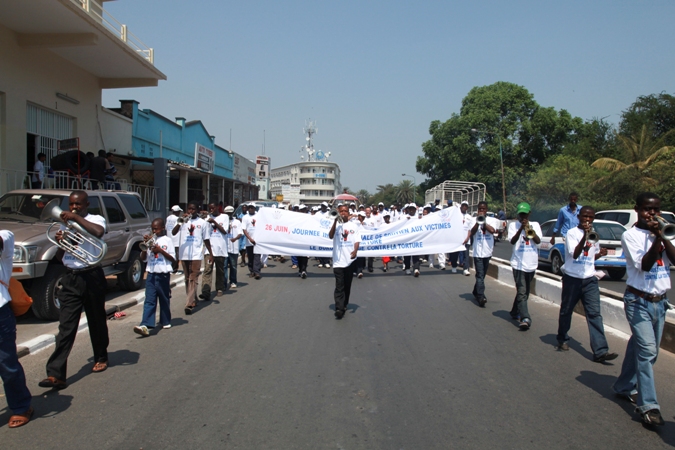 As last Saturday Burundi was, like the rest of the world, paying a tribute to the victims of torture worldwide, IBJ is embarking on a series of activities whose objective is to systematically promote the rights of the accused in Burundi, including the right to be free from torture. Three training sessions and several roundtable discussions specifically focusing on citizens' basic legal rights will be conducted in partnership with the Burundi Bar Association and APRODH.
From July 5th to July 9th, Burundian lawyers will be brought together to brainstorm solutions to the crucial issues of rights at arrest and interrogation, pre-trial detention and access to legal counsel. Burundian lawyers' trial skills will be enhanced through role plays, visual representations and group discussions. For the very first time, Burundian lawyers will get exposed to the adversarial process, in particular to cross-examination, which is particularly relevant in light of the recent integration of Burundi into the predominantly English-speaking East African Community. International trainer and US Public Defender Stephanie Slattery will urge lawyers to reflect upon her experience to gain the necessary boldness to carry the reform of their system. The training will integrate potential future instructors and equip them with the legal teaching skills they need to replicate small legal defense trainings to their peers.
On July 8th, a series of justice community roundtable discussions on the rights of the accused will be conducted to captivate the attention and imagination of lawyers, judges, prosecutors, police officers and prison officials in conceiving and implementing an efficient and equitable judicial future.
Finally, July 9th will see lawyers try their hand as prosecutors, police officers as lawyers, magistrates as accused persons, and prison directors as judges during mock-trial exercises. The hope is to make them become aware of the constraints each actor of the system face and make them realize how critical it is to join forces if they are to improve the administration of justice in their country.
As the country slowly advances towards democratic stability, it is crucial to integrate all the actors of the system to consolidate the progress made the past few years in promoting a fair and effective justice system in Burundi.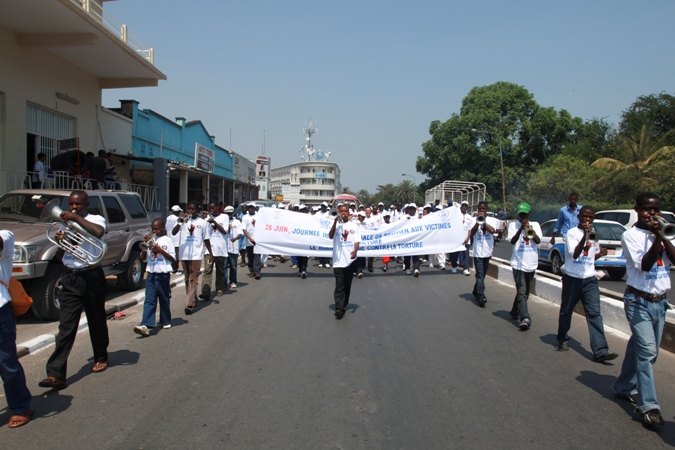 Above: Celebrating the Victims of Torture on June 26 (Photo by Nathalie Mohadjer)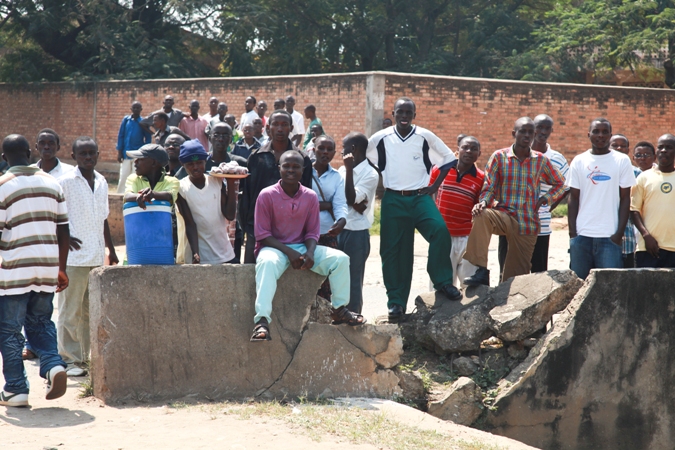 Above: Young Burundian males working in the streets of Bujumbura often are a target of legal abuses as they are not aware of their rights at arrest. (Photo by Nathalie Mohadjer)