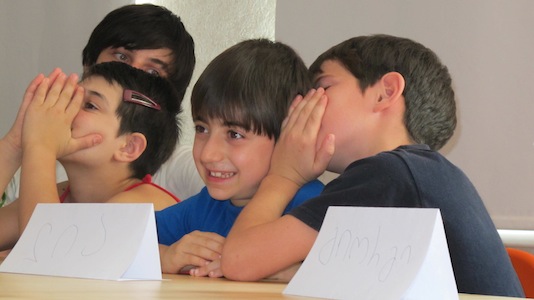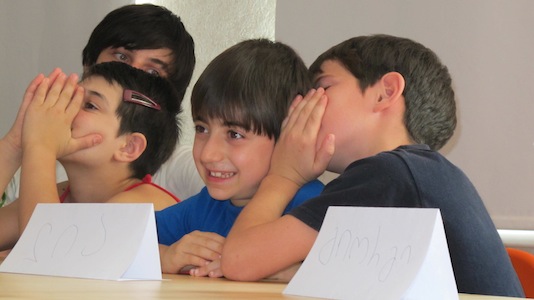 Kids participate in rights training exercises/Photo by Jasmine Van Deventer

"Tavisuplebas!" (emphasis on the uplebas), Nino repeated fervidly. Interspersed with slight, spirited eruptions of laughter and bounties of enthused engagement, this lesson brought together five children, who gathered around a table, now overflowing with markers and blank papers, upon which Nino asked them to inscribe their names and record those of their rights that they held most dear.

It is not surprising that throughout the lesson, the word I was most able to discern was "tavisuplebas," which means freedom. It is a Georgian term I learned just weeks ago at a Tblisi subway station, where the term turns eponymous, marking the name of the city's most central stop. "Uplebas," in particular, signifies "rights," underscoring the importance Georgians ascribe to the protection formal rights guarantee to freedom, both personal and political. Thus, "tavis," one's self, equipped with "uplebas," or "rights," epitomizes freedom. It constitutes the individual as sacrosanct and inviolable, protected from the abuses that shatter the worlds of those who suffer injustice, in its array of forms.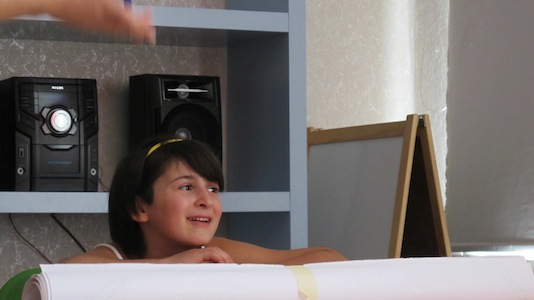 Photo by Jasmine Van Deventer




Children participate in rights training/Photo by Jasmine Van Deventer

We were at a family-type house in Kutaisi, where Georgian children enduring the most critical of unstable family conditions have begun to find at least a semblance of refuge since 2008, when the central government began to remove them from state-run shelters, infamous for their deplorable conditions. The inauguration of such family-type houses was initially propelled by Georgia's subscription to the UN Convention on the Rights of the Child, which codifies the right of every child to a stable and nurturing home, among myriad other assurances, demanding its signatories to uphold its tenets. Though the government has maintained a role in these homes' establishment, it seems as though civil society organizations and undertakings such as Nana's provide the predominant impetus for their maintenance.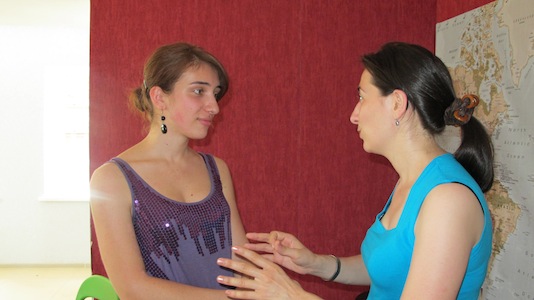 Nana discusses how to proceed with the training with her Senior Assistant, Nino Khukhua.

Family-style houses are one of the newer collaborative endeavors incorporating both the federal government and local and international civil society organizations, as the former struggles to repair the pitfalls that compel Georgia to continuously fall far short of the norms and standards to which it has made itself accountable in recent years. Again, this organization serves as a testament to the power of Georgian civil society, which has worked adamantly to fill the voids that have yet to be tenably addressed by official governmental bodies.

The kids' faces lit up, as their "mother" and "father" observed their vehement participation in the lesson Nino delivered. Nino spoke at length about the rights detailed in the Convention- the right to a good education, to freedom of expression, to the protection of family. It was obvious that Nana had prepared this lesson in detail with Nino. Nino unraveled and posted upon the wall a number of lists, upon which were printed the most elemental rights to which children lay claim. They played a game, assessing the relative importance of each one of the series written before them, and they reflected on the reasons for each of their rights' significance.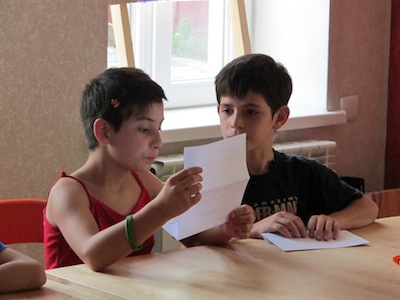 Photo by Jasmine Van Deventer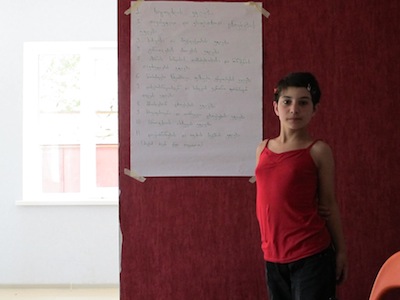 She scrutinizes a list of children's rights from up close/Photo by Jasmine Van Deventer

Everyone began participating, and I couldn't help but sense yet again how vital Nana's project remains for Georgia. Working with kids who might have even less of a chance of receiving an education in their rights, not to mention detailed accounts of the conditions to which they can legitimately demand access, testifies to the importance of measures that seek to protect them from deleterious situations. Nana's project cannot and will not just stop with developing a set of coherent understandings regarding juveniles' rights in pre and post-trial detention. Her work has already begun to incorporate a framework to address the discrepancies that persist between those children who rightfully enjoy circumstances promising them fruitful futures and those who will likely remain at risk if there endures  a lack of tangible interventions that deal substantially with the dire circumstances they have been made to confront.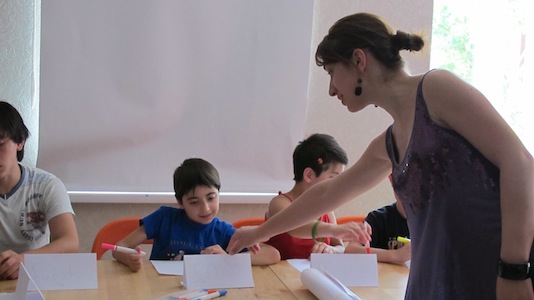 Senior Assistant of Supporting Juvenile Justice Reforms teaches kids about their rights/Photo by Jasmine Van  Deventer

Nana's project will undoubtedly prove vital to protecting the rights and thus freedoms of those whose worlds remain at stake due to the inoperativeness of certain facets of government. The frailties of local government, coupled with still infant central institutions, render projects like Nana's indispensable to society, and especially to its most vulnerable members.