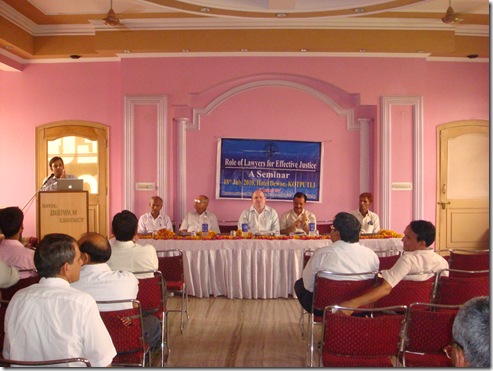 On July 18, 2010 forty participants in Kotputli,Rajasthan India came together to discuss "The Role of Lawyers for Effective Justice." Kotputli is a town about 100 kilometers east of Jaipur. The Panelist were the Additional District & Sessions Judge, Shri Vinay Kumar Gupta, Registrar, Armed Forces Tribunal, Delhi, who came from Delhi, Shri V K Gaud, The Additional Superintendent of Police, Kotputli, past presidents of Kotputli District Court Bar Association Mr. Ashok Saini and Mr. Richpal Chawdhary, Chief Medical Officer Dr. Mahesh Agrawal, Professor Sher Singh principal Tagore Law College, Kotputli and Renowned Advocate Bajramg Sharma. Print Media Journalists were also present and observed the discussion.
The discussion was started by Ajay Verma, Fellow of IBJ & Chairman IBJ INDIA by introducing International Bridges to Justice and its works in India. He also focused the importance of understanding moral responsibility of Lawyers in effective Justice. He also urges the Lawyers of Kotputli to team up to improve the Legal Aid System in Kotputli.
Ajay Verma, Advocate Introducing IBJ and Appealing to all to team up to improve the Kotputli's Legal Aid Work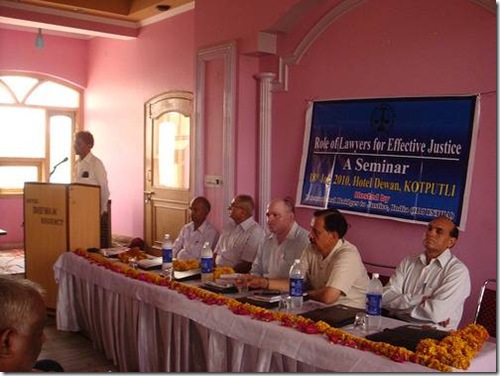 . Former President of Kotputli Bar Association Addressing the Participants
Shri V.K. Gaud, Additional Superintendant of Police, Kotputli provided insight to the participants on importance to examine the police witness and urged the need of district investigation centers equipped with the Cameras and Modern facilities for for examination of suspects. This way transparency and allegation of police torture can be reduced.
Shri V.K. Gaud, Additional Superintendent of Police, Kotputli
Mr. V.K. Gupta, ADJ said that because an accused may be a victim, legal aid is necessary for them as well and the common person can also stand for his case but has more emotions and less knowledge of the law so they need the help of a responsible advocate. In addition, it is the duty of an advocate to treat his client properly.
Shri V.K. Gupta, Additional District & Sessions Judge, Delhi Addressing the Participants
Mr. V.K. Gupta, AD & SJ, Delhi and Shri V.K. Gaud Additional Superintendent of Police, Kotputli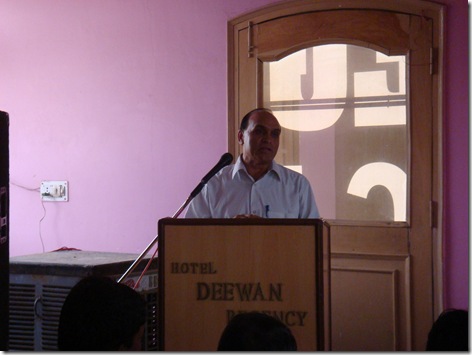 Shri Sher Singh, Principal of Tagore Law College focusing the Role of Law Students in Legal Aid
Many advocates also spoke on how they felt about the legal system in their Jurisdiction. They suggested that while advocacy is a noble profession, there should be counseling on how to deal with clients. They also encouraged that advocates should push for mediation and compromises in criminal cases instead of jumping right into court. In addition, they said that each advocate should have one legal aid case a month and the legal aid committee should provide facilities for legal aid lawyers so there can be more lawyers doing legal aid work. These advocates said that when they come across a poor person, they do what they can to guide him whether or not he is their client. Participants found the discussion to be helpful and encouraging and requested another panel discussion be held with the Bar Association in the near future. Professor Sher Singh also wants to do a campaign coordinating his students in villages with IBJ India.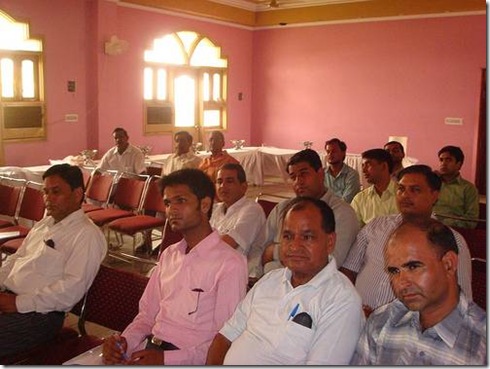 Print Media Journalists in the Event
At the end of the sessions it was requested by the Bar Leaders to organize another panel discussion at the court complex. Ajay Verma, Advocate & Fellow IBJ urged and got assurances from the Law college Principal to team up with the Kotputli Bar Association to improve the Criminal Justice System and Legal Aid work in Kotputli. Bar. Law college offered its willingness to conduct legal Aid clinic, Right awareness in Rural area with the supervision of IBJ INDIA and Bar Association. Soon IBJ India would be organizing a right awareness camp in the rural areal of Kotputli.Rajasthan
Blog by Anisha SIngh, IBJ India Intern