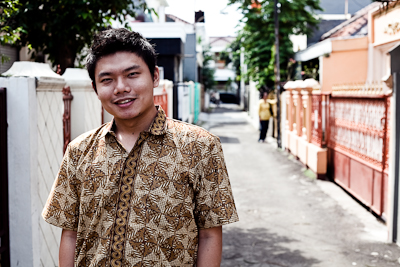 Photo and Video by Mar Costa
 JAKARTA. On Mondays, the lawyers and organizers of Lembaga Bantuan Hukum (LBH) Masyarakat gather in the meeting room of their small office to divide up the week's work. This week, they will set up meetings with the heads of three or four different marginalized communities to set up new training seminars. They will accompany clients to court, and ensure they are given due process. They will visit detention centers to provide legal counseling to detainees, teach at-risk youth in poor areas and relentlessly recruit Indonesia's brightest and most enthusiastic legal students to continue their work. In a city as large and as beset by injustice and corruption as Jakarta, LBH Masyarakat seems to be wasting no time fighting the injustices where they can. And with the innovation and energy of a young start-up, they are getting results.
A Novel Approach
To date, LBH Masyarakat has trained 41 paralegals among four marginalized communities, such as Jakarta's drug-user communities and the communities victimized by torture in the Suharto era. They aim for their trainees to provide what Program Director Ricky Gunawan calls "legal first aid," acting as the first line of response for the accused. Soon, they will also serve Jakarta's HIV positive community, the LGBT community, and sex-workers.
"The hardest part is finding communities and getting into the communities. At first, most are not open to us," says Gunawan. But often, once the communities open up to LBH Masyarakat, it is the families and community members that ask for more support. "One of our communities was the victims of human rights abuses [under Suharto.] We were providing information about torture, but the mothers of the community wanted us to focus on the youth population, [many of whom] were running with gangs and getting into trouble.
"Unlike other legal aid communities, for LBH Masyarakat, legal empowerment is more than just providing information and training.. "For us," Gunawan says, "the heart of empowerment is getting them involved in the advocacy process. We need to get them to trust us, and to trust themselves." Using a psychological model called "Appreciative Inquiry," LBH Masyarakat community organizers encourage their trainees to affirm their potential and recognize their personal strengths instead of focusing on obstacles.
Likewise, LBH Masyarakat has been successful by fitting their teaching methods to the needs of each community. "Powerpoints did not work well for the younger communities. Many found the legal training process tiring. But we did find that they enjoyed going places and learning by doing. So, we took them to detention centers. Then, they raised their own questions about what is this and that," Gunawan said.
The Enthusiasm Factory
LBH Masyarakat's rapid expansion is unusual for such a young program. The center has been open for only two years. When LBH Masyarakat first opened its doors, it had only three full time staff members, and no financial support. For six months, Gunawan worked as a translator to fund his work organizing communities and providing legal counsel, while the other director, Dhoho Ali Sastro, worked as a consultant. Today, LBH Masyarakat has eight full-time legal staff.
But they are also young in terms of their staff members. "It is not common to have people this young working at an institute like this. Most at other legal aid centers are between 28-35. Nearly all of ours are below 26," Gunawan said. While other legal aid institutes would only take volunteers with at least four years of university training, LBH Masyarakat takes first-years. As a result, they've both attracted and developed new talent more quickly than more established legal aid offices."Often, other organizations will say we don't have experience. But they don't have any new staff," says Gunawan, "We are known as a factory of students, because we recruit so actively." Often, some of LBH Masyarakat's biggest projects come from the ideas of these recruits. The school for poor and at-risk youth that LBH Masyarakat runs out of a bus station in Depok was discovered and set up by a n intern who was only in his first year of university.
With their focus on community empowerment and active recruiting, LBH Masyarakat has dramatically extended the reach of their advocacy and aid. They are beginning to be seen as leaders in the fight for human rights in Indonesia, and increasingly travel to present their work at international human rights conferences. Gunawan is confident their growth and success has only just begun. "We have the new leaders in the field. It's like Germany in the World Cup. Because their players are young, they will be even better in four years."