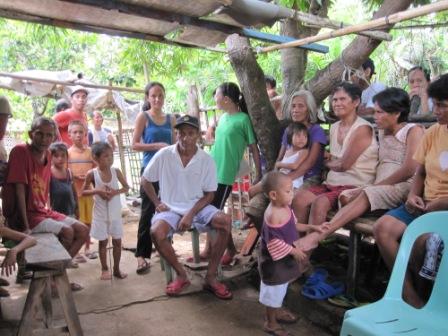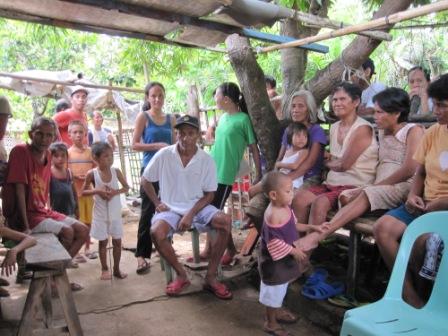 Farmers of Sigogon Island with their Families.
Farmer Amelia is one ofthe inhabitants of Sicogon Island in Iloilo, Philippines—an island of miraculous beauty complete with pristine beaches and transparent turquoise waters. A few months ago, Justicemaker Jae invited Amelia to attend a paralegal workshop for women farmers. Eager to acquire legal skills and knowledge, she did not hesitate a minute to accept the invitation. To improve the plight of the farmers of Sicogon Island, Amelia, more than anyone, was aware of the importance of legal proficiency. Because, beyond the island's deceiving beauties hides a hideous reality.
For years now, Amelia and the other farmers of the island have been fighting a truly Sisyphean battle. They have argued, petitioned, and even walked for their land, but despite these efforts they are at imminent risk of losing not only their land, but also their livelihoods and communities.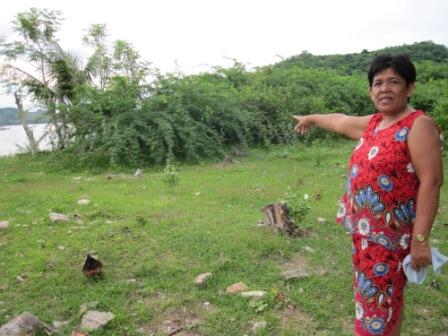 Amelia angrily pointing at her land, which is not left uncultivated.
The trouble for the farmers began in the 70s, when Sicogon Development Cooperation (SIDECO) bought part of Sicogon Island and turned it into a high-end international tourist resort.  Local farmers were evicted, protected timberland trees cut down, and livelihoods irrevocably changed.
In a temporarily reverse of fortune, the resort went bankrupt in the 80s due to Marcos' unstable political regime. The evicted farmers could return to their island and reestablish their lost communities.
Tranquility once again reigned over the island—but, alas, not for long. With Marcos overthrown, SIDECO saw a second chance to amass a fortune. In 1994, the company submitted a billion dollar proposal to turn the island into an exclusive resort, "worthy only of the very rich and/or famous world personalities." They planned to apply the same modus operandi as before: look for investors, kick out the farmers, and build the resort.
But this was no longer possible. While SIDECO had been busy drafting its new business proposal, Congress had signed into law an agrarian overhaul program known as CARP, obliging landowners to redistribute agricultural land to the tenants. From the approximately 1200 hectares comprising the island, SIDECO, who owned 819, was required by law to make the farmers official beneficiaries of 333 hectares of agricultural land.
Considering this new regulation an unnecessary obstacle, SIDECO decided to ignore it and proceed with its original plans. But the company underestimated the farmers' strength. Having waited for landownership for decades, the farmers were not going to let this opportunity pass that easily. Under leadership of Amelia, they launched a massive protest against SIDECO's unlawful actions. They made it clear to the company that they would be unrelentingly in claiming the land to which they were legally entitled.
SIDECO was enraged.  In an attempt to silence Amelia and the farmers, the company trained a private army of 30 "blue guards" and ordered them to intimidate and physically harass the farmers. In addition, SIDECO filed a case for unlawful detainer against Amelia who, as farmer leader, the company considered particularly undesirably. The company also applied to exempt its land from CARP coverage, claiming that rather than agricultural, the land in question should be categorized as touristic.
Upon receiving SIDECO's application, the Department of Agrarian Reform (DAR) ordered a temporary suspension of the compulsory acquisition of private land.  Just as quickly as the farmers' newly acquired land rights had come, they were  taken away. The farmers were left in great uncertainty—not only regarding the land, but also regarding their livelihoods. If SIDECO's request was granted and the land would indeed be exempted from CARP coverage, SIDECO could apply for a tourist permit soon after, making the farmers' eviction from the island only a matter of time. Meanwhile, harassments continued, doubling the anxiety and insecurity of the already struggling farmers.
Facing a corrupt judicial system— SIDECO had formed a well-known "unholy alliance" with an attorney running for municipal councilor—and an absence of financial and legal resources, the farmers had to resort to their creativity to save their livelihoods from the ruins.
On February 20, 2009, Amelia and 300 other farmers from Sicogon Island set off on a 6-day walking journey to the capital of IloIlo Province. Covering an average of 32 kilometers daily, they walked to highlight governmental failure in stopping the harassments, to request a military presence and reestablish tranquility on the island, and to remove the temporary suspension of CARP.
The walk proved a success. The farmers gained much media attention and reached their minimum objective: the establishment of a military detachment. Months later, the DAR decided that the 333 hectares initially reallocated to the farmers were not exempt from CARP coverage, but that for the remaining 819 hectares belonging to SIDECO exemption was granted.  For the farmers, this order fulfilled their main goal: to be recognized as official beneficiaries of the land they cultivated. It was their first real victory, and, as expressed by Ilorio Cordoba, executive director of Progreso, "probably the first time the farmers have been happy in their life."
Like Sisyphus, however, just when the farmers thought they had rolled this stone on the hill, it came back down. SIDECO, outraged at the farmers' victory, doubled the presence of blue guards and intensified harassments, making it impossible for the farmers to cultivate their lands.  By then, the military detachment had long gone. According to Amelia, whose house was destroyed in addition to her land, "marital law under Marcos' regime was not that bad in comparison to living in the constant presence of the blue guards. With Marcos, there was chaos, but at least we could go to our lands. Now we cannot do anything. We are afraid every day because the guards fire their guns."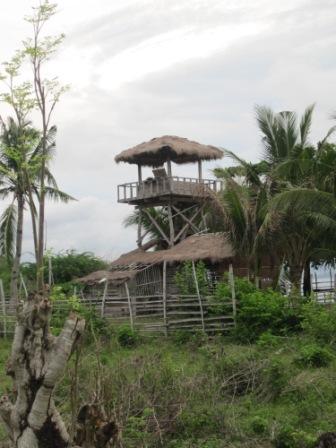 A watchtower built by SIDECO to further constrain the farmers.
Despite the DAR's order rejecting SIDECO's exemption request regarding the agricultural land cultivated by the farmers, until this day the farmers of Sicogon have been unable to tend their lands. The blue guards have reaped the benefits of last years' harvest and, consequently, the farmers have gone out searching for new sources of income to feed their often irresponsibly large families. With rapidly depleting fish stocks as a result of wide-scale commercial fishing, finding new ways to make ends meet has become yet another impossible challenge. Meanwhile, their fertile fields lie idle, unnecessarily wasting away.
Although SIDECO currently seems to have the upper hand in the struggle for land, the disputes have, ironically, led to huge obstacles for the company in setting up its proposed tourist resort—the reason that led to the land disputes in the first place. When hearing about SIDECO's battles with the farmers, three investors who had already expressed interest in financing the company's billion dollar project, withdrew their offers.
Unfortunately, the land battles, which are currently preventing SIDECO from materializing its plans, won't be a strong enough deterrent to keep the tourist resort away from the island indefinitely. When we visited the farmers in July, local authorities had been ordered by SIDECO to map each house in the different barangays and label them 1,2 or 3 according to size and estimated worth. There is speculation that these measures are being taken in preparation of the farmers 'eviction which SIDECO is in the process of planning.
Since eviction has become an imminent possibility for Sicogon's farmers, Jae's WARRIOR class came at a perfect time for Amelia. With the paralegal skills she acquired at Jae's workshop, Amelia is planning to file a petition against SIDECO if the company continues to prepare the farmers' eviction. Having participated in the WARRIOR class, Amelia expressed to feel more confident than before, and is convinced she will be more effective in bringing this case to court than she would if she had not attended the workshop. Yet she still has doubts. Living on a remote island that can only be reached by a two hour boat-trip, Amelia is worried she won't be able to afford transportation costs to go to court.  In addition, she worries about the treatment she and the farmers will receive from the Philippine's judicial system, more known for its corruption than for its justice.
Regardless of what happens, however, Amelia and the farmers of Sicogon Island are prepared to fight for their livelihoods at all costs: "if they want to kill us, they can kill us. But we are staying right here."